With a change at head coach happening on Monday, the Ottawa Senators have stated that they're hoping that new head coach Dave Cameron will be given the opportunity to take the team to the playoffs still. Not throwing in the towel to play the Connor McDavid sweepstakes — a sweepstakes that will be tough to win with Bantam A superstars Buffalo, Edmonton, and Carolina in the mix — means that the Senators may be looking to make a move.
As a team with an internal budget, they're limiting their options and are likely to try and move a player with a decent cap hit to give the team more flexibility now and over the summer. They've also kept their roster static almost all year and will need to do send a player away in trade or to the AHL once they're healthy again.
It's been rumored that they may try to move Milan Michalek and his $4 million cap hit. Erik Condra and Patrick Wiercioch have also been the subject of rumors.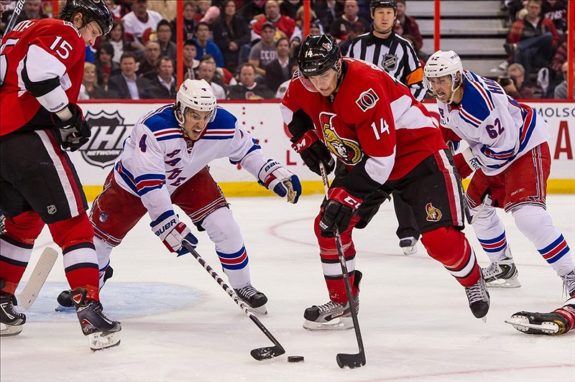 But the most rumored player has probably been Colin Greening, a winger who once showed great potential and doesn't seem to be favored by management any longer. He's been a healthy scratch for all but eight games and has yet to put a point on the board.
Greening Pastures
But Greening's not a total slouch. Take a look at the Senators Usage Adjusted Corsi by player and Greening looks spectacular.
Ottawa Senators Usage Adjusted Possession Rates @dlukenelson pic.twitter.com/EXZeVLlkIn

— Domenic Galamini (@MimicoHero) December 11, 2014
While Greening looks pretty outstanding here, there are other numbers that are going to help contextualize Greening's play on this chart, because it's not quite as rosy as it looks. For instance, he's only played eight games this season and in two of those games he was under ten minutes of ice time. The sample size is very small.
Greening sports a 52.8% Fenwick For% (FF%) at even strength, which is pretty good on a team that ranks second to last in the league in possession at 45.4%, according to stats.hockeyanalysis.com.
Within that small sample size Greening has a -5% ZS% at 5-on-5 and a pretty miserable 91.3% PDO. He's driving possession with not great zone starts and the limited sample size and a terrible shooting percentage account to some extent for the lack of offensive production on his part. Given more games you have to assume a player with his history scores and gets a little bit of offense going. (Stats via War on Ice)
His possession numbers — again, this is in very limited time — look even better when adjusted for zone starts at 54.7% FF%. Adjusted for zone starts, this is his third straight season posting positive possession numbers.
He's had some productive years in the past as well. In the 2010-11 season he posted 13 points (6-7-13) in just 24 games. The following year he finished the complete season with 17 goals and 20 assists.
Despite Greening not having any points and the positive possession coming in just eight games, it's easy to see how a team could see the potential in Greening. There is some potential there and so it's easy to see why the Senators would try to move him hoping that another team's management sees his potential and thinks they can unlock it.
A Case Study In Moving a Struggling Winger
The New Jersey Devils' Damien Brunner Saga should give the Senators some pause as they try to deal Greening. The two players are eerily comparable and Brunner, who showed a lot of potential in Detroit, has been impossible for the Devils to deal.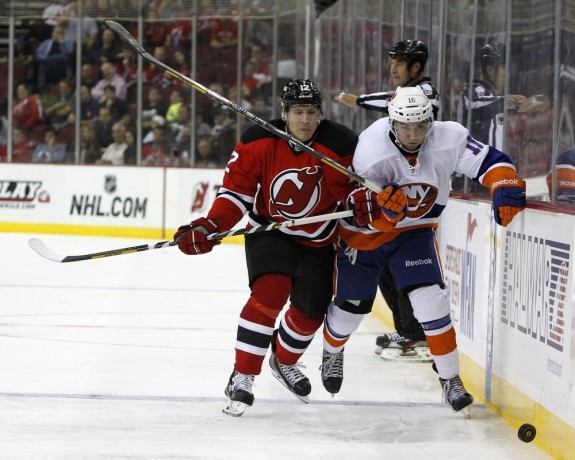 In fact, it looks like the Devils will be unable to do anything at all with Brunner. They placed the winger on waivers last week and when he wasn't picked up they weren't sure what to do with him. The team waited a couple of days before sending him to the AHL. On Thursday the team placed Brunner on unconditional waivers with the intent of dissolving his contract so that he can presumably go play in Switzerland for the rest of the season.
There hasn't been the rumored bitterness between the Senators and Greening that has been talked about in the Brunner case, but there are plenty of reasons to connect the two.
Both wingers are 28 years old and got their NHL start a little later than most. Brunner's only in his third NHL season and Greening is in his fifth. However, both showed a lot of potential as a late-blooming forward. In the 2012-13 season Brunner brought a 1.57 P/60 at 5-on-5 to Detroit. That fell back slightly last year, his first season with the Devils, when he recorded a 1.27 P/60 at evens.
In Greening's first full season he recorded a 1.42 P/60 at 5-on-5 and followed that up with seasons where he hit 1.14 and then a lower .88 last season. Brunner, by contrast, has had some success this season even though he, like Greening, has been a healthy scratch on a number of occasions. His two goals and five assists, while too low, towers over Greening's doughnuts.
The similarities don't end with their age and solid production followed by decline, it's their contracts that should make Ottawa pay attention. Brunner has one year left on a contract that pays him $2.5 million this season. Greening has three years on his deal that pays him $2.65 million.
Greening is producing slightly less than Brunner while getting paid slightly more with two extra years on his contract.
If New Jersey couldn't move Brunner and found their best option was to dissolve his contract (if that's what they're doing), then it's hard to see how Ottawa will be able to trade Greening at all, let alone find an avenue to, as Bruce Garrioch said earlier in the year, a "hockey trade" with a player coming back to Ottawa in return. Though Darren Dreger said on Insider Trading that the team would be happy with a fifth or sixth round pick in return, which seems a little more likely.
Capital Tight Belts
For a team on an internal budget, moving that cap space is crucial if they're going to start making moves and aren't planning on playing Greening. At this point it looks like their only option is going to be going the route of the Devils and Brunner. At this point in the season, there doesn't appear to be a market for a struggling mid-career winger at this price tag off waivers, though Greening may be more willing to play at the AHL level than Brunner presumably is. That still costs money though.
The only other option may be as a part of a larger trade that sends multiple players in both directions. That's possible, with Ottawa rumored to have talked with Buffalo about Chris Stewart and Edmonton having sent scouts to a number of Ottawa games earlier this year (though Edmonton needs a center, not a winger). But getting a multi-player deal like that done mid-season is a rarity.
The solution with Greening may be to find a way to get him going while the team is still missing a couple forwards due to injury or sending him to the AHL and hoping he finds his scoring touch again, because it's going to be difficult to move him.
Dustin Nelson writes about news and the Minnesota Wild for The Hockey Writers.