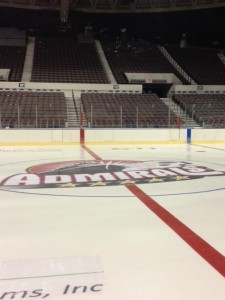 The Norfolk Admirals came into Saturday night's contest looking to follow-up on the 5-0 victory and sweep the weekend series against their Eastern Division counterpart the Binghamton Senators, the AHL affiliate of the Ottawa Senators. Before the game on Saturday, the Norfolk Admirals were sharing the top seed in the Eastern Conference along with Hartford and Manchester.
The Admirals brass elected to start goaltender John Gibsonwhile the B-Sens called upon Nathan Lawson to stand guard in goal. Binghamton's Darren Kramer tallied the first goal of contest ripping a slap shot that eluded Gibson high to the stick side giving the visitors a one up early in the game. When the buzzer sounded to signal the end of the first frame of play, Binghamton led the way in the shot count 10 to Norfolk's 5.
The B-Sens struck again in the second as Andre Petersson's point blank shot got the better of Gibson who was pulled out of position by Binghamton's tape-to-tape passing. Norfolk pulled within one as a Binghamton defenseman coughed up the puck which was picked up by rookie Rickard Rakell who deked his away around Lawson and scored an unassisted goal. Binghamton mustered 13 shots on Gibson during the middle frame while Norfolk had 6 shots on Lawson.
The Senators pulled away by 2 midway through the third period as Derek Grant's slap shot got the better of the rookie keeper Gibson. Forward Jim O'Brien added insult to injury as he landed an empty net shorthanded goal that clinched a 4 to 1 victory for the Senators.
John Gibson was handed the loss while Nathan Lawson was rewarded with the win. The final shot count was in Binghamton's favor outshooting the home team 30 to 24.
Following the loss, Admirals head coach Trent Yawney talked about how this was a game maturing process for his younger players stating, "I think they're going to learn real quick here because the learning curve in this league is pretty steep. Last I checked they're being played to pay now."
Veteran defenseman Nolan Yonkman compared Friday's game to Saturday's game saying, "It was a different game with so many power plays in the first game, but you can't take that into effect."
Yonkman also added,  "We got guys who I think care and want to win. I think it's a group that will work smart in certain areas. We can always give more. You can't take a night off in this league and we have better starts. I don't think our start's were good both games here at home. We got away with the first night."
Yonkman and company continue their four game homestand next weekend as they play host to the Albany Devils, the AHL affiliate of the New Jersey Devils.
Follow Ted on Twitter @Bauerhockeydude
Ted grew up in Virginia. Warren has a passion for the AHL and dishes out articles about the Norfolk Admirals and the AHL. Follow him on Twitter @bauerhockeydude