James Reimer is one of the most pleasant, good-natured players in hockey. But even he could have been forgiven for hanging his head after watching Jonathan Bernier dive across the crease to make an extraordinary glove save to keep the Toronto Maple Leafs in the game and lead them to a win that until that moment was slipping away and that they barely deserved.
It hadn't, in all fairness, been one of Bernier's best games as a Leaf, as the former King shipped five goals after allowing only three in his previous four games. But the mark of a confident goaltender is an ability to review and recover. Bernier wasn't going down with a fight. Against Ottawa just over a week ago, Bernier had steadied the ship after Reimer was yanked, leading the Leafs to a shootout victory over the Senators.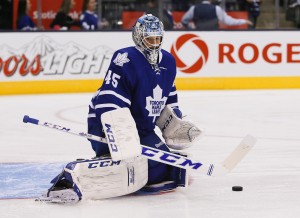 The Toronto media have been criticized for creating player rivalries when none exist but make no mistake, this is a straight up dogfight between the two players which has important implications for the future of both. Reimer's name, for example, has already been banded about as a a player who could be traded for assets if Bernier can establish himself as number 1.
In Los Angeles, it was Jonathan Quick and the Dead. Bernier's trade to the Maple Leafs was made with the blessing of a Kings organisation that knew he would never have the chance to prove himself under Quick's shadow. Now in Toronto, Bernier has both the opportunity and the platform to establish himself as a relied-upon number 1 NHL goaltender. While his body of work thus far is limited, he has done much suggest that Matt Frattin and Ben Scrivens were assets worth losing for his new club.
Make no mistake: it's a long season. Randy Carlyle knows this for one and his response to questions over Bernier's status have sounded more than a little like the comments of Ron Wilson, who once complained that the media were ready to "build a statue" of Reimer before he had truly settled in. "You guys are great, you know?" said Carlyle before the Oilers game. "You guys are so good at anointing who's No. 1 and who's No. 2 and who's No. 3. So I don't even have to do it. You guys do it for me."
But even Carlyle will be more than aware that Bernier now has a considerable edge over Reimer. One factor is the former's rebound control, something that Reimer, for all his qualities, has struggled with. During the shutout of the Nashville Predators it appeared that Bernier had smothered his Leafs crest with glue, as Shea Weber launched slapshot after slapshot towards the Leafs net. The glove hand isn't looking too shabby either, another factor of Reimer's game that has sometimes been criticized.
There are an awful lot of games to go, in many of which Bernier will not perform as well as he has so far. But with his help, the Leafs are now at 5-1 for the season. Without that highlight-reel save against Edmonton and the extraordinary relief performance against the Senators the record would stand at 3-3. Bernier has been the difference maker for the Leafs so far and has also helped to paper over some considerable cracks in the Leafs blue line.
There will be dips in form, mistakes and losses to come for both goaltenders. But so far, GM Dave Nonis will have no qualms about creating a rivalry in his dressing room. Because if it produces performances like the ones Bernier has brought in the last few games, it's a formula that's working.
Chris is a contributing writer on the Toronto Maple Leafs for THW. From Oxford, England, he writes mainly about hockey and soccer, where he is looking to turn his hobby of sportswriting into a career.