While many want to find positives with the Buffalo Sabres this season, the fact of the matter is they are still 0-7. So far, Ryan Miller and Jhonas Enroth have stood on their heads in net. They both have a goals-against average under three, save percentages of .941 and .912 and are facing an average of 38 and 34 shots per game. If not for their play the team would surely have been blown out once or twice.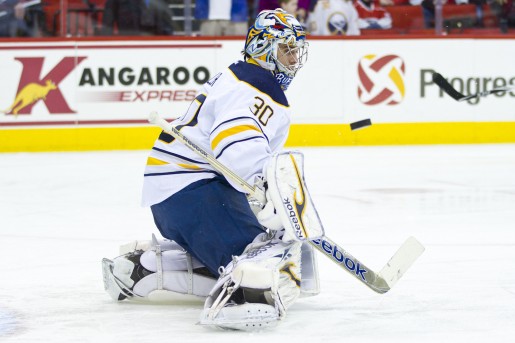 Other positives are that the team appears to be working hard to compete and players like Cody Hodgson and Thomas Vanek on the top line are producing, unfortunately, depth scoring has remained and issue. So far the Sabres penalty kill looks good, but their power play and face offs still need improvement.  So what changes can this young team make?
Coaching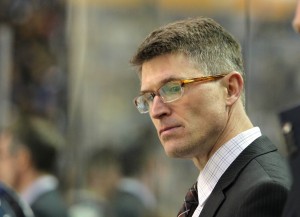 Ron Rolston was named coach of the team this past summer, but is he in danger of losing his job already? most would argue no, because for one, this organization is very slow to make changes and traditionally, they don't like to make big changes. In addition, Rolston is good with the younger players, there is no doubt about that. For a team growing for the future he is a good fit, but for fans, they need to see something now.  Rolston might have to think about changes to his staff and addressing the weaknesses of the team. It might be time for him to look at adding someone who can help improve the power play and face offs, things that have plagued the team since he took over.
Line Combinations
It is still early in the season and the team might not be ready for player movement just yet but some sort of new look might be what is needed to spark the Sabres. Right now, only two forwards have multiple points, Hodgson and Vanek. The two have played together since Hodgson assumed the number one centre role last season. But the problem with only having one line going is that other teams can clue in, put their best defensive trio out against them and make the other three lines beat them.  It might be time to experiment with Vanek and Hodgson on separate lines to spark other players. Tyler Ennis has shown good energy so far this season so maybe to get him going, centering a line with Vanek could be a solution. Early impressions of Zemgus Girgensons have also been good, so a move to a wing with Hodgson might produce a second scoring unit. Meanwhile, Steve Ott could be moved into a centre position or on a wing on one of these two lines, because he has produced offensively for the team.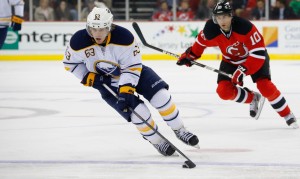 The fact is that while it is difficult to break up something that is working to fix something that isn't, it has to be done because one working line hasn't produced wins. The Sabres can look to their Atlantic Division-rivals the Montreal Canadiens, who were faced with a similar situation. They had one line working well (Lars Eller, Alex Galchenyuk and Brendan Gallagher) but they broke it up to help get more from players like Daniel Briere and Thomas Plekanec.
The other issue that always plays in to these decisions, is money, even though managers and coaches will never admit it. The Sabres must play their best players in top-six capacities even if it means dropping a guy like Ville Leino (when healthy) or Drew Stafford to a third or fourth line on a given night.
Roster Moves
While trades might not be on the mind of General Manager Darcy Regier, there are things he can do to tinker with the roster. Once again, a decision is needed on what is best for 2012 first-round draft pick Mikhail Grigorenko. Grigorenko still has a goose egg in the stat column and is a minus one. He is averaging just a shot a game and is pretty much penciled in to fourth-line duty. The tricky thing is that Grigorenko can't be sent to the American Hockey League. He is one of those situations where he must go back to junior where he must remain for the rest of the season. So should they do it? Last year, the Sabres finally made the decision to send him down just before his Quebec Major Junior Hockey League team, the Quebec Ramparts, began the playoffs. Grigorenko played in 11 games, after being reassigned, scoring 14 points.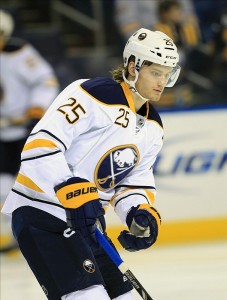 The Sabres logic was that he would go back, dominate and get his confidence to a high level entering this season, however he seems to have left it in the QMJHL. If they do decided to send him there it means he is there for the season, but they have to start thinking about what is best in the long-term for the team and the player. While it might be hard, sending him to junior might be best. The last thing they want is to have rushed a high draft pick and have him turn into a bust. They need to be patient and take the best long-term approach.
On the other side, call-ups, Luke Adam has scored three goals in three games for the Rochester Americans. Adam has always been a borderline player for the Sabres, but he really has a good game. He can put the puck in the net, takes shots and can play a physical role on the third or fourth line. He is not going to turn the team around single handedly but if someone was needed to play a role like that, he could be an answer.
No matter which way you look at it, the Sabres need to do something. Asking fans to be patient is all fine and dandy, but they need a reason to spend their money and go to games. The organization needs to address this and sell them something other than future hope.
An avid sports enthusiast, Darren presently is the Communications and Marketing Coordinator at the Golf Association of Ontario. He has served as a Sports Editor with Etcetera Publications and colour commentator on TV Cogeco's junior hockey coverage. He has covered a wide range of junior and professional sports including: hockey, golf, baseball and football to name a few.