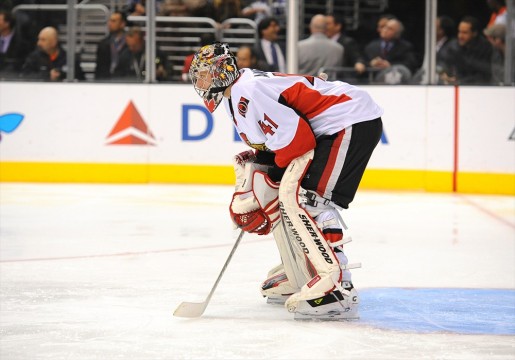 Just when it seemed like things might be turning around for the Ottawa Senators, the bad times keep rolling.
After dealing with the plague injury bug all season long, the team got a bit of relief in the form of goaltender Craig Anderson returning to the lineup.  Not only that but Erik Karlsson, the defending Norris Trophy winner believed to be lost for the season after having his Achilles sliced by the skate of Matt Cooke on February 13th, was seen skating again for the first time on Monday.  It's even believed he could be back in time for the stretch run.
Sure, the team is still missing Jared Cowen, Milan Michalek, and Jason Spezza for the foreseeable future but good news is still good news.
The problem is that the team can't find a way to win these days.
Even the returning Anderson wasn't enough to best the Panthers – yes, you read that right – who are only the worst team in the Eastern Conference by a long shot.  This on the heels of three consecutive losses which pushed the Senators back into sixth, just four points separating them and the ninth place New Jersey Devils. Their four game losing streak? Only the free-falling Carolina Hurricanes (they deserve to lose because of Ric Flair) have lost more games in a row in the East right now.  If that doesn't scare them, nothing will.
Maybe having Anderson, the early favorite for the Hart and Vezina trophies before being derailed by an ankle injury, in the lineup will bolster this team and it's already strong defensive effort.
Maybe looking at their schedule and seeing 14th place Tampa Bay, 12th place Philadelphia, 9th place New Jersey, and 13th place Carolina coming up will give them that missing confidence and inspire them to victory.  Or they'll lose several of those games and lose all hope because, when you lose to teams that bad, how much hope can you have in that scenario?
The Senators potentially have a lot to look forward to. Anderson is back and should be an improvement over the already-stellar goaltending they've received from backup Robin Lehner.  They've managed to acquire a bit of offense in rookie Cory Conacher, who assumes the top spot on the Sens scoring charts and could benefit from playing with someone like Kyle Turris, who has turned in a nice season thus far.  Karlsson is skating again and his return could be a huge boon for the embattled club.
All that's left for the Sens now is to buckle down and right the ship. Because to struggle this late and miss the playoffs, especially after all this team has been through, would be the biggest blow the franchise could receive.
Follow Ryan on Twitter: RWTFC