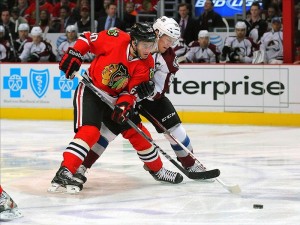 The Chicago Blackhawks became the first team to clinch a playoff spot this season, and are on their way to becoming the first team to clinch their division. The Blackhawks have enjoyed a ton of success this season for a number of reasons, but it is becoming more apparent that Brandon Saad is becoming a bigger and bigger reason for the team's success. Saad, or "Man-Child", as he is affectionately known by teammates, has forced his way into serious Calder Trophy consideration.
Ever since an early season injury to Daniel Carcillo, Saad used the opportunity to cement his spot on the NHL roster. Saad has played most of the season on the top line with Captain Jonathan Toews and skilled winger Marian Hossa. In playing on the top line,  Saad showed remarkable maturity and defensive responsibility you do not expect from first year players.
Saad had 15 points in his first 32 games this season, but when Hossa and Patrick Sharp went  down with injury, Saad was given more ice time and expected to carry more of the offensive load. He did not disappoint and in his last 5 games has put up 7 points including the game winning goal against Detroit March 31st and the game tying goal against Nashville April 7th.
Here is a look at Saad's numbers compared to other Calder eligible forwards
| | | | | | | |
| --- | --- | --- | --- | --- | --- | --- |
| Player | Games Played | Goals | Assists | Points | +/- | ATOI |
| Brandon Saad | 37 | 9 | 14 | 23 | 14 | 16:09 |
| Jonathan Huberdeau | 39 | 13 | 14 | 27 | -10 | 16:52 |
| Brendan Gallagher | 34 | 11 | 10 | 21 | +9 | 13:46 |
| Cory Conacher | 37 | 10 | 15 | 25 | 0 | 14:24 |
| Nail Yakupov | 39 | 9 | 13 | 22 | -10 | 14:10 |
In terms of offensive production Saad is 3rd in the rookie scoring race behind Huberdeau and Conacher and 2nd in +/- behind only Jake Muzzin. Conacher had an amazing start before cooling off and being dealt to Ottawa at the deadline, while Huberdeau continues to be one of the few positives for Florida and Gallagher keeps exceeding expectations on a surprising Canadiens team's third line.
Saad has used his NHL ready size (6ft 1 200lbs) and above average skating ability to excel in the NHL. He has been rewarded for this strong play as of late and in the first 4 games of April his average ice time has increased to 19:16.
Toews, the Hawks' captain,  had this to say of his linemate:
"He's one of those guys who's determined to make a difference every night. He doesn't want to just contribute every once in a while. He's out there creating plays and says, 'You know what? If no one else will do it, I'll be the guy.' You like to have a guy like that with that attitude."
With Chicago gearing up for what should be lengthy post season run they are going to need production to come from all lines to repeat their success of 2010. It is becoming more and more apparent that Chicago doesn't need to worry about getting production from their resident Man-child.