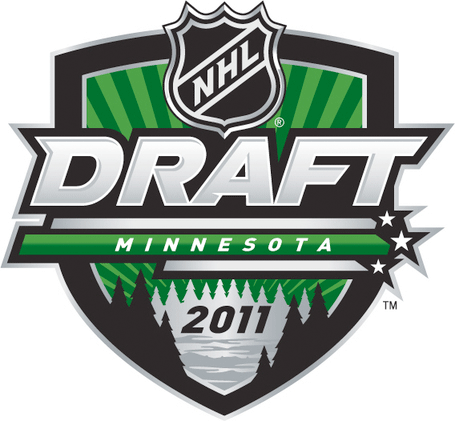 Late round picks could be considered the most interesting part of the draft. A few very good NHL players have been drafted in the later rounds, (Pavel Datsyuk, Henrik Zetterberg and Pavol Demitra are a few good examples) but many, many more have turned out to be duds or nothing more than career AHL players. Not every organization can consistently draft quality talent in the late rounds like the Red Wings can, however the Wild have done a real good job in the later rounds in their short draft history.
In the Doug Risebrough era, there weren't many great picks period after the 2003 draft. In fact, since then, only 15 players drafted during the 2004-2008 timespan have played a game in the NHL and, of them, less than 10 of them have ever found a permanent home with the Wild or any other NHL team. Hardly any of them are elite talent, either. Clayton Stoner and Justin Falk are depth defensemen. Ryan Jones plays for the Oilers. Kyle Wilson and Benoit Pouliot have hopped from team to team; James Sheppard and Colton Gillies never developed the talent they were advertised to have and neither one of them plays for the Wild anymore. Matt Kassian and Cal Clutterbuck provide some decent forward depth and both provide much-needed grit. Though the jury is still out on 2008 1st rounder Tyler Cuma, Marco Scandella, a 2008 2nd rounder, may be the brightest hope of this draft era and could very well develop into a good, solid top-4 NHL defenseman that every GM gearing up for a playoff run is looking for at the trade deadline.
As you can see, those were the dark days in Minnesota Wild draft history. However, with the relieving of Risebrough, came the hiring of Chuck Fletcher. Every draft pick seemed to be genius and with the disappointment of another mediocre season came the Christmas-like joy of another great draft. During that time, Fletcher has restocked the cupboard with elite 1st round talent in Mikael Granlund, Jonas Brodin, Zack Phillips and Mathew Dumba, found more elite talent in 2nd rounders Brett Bulmer, Johan Larsson, Jason Zucker, Mario Lucia and Raphael Bussieres, and filled in the corners with great depth players taken in the later rounds. What so often gets overlooked, however, is the last round of the draft—that's right—the 7th round.
Since that first draft in the Chuck Fletcher Era on that fateful June weekend in 2009, the Wild have drafted Erik Haula, Anthony Hamburg, Dylen McKinlay, Tyler Graovac and Louis Nanne, all in the last round of the draft. Any semi-knowledgeable Minnesota hockey fan should immediately perk up at the mention of Haula and Nanne. The former has been a staple for the University of Minnesota Golden Gophers Men's Hockey Team the past few seasons and hasn't looked out of place playing with the Florida Panther's "Dynamic Duo" of '10 1st rounder Nick Bjugstad and '11 3rd rounder Kyle Rau. In fact, Haula led the Gophers in scoring last season with 49 points (20 goals, 29 assists) and a +17 rating in 43 games and leads them again with 11 points (five goals, six assists) and a +3 rating in nine games thus far.
Lou Nanne—where have we heard that before? Oh, that's right; he was a former player, coach and general manager of the Minnesota North Stars, right? You bet, but we're talking about a different Lou Nanne—his grandson. Minnesota Wild fans were very surprised (and a little amused) to hear the name of the young man selected as Minnesota's 7th and final pick in the 2012 NHL Entry Draft. However, I can assure you, it was more than just a sentimental pick. In 65 career games with Edina High and Team Southwest, Nanne piled up 30 goals and 33 assists for 63 points. Committed to the University of Minnesota, he's spending this season with the Penticton Vees of the BCHL where he has potted four goals and chipped in nine assists for 13 points in 12 games so far. At 5'10" and 165 pounds, don't expect him to instantly perform off the charts, especially for a 7th round pick. However, he could definitely improve his game by leaps and bounds when he joins the Gophers. A year with the Vees, a full 4-year collegiate career and a year or two in the minors could prepare him to be a very solid role-playing forward in the Wild's system for years to come.
Another 7th rounder for Wild fans to keep an eye on—and one the Wild brass is apparently quite high on—is Tyler Graovac of the Ottawa 67s of the Ontario Hockey League. Selected #191 overall in the 2011 NHL Entry Draft, Graovac has exploded onto the scene this year, earning a spot to play on Team OHL in the Canada/Russia 2012 Subway Super Series and possibly putting himself on Team Canada's radar for the upcoming 2013 World Junior Championships to be held in Russia this December/early January. In just 21 games, Graovac has already matched his point total from last year (27 points in 50 games) with 18 goals and nine assists and is tied for the OHL goal-scoring lead with Oshawa Generals forward Boone Jenner. Tyler also scored a beautiful short-handed goal in a losing effort against Team Russia in the Super Series.
Not only is he improving his scoring by leaps and bounds, but he brings size that the current Wild offensive unit just doesn't have down the middle. The Wild does have 6'3" 2012 4th round center Adam Gilmour—drafted 2nd overall in the 2012 USHL draft—playing in Muskegon, but he is a long-term project, so, the tallest semi-ready center prospect that Minnesota has would probably be Zack Phillips at 6'1" and almost 200 pounds. Graovac is a monstrous 6'4" 203 pounds at only 19 years of age and is a pivot that the Wild just can't afford to lose. He could still bulk up a little bit and grow into his frame which, by his stats this season, it looks like he's already starting to do. Tyler will most likely join Houston in the next season or so and could very well give Johan Larsson and Kyle Brodziak a run for the third-line center spot with the Wild. One can't help but get excited at the possibility of seeing the kid center such bigger wingers as 6'3" Brett Bulmer, 6'2" Charlie Coyle, 6'3" Mario Lucia or 6'1" Raphael Bussieres.
No matter how you look at it, the 7th round has been good to Chuck Fletcher and Wild fans have much to be excited about in the future.