When one thinks of the most likely of hockey countries, one can think of Canada, Russia, the United States and the Czech Republic.  There are probably more Canadian hockey players than the population of some countries around the world, just a testament to how much people in this country love the sport.  That being said, however, there are several other nations, some of the most unlikely countries, who have significantly talented hockey players.  Great Britain, Australia and New Zealand are great examples.  Hockey in the United Kingdom is starting to become more well-known, especially with players going across the Pond during both the 2004 and 2012 NHL lockouts.  The sport is also starting to gain ground in Ireland.  Hockey down under in Australia and New Zealand is exporting a lot of talent these days, especially with several players from those two countries coming over to North America in recent years.
Hockey in these unlikely countries, however, is not a new concept.  Great Britain was actually a founding member of the IIHF, being a member of the federation since 1908.  Despite the rich history that the sport has actually had in the country for nearly a century, the decline in its popularity is apparent, even though Great Britain is doing well at recent Olympic qualifiers. There are only 46 indoor rinks in all of Great Britain at this time.  Australia is also another country with significant history in the sport, even though their season is over by the time the rest of the world starts theirs. They have been a member of the IIHF since 1938 and they actually appeared at several Olympics and World Championships before many other countries started to gain respectability. Unfortunately, as hockey's popularity in many other nations increased, the popularity of it in Australia decreased.  New Zealand and Ireland are the new kids on the block in terms of British Empire hockey. New Zealand has been a member of the IIHF since 1977 and, remarkably, there are only six indoor rinks in the country despite that 35-year tenure.  Ireland has only been a member since 1996 with less than 300 total players.
The four national hockey federations from these unlikely countries may have only 10,330 players between them but the fact that there have been substantial players to come out of them is incredible.  They may never again reach the same upper echelon as teams such as Canada, the United States and several European nations but they are ever competitive each and every year.  Here is a breakdown of seven fan favourites from these unlikely hockey countries, one from each member nation of the United Kingdom, as well as one each from Ireland, Australia and New Zealand, illustrating just how incredible these players truly are and how they should not be taken lightly.
*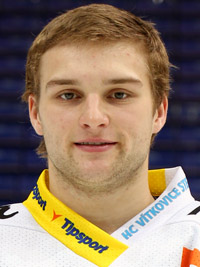 AUSTRALIA: Nathan Walker was born on February 7, 1994, in Cardiff, Wales, but he has lived most of his life and honed his craft in the most unlikely place: Sydney, Australia.  Walker got into hockey at a young age despite the fact that the weather was not the most desirable and also the popularity of the sport in the country had dwindled considerably.  It helped, however, that his older brother Ryan — who is seven years older — was also a hockey player.  While Ryan did not have a considerably long career, it was Nathan who would become the poster boy for Australian puck prowess.  After several years in the minor hockey system of his hometown Sydney Ice Dogs, Walker moved to Ostrava in the Czech Republic to further his hockey career, signing with the under-18 team of HC Vítkovice Steel at the age of fourteen.  After playing in only one game with the under-18s in 2007-08, he made the team full time the next year.  Was he ever going to dominate.  In 72 career games with the under-18s, he accumulated 71 points (32 goals, 39 assists), as well as winning two Czech under-18 league championships in the process.  If that 0.99 points per game was not enough in the under-18 league, he did the same thing in the under-20 league, recording 78 points (44 goals, 34 assists) in 79 career contests.  This all has happened while playing seven games in the AIHL with the Sydney Ice Dogs.  During his career so far, Walker has also appeared at two World Championships for Australia, winning gold at the 2011 tournament; he was also named the top player on his team and he led the tournament with a +7 ranking.  Realizing his extraordinary potential, HC Vítkovice called up Walker to their Extraliga team during the 2011-12 season, allowing him to play 34 games, in which he scored nine points (four goals, five assists).  They even brought him along to the Spengler Cup held in Davos, Switzerland, where he had three points in four games.  Walker was ranked on the ISS Central Scouting list for European skaters for the 2012 NHL Entry Draft but he was not selected; that did not stop him from attending the rookie camp of the Washington Capitals that same summer.  This season, after a five-game goal-a-contest stint with the under-20s, Walker has made Vítkovice's Extraliga squad permanently.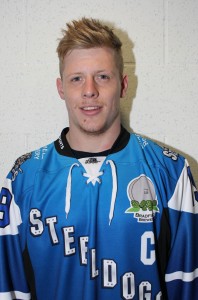 ENGLAND: Ashley Calvert was born on August 9, 1991, in Sheffield, England. He showed very early on that he was a considerable talent, something that even the most unlikely countries could produce superlative players. By the time he was only fourteen years of age, Calvert was playing his first games in Great Britain's under-19 league, suiting up with the Nottingham Leopards, an affiliate team of the EIHL's Nottingham Panthers. That season, the 2005-06 campaign, he appeared in fifteen contests, scoring five points. The next season, Calvert returned to the Leopards and he had yet another fantastic year. He scored 25 points (17 goals, eight assists) in only thirteen games. As well, he was called up for seven games to the Nottingham Lions, a team in the EPIHL, Great Britain's second-highest professional league. When Calvert was 17, Great Britain changed their junior structure from U17/U19 to U18/U20 leagues. He had his offensively best season in 2007-08, bettering his career totals up to that point. Calvert scored 46 points (31 goals, fifteen assists) in only fifteen games in his last year with the Leopards. He also got to play 19 games for the Lions, scoring 34 points (21 goals, thirteen assists). Even more remarkably, Calvert got to play in his first game in the EIHL — Great Britain's top professional league — before he even graduated high school. In 2008-09, he made the jump to professional hockey, playing his first full season in the EPIHL, playing 53 games for the Telford Tigers. After some time with the Bracknell Bees, he returned to the Tigers in 2011. Additionally, he played some games in the EIHL for the Edinburgh Capitals. If all this was not enough, Calvert played at the 2011 World Juniors for Great Britain, winning a bronze medal. For the last two seasons, Calvert has been playing at home in Sheffield for the Steeldogs, the EPIHL affiliate of the Sheffield Steelers. This year, he is the team's captain.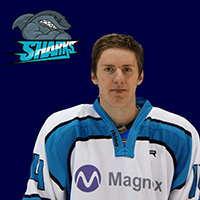 IRELAND: Stephen "Stevie" Adams was born on July 13, 1990, in Belfast, Northern Ireland, but he has lived most of his life in Ireland, an unlikely place for someone to cultivate his abilities.  A smaller player at only 5'9″ and 154 pounds, what Adams has lacked in size, he has made up for in heart.  He spent the majority of his minor hockey with the Junior Solway Sharks in Scotland, up until he played his first games in the old National Ice Hockey League.  During the 2007-08 season, the then 17-year-old played ten games for the Solway Sharks before he graduated to the Irish Ice Hockey League the next season.  For two years, Adams played for the Latvian Hawks.  While the Dublin-based team may not have a name reflective of being from the Emerald Isle, and a roster to prove it, the team's name actually is an homage to many expatriate Latvians who now call Ireland home.  In 2008-09, Adams also represented Ireland at the World Championships for the first time in his career.  In 2009-10, Adams had ten points in seven games with the Hawks and he won an IIHL championship with them that season.  Additionally, he won a gold medal for Ireland at the 2010 World Championships.  Adams missed all of the 2010-11 season, which he would have spent with the Belfast Giants, but he was back in time for another World Championships.  Finally healthy in 2011-12, Adams returned to Solway and he scored 36 points (thirteen goals, 23 assists) in nineteen games, as well as three points in five games at the World Championships.  He was rewarded with a one-year contract extension for this season, one in which the Sharks are playing in the new National Ice Hockey League.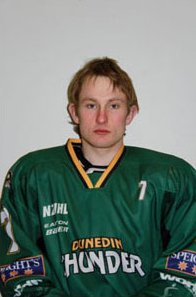 NEW ZEALAND: Regan Bakker-Connell was born on August 14, 1991, in Christchurch, New Zealand, one of the most unlikely places one will find solid players. Throughout his career, he has been one of the better stay-at-home defencemen, playing a steady simple game rather than a flashy offensive one. Bakker-Connell played his first games of professional hockey during the 2008-09 season, suiting up for eight games with the Canterbury Red Devils, a team based in his hometown. He only garnered one assist. Happily, despite how sparingly he was used during the regular season, he was fortunate enough to win an NZIHL championship that season. As well, during that same season, Bakker-Connell played at the World Under-18s for New Zealand, recording two assists in four games. For the 2009-10 season, he transferred to play for the Dunedin Thunder, one of the gre, ater known teams in the NZIHL. He appeared in sixteen contests during that campaign before being resent to the Red Devils the next year. During the 2010-11 season, Bakker-Connell represented his homeland yet again, this time at the 2011 World Juniors. He served as an alternate captain and recorded four assists in six games. For the 2011-12 season, Bakker-Connell made the trip to North America, signing with the GMHL's Bobcaygeon Bucks, an independent tier II junior A team not far from Peterborough. Two of his teammates, fellow defenceman Shannon McGregor and goaltender Andrew Crowther, were actually from his national neighbour of Australia. He appeared in 33 games upon the conclusion of his 2011-12 NZIHL campaign, in which he was once again with Dunedin; Bakker-Connell actually had a decent offensive season, scoring fourteen points (two goals, twelve assists). Once the next hockey season rolls around, the next goal in mind for this up-and-coming Kiwi blueliner would be getting his first professional goal.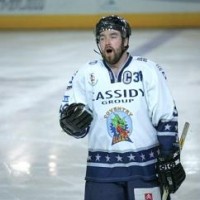 NORTHERN IRELAND: Aram Todd was born on March 3, 1983, in Belfast, Northern Ireland.  If being born in Northern Ireland almost seems an unlikely place to cultivate great talent, one has to look at the likes of Owen Nolan to see how great it can be.  As for Todd, While he did not manage to carve a significant niche for himself in the EPIHL, he emerged becoming one of the best among scorers in the English National League.  Todd spent the majority of his career with the affiliates of the Milton Keynes Lightning, a very popular team in the EPIHL.  He played four games for their British National League team, the Milton Keynes Kings, over the course of the 1999-2000 and 2000-01 seasons.  After that, he graduated to the Great Britain under-19 league, playing with the Milton Keynes Storm.  He scored nine goals in each of his two campaigns but, in his second season, he added ten more assists to his season total from the year before. By the 2002-03 season, Todd was in the ENL permanently with another Milton Keynes team, the Thunder.  During the 2003-04 campaign, one in which he had a career-best eleven goals in twenty games, Todd made his EPIHL début with the Milton Keynes Lightning.  He played another three years with the Thunder before transferring to the ENL affiliate team of the EIHL's Coventry Blaze in 2007.  He spent two years with the Blaze, including one year as team captain, before taking a year off in 2009-10.  During the 2010-11 season, Todd rejoined the Thunder, equaling his career best twenty points.  He finished his ENL career with 129 points (53 goals, 76 assists) in 152 games.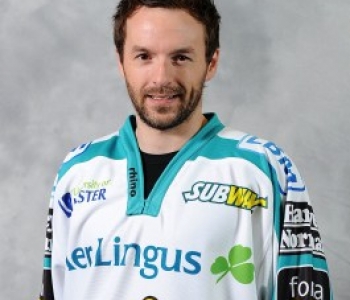 SCOTLAND: Colin Shields was born on January 27, 1980, in Glasgow, Scotland, an unlikely birthplace for such a superlative talent.  His father Martin is a former player and coach; as well, his cousin Stephen Murphy is a very well-traveled goaltender with several international tournaments to his credit.  Shields is, more than likely, the most successful Scottish hockey player still active today. After playing twelve games in the now-defunct British Division 1 league, Shields represented Great Britain for the first time internationally at the 1997 World Juniors at the age of sixteen.  Even more remarkably, he scored a goal in the tournament.  For two years after that, he played two seasons in the NAHL with the Cleveland Barons, recording an astounding 155 points (76 goals, 79 assists) in 110 career games; in his second year, he led the NAHL with 46 goals and 95 points.  If that was not impressive enough, he also played at the World Juniors in 2000, recording nine points in four games as a seventeen-year-old.  The Scottish sniper was rewarded by being chosen 195th overall at the 2000 NHL Entry Draft by the Philadelphia Flyers.  After his junior career ended, he played four years at the University of Maine, appearing at the World Championships for Great Britain every year he dressed for the Black Bears, including his freshman season which he lost to injury.  When he came back to form for his NCAA career to begin, he came back with a thud.  In a league mostly known for defensive-first hockey, Shields was offensively stellar, recording 117 points (61 goals, 56 assists) in 120 NCAA games, including a Frozen Four championship in 2004, his senior year.  During the 2004-05 season, Shields played on three different ECHL teams — the San Diego Gulls, Atlantic City Boardwalk Bullies and the Greenville Grrrowl — before returning to Great Britain for the 2005-06 season, singing with the Belfast Giants, the same team for which Theoren Fleury is synonymous. That year, he won an EIHL championship.  Shields tried his hand at the ECHL yet again in 2006-07, playing with both the Fresno Monsters and the Idaho Steelheads, but he decided to return back to Europe for good after that.  In 2007-08, his 36 goals with the Newcastle Vipers led all British players in the EIHL, a distinction he has since won twice more.  The next year, he transferred back to Belfast, where he was named an alternate captain.  As well in 2008-09, he won both the EIHL Challenge Cup and EIHL Knock Out Cup, in addition to a bronze medal at the World Championships.  The 2009-10 season was even sweeter.  He led the EIHL in scoring with 87 points and he was named the league's most valuable player.  In 2010-11, he was named captain of the Belfast Giants and he also won silver at the World Championships.  After spending the 2011-12 season in the Ligue Magnus with Morzine-Avoriaz, Shields returned to the EIHL this season, signing with the Sheffield Steelers.  To date, Shields has accumulated 343 points (131 goals, 212 assists) in 259 career EIHL games.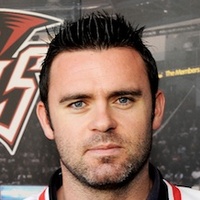 WALES: Stevie Lyle was born on December 2, 1979, in Cardiff, Wales.  Despite his age, he is one of the most accomplished goaltenders, something almost unlikely for a Welsh-born netminder.  Lyle played twenty games in the British Hockey League with his hometown Cardiff Devils during the 1994-95 season, even before he was fifteen years old.  Even more remarkably, he played twenty more games the following season.  In 1996, the then 16-year-old played at the World Juniors for Great Britain and even one game at the Men's World Championships.  By 1997, the Devils were playing in the British Ice Hockey Superleague and Lyle was their #1 goalie.  In 31 games, he had a 2.78 goals-against average and a .911% save percentage, winning Cardiff a BISL championship.  He also played at the World Championships again.  That same year, the OHL's Plymouth Whalers chose Lyle with the 27th overall pick in the CHL Import Draft; Peter DeBoer was their head coach at the time and their #1 goalie was Robert Esche. Things did not work out for Lyle and he was released after six games.  He tried playing for the Kindersley Klippers, a tier II junior A team in Saskatchewan, but he decided instead to return home.  His lack of success in North America did not equate to lack of success in Wales; in fact, the opposite was true.  Lyle was easily the Devils' most valuable player and he transferred that incredible play to the international stage.  In 2001, at his fifth World Championships, he had a 1.78 goals-against average and a .927% save percentage in five games to help Great Britain win silver.  For the next few seasons, Lyle played for several teams around the United Kingdom.  In addition to Cardiff, he found himself dressing for the Manchester Storm, Guildford Flames (the former team of Jamie McLennan), Bracknell Bees and Sheffield Steelers, finding that same success everywhere he went.  After that, he played two years abroad, one in Italy and one in France, before returning to the U.K. in 2007, splitting the 2007-08 season with the Basingstoke Bison and the Belfast Giants.  In 2008-09, Lyle helped the Giants win the EIHL Challenge Cup and he helped Great Britain win bronze at the World Championships.  He spent three more years back in his hometown of Cardiff, his busiest season coming his first year back when he appeared in 56 games; Lyle responded by posting a 2.66 goals-against average and a .909% save percentage.  This season, Lyle has been playing for the Basingstoke Bison, recording a 1.80 goals-against average and a .942% save percentage in seventeen games thus far.  In addition to his playing time, Lyle also runs a goalie camp for aspiring netminders between the ages of six and sixty, something he has done since 2008.