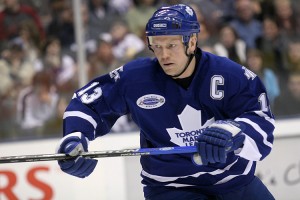 As the hockey Hall of Fame inducted its four newest members this past week, the criteria by which players are selected for induction also shared a brief moment in the spotlight. With Adam Oates and Pavel Bure being made to wait five and six years, respectively, one caller to my weekly podcast wondered aloud whether Mats Sundin rightfully deserved to be considered for the honour in just his first year of eligibility.
His argument went something like this:
If you consider that Sundin played from the early nineties until the late 2000s, and averaged a point per game during that time, his numbers would be fairly comparable to someone whose career would have started in the mid-2000s and averages just under a point a game.
To illustrate this point, he selected Rick Nash as a comparison point. Sundin averaged almost exactly 1.00 point per game during his career, while Nash is currently averaging .82 points per game. At a glance, it certainly appears that Sundin is the more proficient scorer…but in the early nineties, NHL games averaged just about 7.00 goals per game, whereas last year, that average was just 5.32.
Goal scoring has dropped by 24%, and Nash averages just 18% fewer points than Sundin did over the course of his career. So, compared to the NHL average, Nash is technically a more efficient point producer than Sundin was.
Of course, there are also a few significant differences between the two; Sundin continued to produce these types of numbers over the course of an eighteen year career, and Nash is only nine seasons into his. Sundin also played the majority of his productive years in one place, whereas Nash has recently made the move from Columbus to Broadway. Both are Olympic champions, but neither has won a Cup, although Sundin did make two decent playoff runs while playing with the Leafs…
But it does beg the question; if Rick Nash had continued along at the same scoring pace, made a couple of deep playoff runs without winning a Cup, and then retired as a Blue Jacket…would he be a first-ballot Hall of Famer?
The answer, at least in my head, was a clear and definitive 'no.' The caller had piqued my interest, so I began comparing Sundin's numbers to the two other 2012 inductees who had not won a championship.
Adam Oates played more seasons in the league, out-scored Sundin in terms of both total points and average points, and won the same number of Stanley Cups. He had to wait five years to be inducted.
Pavel Bure led the NHL in goal-scoring on three occasions, had a better point per game average than Sundin, and also possesses the same number of Stanley Cup Rings…and he had to wait six years.
Far be it from me to declare that a thousand point scorer does not belong in the Hall of Fame, because as far I'm concerned, he certainly does…but putting him in on his first ballot does, indeed, smack of home-cooking. After watching Sundin live and in-person for a decade and a half, those in the Toronto media have clearly weighted his contributions and accomplishments with at least a slight home-town bias.
The honour of a first-round induction has, at least historically, been reserved for champions. (For the perfect example of a traditional first-ballot choice, one need look no further than this year's fourth inductee, 'Gentleman' Joe Sakic.) The fact that a non-champion, with no scoring titles and no Hart Trophies, who happened to captain the Toronto Maple Leafs under the watchful eye of many of the media-types who have a HOF vote…is just a little too convenient.
Perhaps I am off base, or maybe I am just not giving Olympic gold the weight it deserves…so I'll put the question to you, The Hockey Readers:
If Mats Sundin had played for the Los Angeles Kings, the New York Islanders, or the Tampa Bay Lightning – but otherwise had the exact same career – would he be a first ballot Hall of Famer?