The role of an enforcer is pretty simple in hockey, fight or you're out of a job. It's a role AHL enforcer and former Hershey Bears forward, Joel Rechlicz is accustomed to. He's not there to provide any defensive reliability or an occasional goal as part of the fourth line, Rechlicz is there to fight, just fight.
With the Hershey Bears last season, he played in 44 regular season games and totaled one goal and one assist. His shifts were extremely limited, sometimes getting at most, five shifts per game. His impact on and off the ice didn't go unnoticed however, as Rechlicz received high praise from his teammates and the endearing fans from Chocolate town.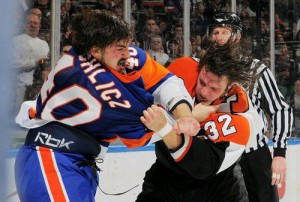 From a distance you could see the connection between him and the fans. He was always one to leave his lack of playing time at the wayside and just play as hard as he can when he got the opportunity. Rechlicz greeted fans after games near the locker room and showed a great appreciation of their overwhelming support. He was a great teammate, always supporting every player when they returned to the Hershey bench. Rechlicz made the most of his opportunities and his time in Hershey which landed him an NHL contract.
This season, Rechlicz is playing for the Portland Pirates of the AHL, following his departure from the Washington Capitals organization this summer, when he signed with the Phoenix Coyotes.  He signed a one year, two way contract with the Coyotes and will become a restricted free agent at season's end. Rechlicz would definitely be a candidate for a call up to Phoenix following the lockout, especially if an enforcer at the NHL level were to suffer injury for any significant amount of time.
Rechlicz previously spent time in the New York Islanders organization, totaling one assist in 23 games with newest NHL franchise set for a move, as the Islanders are set to head to Brooklyn in a few years. He has played in eight games for the Pirates this AHL season, registering 19 penalty minutes thus far.
On Sunday, Portland visited Hershey and Bears' fans saw Rechlicz in another uniform for the first since he left the Bears. Rechlicz got a chance to start the game, a first in his young hockey career.
"All the guys were joking about it," Rechlicz said postgame. I didn't really know what do out there because I've never started in game. It was awesome; I was thrilled when coach told me I was starting."
He received loud cheers at the beginning of the game, something many expected. Rechlicz talked to some of his biggest fans pregame, along with signing some autographs for the fans he once played for.
"It's exciting, Hershey's a great place to play in," Rechlicz said of returning to Chocolate town. "The fans here are just unreal hockey fans, best fans in the league. It's exciting to come back, wearing a different uniform today, but it was a big win for us."
"The fans are great here; Hershey's the best place I've played so far. Can't thank the organization from top to bottom for everything that they've done for me and my family. It's just a great spot here and it was exciting for me to get the start."
You can follow Matthew on twitter @m_speck and email him at mspeck21@yahoo.com with any questions or comments.