What a Difference a Year Makes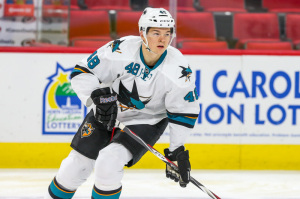 Last season the San Jose Sharks scored 24 more goals at even strength than their opponents. This season however has been a completely different story. San Jose has scored 10 fewer goals at even strength than their opponents. After 43 games Team Teal is 25th in the league in goals for divided by goals against at just 0.88. The Sharks are on pace to score only 138 even strength goals this season. A year ago they scored 169. In other words they are on pace to score 21 fewer goals at even strength. They are also on pace to give up 12 more goals at even strength this year than last. Obviously they are worse at both ends of the ice this year while skating five aside but scoring goals is a significantly bigger problem. Makes one wonder why they moved a dominant even strength scoring forward back to defense this year.
Of course the huge drop in even strength production isn't solely based off the move of Burns from forward to defense, but that is a big contributor. Yes, plus-minus is a flawed statistic but on largely the same team a year ago Burns finished plus-26 as a forward. This year, the apparently "All-Star" defenseman is a minus-9. His Corsi-for percentage is down from 57.2 to 52.4. While Burns' points per game rate at even strength is close to the same as it was last season, not surprisingly his goals per game rate is considerably lower as a defenseman. He is currently on pace for 13-14 even strength goals over 82 games while last year he scored at a 24 goal even strength pace as a forward. A season ago Burns finished as the seventh best forward in the NHL in goals for per 60 at 3.49 (sixth place was Tyler Seguin and eighth was James Neal for reference purposes). This season as a defenseman, Burns' 2.11 mark is tied 107th best among NHL defenseman (tied with Minnesota stud Ryan Suter along with much lesser known guys like Connor Murphy and Paul Postma). That is a staggering drop in terms of being one of the dominant even strength forwards in the league to being in the middle of the pack as a defenseman. In terms of Corsi-for percentage, Burns is 62nd amongst defenseman. No doubt a solid offensive threat from the blue-line but not as good as being the 19th best forward in Corsi-for percentage a year ago.
Burns, Hertl, & Marleau Oh My
Certainly no statistic is perfect, but clearly Burns has been a bigger force at the forward position than on the blue-line. That said, moving him to defense and not replacing his scoring up front isn't the only problem. Tomas Hertl has struggled this year and that has also hurt the Sharks even strength scoring. Hertl still seems to be recovering from last year's knee injury but the second year winger played his best hockey last year while opposite Burns. Reuniting those two with Thornton would be a heck of a top line and could possibly spark the sophomore slump Hertl finds himself in.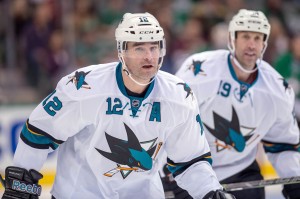 Furthermore Patrick Marleau's lack of goal scoring has drastically hurt thus far. At some point though Marleau will snap out of his 20 game slump and that crazy low 5.5% shooting percentage will start to rise back towards his 13.5% career average. Marleau's Corsi-for percentage is only 2.3% lower this year than a year ago when he scored 33 goals. Comparatively speaking, Burns' Corsi-for from last year to this year has dropped 4.7%. In terms of goals-for percentage, Marleau's has dropped from 51.5 to 43.8, a 7.7% decrease from last season to this season. Burns' goals-for percentage has dropped from 63.9 last year to 41.3% this year, a 22.6% decrease. Across the board, every key player on the Sharks has had a huge percentage drop in goals for. Burns' drop has been by far the biggest.
Minimum Replacement
The advanced numbers data in hockey is still in its infancy but the biggest change in the Sharks roster from last season to this season is the even strength position of Burns. The team has gone from the sixth best five aside scoring team in the league all the way down to the 25th. Burns was a huge positive impact forward the previous 1.3 seasons at even strength. This season he has been a net negative impact defenseman at evens. Burns has allowed more goals against per 60 minutes than all other Sharks defenseman this year who have skated over 300 minutes. Perhaps Burns converting back to a blue-liner will pay off two or three years down the line but for this season it has made the team significantly worse, not better. It is difficult to imagine that an in house replacement for Burns' defense spot would have a worse goals against per 60 minutes. An up and down player such as now former Shark Jason Demers has a lower goals against per 60 than Burns, a similarly bad but slightly better goals-for percentage, and a slightly higher Corsi-for percentage.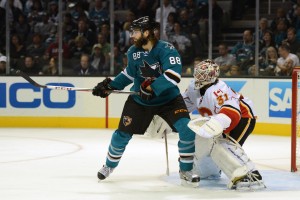 Burns is an All Star this year because of his eye popping point totals for a defenseman but replacing his even strength production on the blue-line wouldn't require anything close to a dominant scoring defender. While San Jose would be better off trading for an established defender if they moved Burns up, even simply filling his spot with either Taylor Fedun or Mirco Mueller and the team would still improve five on five. The fact of the matter is simple, the Sharks need an added scoring punch to their top-6 and they have the best power forward in the league already on their roster. He already has great chemistry with Joe Thornton. If they made this switch San Jose would certainly score more goals, (how many is debatable), and it is extremely doubtful they would give up more.
With the way San Jose's lineup is currently configured the Sharks are much more a pretender than a contender. At this point a drastic change is needed and the easiest one to make is to move Burns back up to forward. Unfortunately it's not going to happen. Despite not a soul in the world arguing Burns should return to defense during either the 2013 offseason or 2014 offseason, GM Doug Wilson made that his marquee big change this past offseason. It takes Wilson a long time before admitting mistakes, waiting until mid-season this year to waive Adam Burish, so it is doubtful he corrects the Burns mistake this season.