The San Jose Sharks, in particular captain Logan Couture, have an expectation that they will be a playoff team in 2020-21. To do so, they will need to get significant contributions from their depth forwards. Couture and Tomas Hertl are clearly the top two pivots on the team, after them though, it gets fairly thin in a hurry. Previously, the lack of center depth has been explored, but we now have the benefit of training camp. Let's see who is shaping up to be their third and fourth-line centers.
The Candidates
As a recap, the main candidates are Joel Kellman, Alexander True, Noah Gregor, Dylan Gambrell, Fredrik Handemark, and Sasha Chmelevski. Previously, I pegged True as a breakout candidate for the Sharks, but his participation in camp has been limited due to a minor injury. (from 'Sharks in Scottsdale: What you need to know ahead of training camp,' Mercury News, 12/28/2020)
Recently, the team was split into two groups with the one more representative of the NHL roster and the other likely AHL-bound. Of the depth centers on what looks to be the NHL group, only Kellman and Gregor have NHL experience. True may still make it, but only had a short stint in camp before these groups were made.
Who Will Slot in Where?
Both Kellman and Gregor have spent time in the NHL. They also played a similar number of games with Kellman suiting up for 31 and Gregor 28. Neither is likely to be a big scorer at the NHL level so it might come down to what the team wants. Head coach Bob Boughner sounds like he wants his third line to have speed, and Gregor is one of the fastest skaters on the team, has the edge there.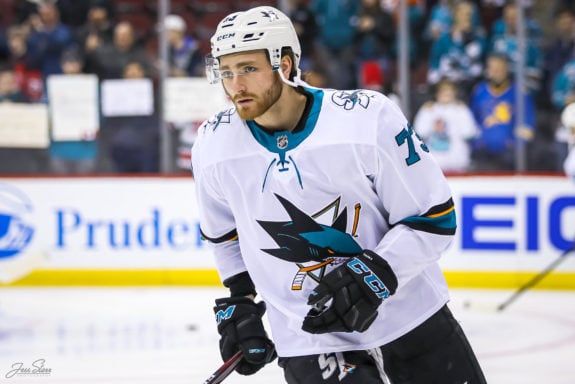 Generally, third lines are expected to contribute some scoring whereas fourth lines are more for energy or matching up against other teams' top lines to limit scoring chances. A good way to look at where a player might fit better into one of those roles is looking at expected goal (xG) differential, Corsi differential, and individual expected goals for (ixGF). 
| | | | |
| --- | --- | --- | --- |
| | xG differential / 60 | Corsi differential / 60 | ixGF/60 |
| Tomas Hertl | 0.291 | 3.78  | 0.139 |
| Logan Couture | -.0330 | -0.01 | -0.048 |
| Noah Gregor | -0.100 | -1.05 | 0.016 |
| Joel Kellman | 0.034 | -0.24 | -0.136 |
From Evolving Hockey, expected goal differential per 60 minutes, Corsi differential per 60 minutes, and individual expected goals for per 60 minutes for Hertl, Couture, Gregor, and Kellman.
Expected goal differential is the difference between an individual player's expected goals for and goals against. Corsi differential measures shot attempts both for and against while the player is on the ice. More shot attempts for tend to indicate more time in the offensive zone so that is a marker of a more offensively capable player. Finally, individual expected goals is a measure of how much offense a player generates. All of these can be expressed on a per 60 minutes basis, which is generally better as it corrects for time on ice differences.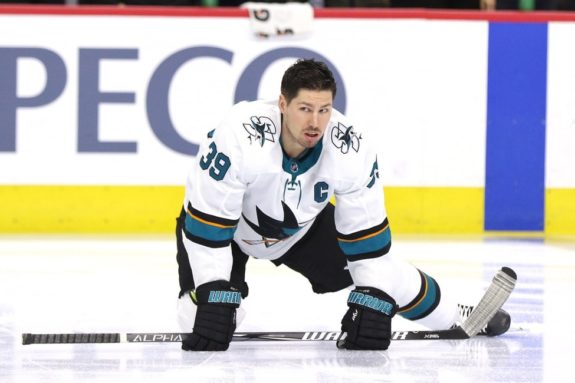 The table above is from Evolving Hockey and Couture and Hertl are included as a comparison for what I expect to be the four main pivots. It is possible other center-icemen slot in, but according to recent lines above, these are the most likely. Gregor is clearly more offensively capable than Kellman, whereas Kellman is better two way. This would suggest that Gregor is the third center and Kellman is the fourth.

What Other Options Are There?
Donato can play center but seems to be finding a better fit on the wing on either line two or three. True is another player who could fit as either a third or fourth center, but Kellman and Gregor have more NHL experience and have been at camp for the full time. True may earn that spot at some point, but it seems like it won't be him to start. Chmelevski seems destined for the AHL and maybe with some more development and time, he could work his way into the bottom six.
Handemark is someone who has a really good shot at being a bottom-six center, but he has yet to play any minutes in a game in North America so it would seem he is destined for AHL time. If things go well, I could see him as a good replacement or competition for Kellman on line four as he is a better two-way guy than an offensive threat.
Takeaway
Gregor and Kellman seem destined for the third and fourth line center roles, respectively, at this point. There is plenty of competition, with no real standouts at this point, so it may be a bit of a revolving door if things don't go well early on for the Sharks. Their first two games are against the Arizona Coyotes so we shouldn't expect too much in the way of offense early on, but that should be a good test of if those two will stick being that short initial sample.
---
---