The Ottawa Senators are getting set to begin their 2020-21 campaign when they face the Toronto Maple Leafs on Jan. 15. It will be game one of 56 for the Senators and head coach D.J. Smith is ready for the challenge ahead. The North Division is going to be a tough grind for Ottawa, but players and staff remain optimistic.
As the Senators continue to rebuild with Smith at the helm, the season will be "trial by fire" as he alluded to on Jan. 4 in a Zoom call. The Senators will be going up against some of the league's best teams and star players night after night, and it's time to see what Smith is made of as a bench boss.
The Challenge
This will be the beginning of Smith's second season as head coach for Ottawa. In his inaugural season, similar to the one he was apart of in Toronto with Mike Babcock, the Sens were battling consistently and always showed up for a game. Even though they finished the season 25-34-12, Smith had the players buy into a new system and shifted the culture in Ottawa.
The term "player's coach" is one that doesn't get used often, but Smith is exactly that. As a former pro, mostly spent in the American Hockey League, he's able to communicate and get the most out of his players in a much more relatable and effective way.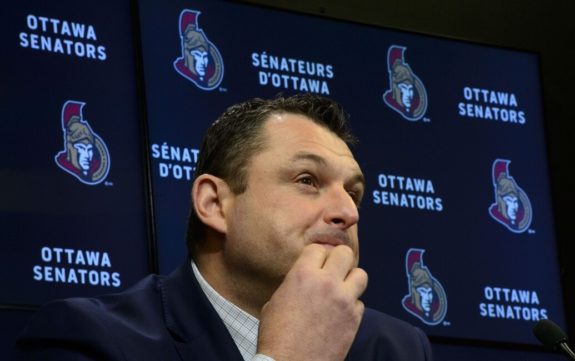 The veteran additions this offseason like Erik Gudbranson, Derek Stepan and Braydon Coburn will collectively help Smith relay his philosophies to the younger players, but it's still on his shoulders. He will have to make sure the Sens are ready to play playoff-style hockey every game in this division. The other six teams in Canada are among the best in the NHL and it contains players like Connor McDavid, Leon Draisaitl, Auston Matthews, Elias Pettersson, and many others that Ottawa and Smith will see for the 56 game stretch.
As we approach the start of the season, Ottawa's roster and projected starting lineup is shaping out to be a lot better than originally thought. We're going to hear all season long how Ottawa will be tough to play against and give the other team's in Canada a headache, but we do have to remember this team is in a rebuild. It's a part of the challenge Smith will be faced with all season long.
What Smith Can Do
So what exactly can Smith do this season to satisfy the fanbase and keep the Senators on the right path towards becoming a playoff team once again. He will continue to have the team be hard on the forecheck, play the 200-foot game, and battle for every puck. As mentioned above, the veteran players that were added this offseason will emphasize this further.
This time around, Smith has more tools at his disposal. He and the coaching staff will be looking at all the prospects Ottawa has and see where and how they will fit into the team. It's already been said that Tim Stuetzle will start on the wing for the Sens and Smith is beyond impressed with how he already looks.
After his performance with Germany at the World Juniors, Stuetzle looks like he is going to be an elite piece for Ottawa for the foreseeable future. Furthermore, the rest of the roster spots for prospects aren't as clear. This is where Smith has to show confidence in his role behind the bench and make tough decisions. This won't be done at one time but rather constantly changing all season.
Before the offseason moves, it was believed there would be around five roster spots available but that tune has changed as we get closer to puck drop. To help back up these claims are Smith and Pierre Dorion's comments about Stuetzle on the wing, Erik Brannstrom switching sides on D, Cedric Paquette moving to the wing, Thomas Chabot and Erik Gudbranson as partners to start, just to name a few. This is what Smith and most NHL teams want, and that's internal competition and versatility.
A Process
The game sheet might look different every night in Ottawa. In order to keep the culture growing, every spot must be earned. That goes for the veteran players, too. This is something coach Smith will have to do daily and that's having all his players meet expectations. It's what makes this season an important one for Smith if he wants to really build something special in Ottawa. It's about balancing the fine line of who to play each night, who's earned it, and giving everyone an opportunity.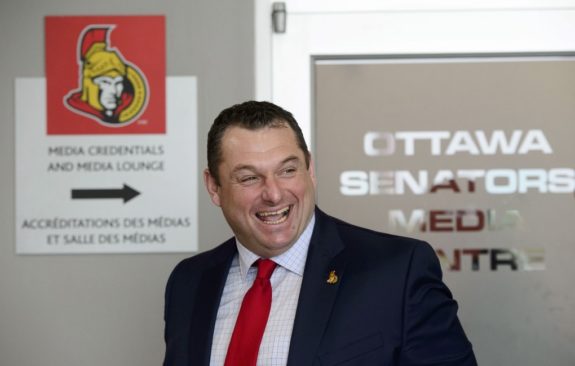 Nothing will come easy this year for the Sens. That goes for the players and staff. Both Smith and Dorion have made it clear nothing will be handed to anyone, but the opportunities will be there. It will be up to coach Smith to make the decisions and what will ultimately make or potentially break his future in Ottawa.
---
---