For months, two of the most widely discussed approaches to the Vegas Golden Knights' cap situation existed exclusively in contrast to one another. You either supported the idea of trading a big salary player, Marc-Andre Fleury being the most commonly floated name, or you were a proponent of juggling the roster through the taxi squad and a smaller roster number.
But what if you could have it both ways (to some extent, anyway)? What if the Golden Knights could bury some of Fleury's $7 million cap hit while still managing to retain his services? It would surely draw headlines and fuel the narrative of growing tensions between the club and Fleury, but don't be surprised to see the one-time face of the franchise draw taxi squad duty to start the 2020-21 NHL season.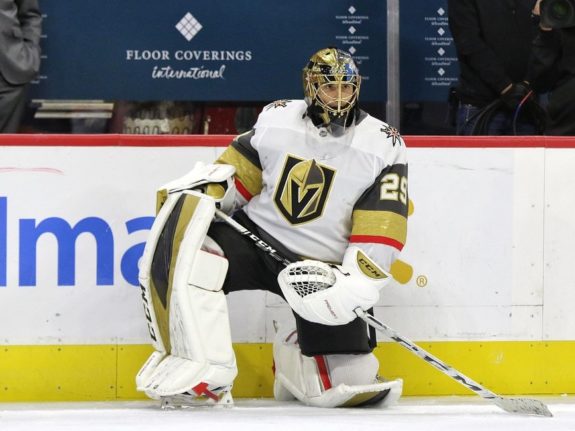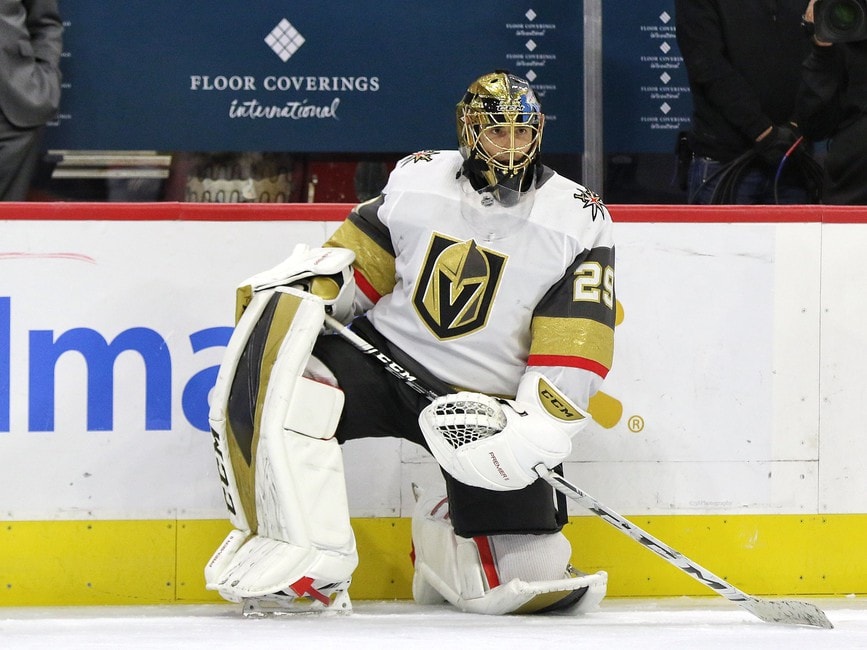 Everyone familiar with the recent history between Vegas and Fleury knows that such a move could invite a fresh new wave of animosity between the sides – be it in private or public. But if you remove the emotional element, there are simply too many reasons in favor of putting Fleury on the taxi squad.
Cap Clean Up
While it would be nice to stash Fleury's $7 million cap hit on the sidelines, league rules stipulate that the NHL team would remain on the hook for anything above a maximum of $1.075 million (as is the rule for AHL-bound players on NHL contracts).
But even counting $5.925 million against the cap would help trim the Golden Knights' cap hit a bit, at least in the short term. There would have to be a subsequent call-up to ensure Robin Lehner has a backup available, but the club could easily save a bit of money on the exchange.
The Schedule
Apart from the reintroduction of the taxi squad, the Golden Knights' schedule offers another opportunity for savings. Of the team's five sets of back-to-back games in the 56-game schedule, none occur before the end of February (the Knights visit the Anaheim Ducks on Feb. 26 and 27). While the organization shouldn't – and likely won't – lean on a post-surgery Lehner to start each game before then, those slight gaps provide some time before a viable backup should be needed.
If the early schedule buys Vegas some time, the benefits could be significant. Most importantly, it offers an opportunity to find a potential medium- or long-term solution to the cap problem. In the event of an injury, LTIR can be used to help create the space needed to bring Fleury back. Or if young players like Nic Hague or Zach Whitecloud begin to force their way up the lineup, then Alec Martinez ($4 million) or Ryan Reaves ($1.75 million) could be traded.
Practically Waiver Proof
Before he could join the taxi squad, Fleury would need to clear waivers. Instead, management could decide to temporarily send down a waiver-exempt player like Cody Glass – and they still might (each team needs at least four taxi squad members). At this stage, however, Glass carries considerably more value to the active roster. That scenario also assumes that the club wants to keep their backup goaltender.
If offseason reports are to be believed, Vegas was prepared to ship out a draft pick as a sweetener to encourage another team to take the high-paid 36-year-old netminder off their hands. Team executives would, then, be only too happy to see Fleury claimed, a scenario that seems highly unlikely.
The Replacement
A goaltender is required to be part of the taxi squad for any club carrying less than three goalies on the active roster (so, all of them), and Oscar Dansk is almost sure to be included. The 26-year-old Swede knows he is unlikely to move ahead of Lehner or Fleury on the depth chart, but he could find another opportunity.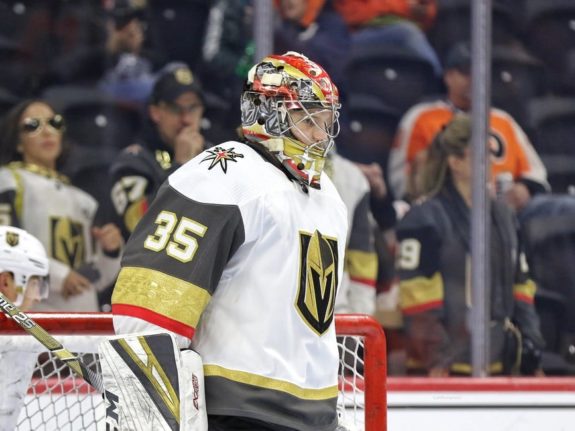 Dansk must have been aware of the Fleury trade rumors, considering that would've theoretically provided him with an inside track on the No. 2 job behind Lehner. There are plenty of reasons to believe he's ready. Drafted in 2012, he's a well-seasoned system veteran with successful stints in the OHL, SHL and AHL and even shining in his brief taste of NHL action in Vegas' expansion year (he was less successful in his one outing between the pipes last season).
Fleury is better than his understudy, at least at this stage of their careers, but Dansk has earned a longer look to show he belongs in the NHL. Because he's signed to a veteran's minimum $700,000 deal for this season, replacing Fleury will still net the Golden Knights nearly $400,000 in cap relief – even with $5.925 million still counting against the cap.
One might question whether $1.075 million in cap savings is really worth the PR headaches and potential internal turmoil associated with demoting Fleury to the taxi squad. But really, what new damage would it do? The three-time Cup-winner has already been bumped out of the starter's job and been subjected to non-stop trade rumors, all while remaining a professional. Emotions aside, a taxi squad assignment offers Fleury a non-permanent role that could help his team, not to mention a pretty easy way to keep collecting his paychecks.
---
---