As training camp winds down and the long-awaited start to the 2021 NHL season approaches, teams are starting to finalize who fills their roster spots and line combinations. It is an important time for prospects, newly acquired players and fringe players to show their worth and show why they deserve to suit up for opening night. It is also an important time for some players to show they are ready to take an extra step in their game and try to pitch a case for getting more ice time.
For the New York Rangers, they will have most of their lineup decided but will be using the time to determine a few final spots as well as who gets to play with who. They have already started experimenting with Tony DeAngelo playing on the left side.
A Look at the Forward Lines
One forward line that is more than likely going to remain intact is the top line of Mika Zibanejad centering Chris Kreider and Pavel Buchnevich. The aptly named "KZB" line has been a consistent threat for the Rangers and their go-to shutdown line, getting the call against top lines.
With Zibanejad's defensive prowess and chemistry with the ever-dangerous Kreider combined with Buchnevich's play driving, the trio has been one of the Rangers' biggest driving forces over the past two seasons. Heeding the old statement "don't fix what isn't broken" it is safe to believe head coach David Quinn keeps his top line together.
Rounding out the top six, it is safe to assume Artemi Panarin will still be centered by Ryan Strome as both had career years last season. Strome also proved capable of being a complement to Panarin's star power. With Jesper Fast gone, his spot is most likely to be filled by Kappo Kakko who will be looking to redeem himself after a lackluster rookie season.
The chance to play big minutes and with a superstar like Panarin should not only be a great learning experience for an incoming sophomore but should also be a great boost to his confidence. If he can replicate his game from the play-in round, Kakko will be an excellent fit.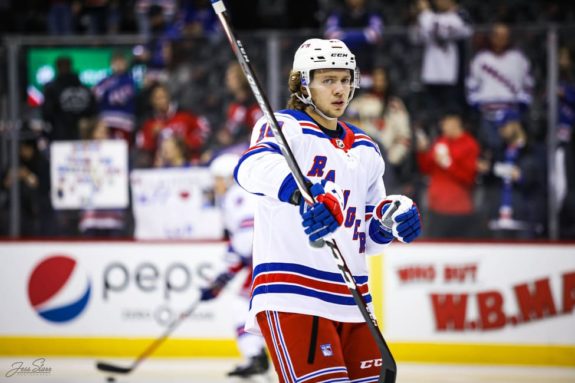 So far during training camp, the third line is shaping up to look like Filip Chytil centering Julien Gauthier and Alexis Lafreniere. This is a very young line with Gauthier as the elder statesman at only 22 years old and Chytil being the NHL veteran with only 144 NHL games to his name. The rookie Lafreniere is only 19 and is looking to make his NHL debut on opening night.
What this line lacks in experience they make up for in talent. Chytil showed some chemistry with Kreider last season and his linemate Gauthier has a very similar skillset, if they can click it would make for an interesting dynamic of youth. Lafreniere's skill level should allow him to mesh well with either player. Since most opponents will be focusing their top defensemen on Zibanejad and Panarin, it would give the young guns more room to flex their muscles. The trio could form a dangerous line and make opponents wary about three lines instead of two. 
Some interesting but unlikely combinations could be a line of Lafreniere-Zibanejad-Buchnevich and then Kreider-Chytil-Gauthier. Kreider and Chytil played very well together last year and it would spread out the veteran presence in the lineup. (from 'Chris Kreider meshing well with Filip Chytil and Pavel Buchnevich on Rangers' second line,' Newsday, 11/20/2020).
Chytil has had his biggest struggles in the faceoff dot but Kreider has taken some faceoffs on set plays last year. Plus, having Kreider play with Gauthier who has all the same tools could be beneficial to him as well. That line would have plenty of size and speed, making it very tough to play against. It also gives Lafreniere a chance to play with a star like Zibanejad. These lines are not likely but pose interesting dynamics.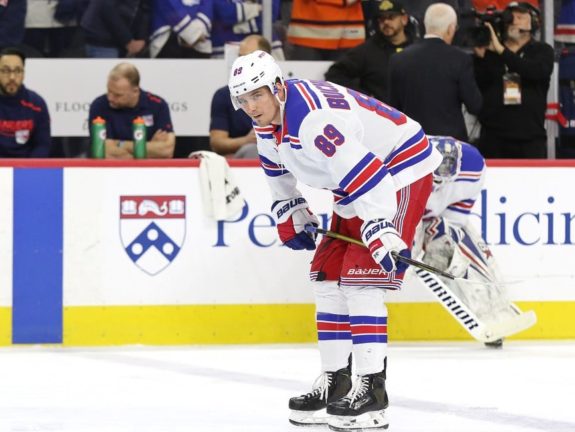 Finally, on the fourth line, there are a few options with how it could look. The main constant will be Brendan Lemieux, his grit and sandpaper play is one Quinn will always look to keep in the lineup. The other four players who will be rotating spots are Brett Howden, Kevin Rooney and either Phil DiGiuseppe or Colin Blackwell.
Howden has been impressing at camp and did see some time both at center and wing last season. Rooney was brought in to help the penalty kill which helps his chances of being in the lineup. The latter two will be the ones competing for the 13th forward spot. Both are high energy players who will be pushing the pace on the forecheck. The Rangers' bottom line should be expected to bring a lot of energy to the ice.
A Look at the Defense Pairs
The Rangers defense will be an interesting part of the team especially with new coach Jacques Martin taking the reins. The only constant seems to be the Adam Fox-Ryan Lindgren pair sticking together. The two put up very impressive rookie campaigns together and complement each other very well.
Lindgren becoming the top left-handed defenseman last season was a surprise but one the Rangers were no doubt happy with. His toughness and stability as a stay at home defenseman allowed Fox more room to shine offensively. Both are only 22 years old and the duo could make a quality pair for years to come in New York. 
After them it becomes much murkier, the two next best defensemen are both righties in Jacob Trouba and Tony DeAngelo. The Rangers have been experimenting with DeAngelo on the left side partnered next to Trouba. If DeAngelo can adjust well to the left side it would make for two strong pairings and make room for top prospect Nils Lundkvist's arrival which could be as soon as next season. Trouba's first season on Broadway was not a bad showing but fell short of expectations. With a more mobile partner, Trouba can focus more on playing his game and holding down the fort.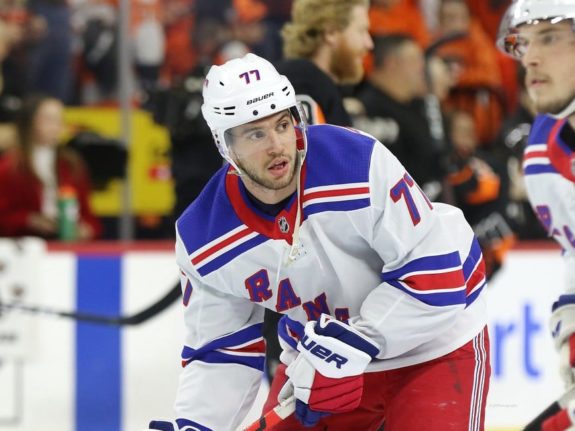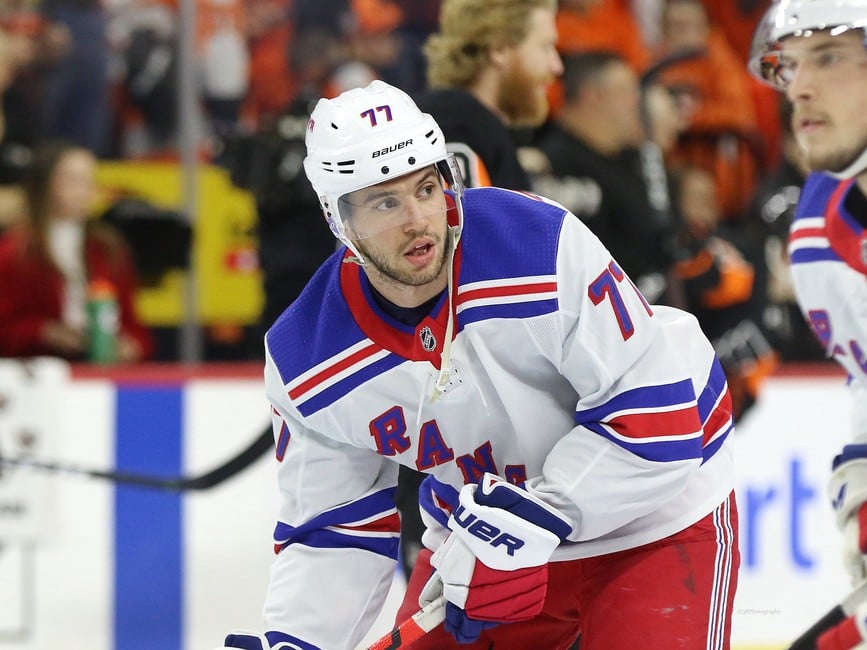 That would leave the final pair as Brendan Smith with Jack Johnson or K'Andre Miller. With how much praise Miller has gotten from the coach, his chances at cracking the opening night roster are looking very good. (from 'Rookie defenseman K'Andre Miller playing his way into Rangers' lineup,' Newsday, 01/08/2021) Johnson was brought in to help the penalty kill and although he struggled mightily last season, his connection with Martin can very likely result in him being a regular in the lineup.
Smith and Miller might make for a decent pairing in a reduced role, especially if Smith regains his form from his first season with the Rangers. The more likely pairings would be Johnson-DeAngelo due to the latter's career season with Marc Staal, another aging veteran defensive defenseman and then Miller-Trouba. 
The Men Between the Pipes
There are not going to be any surprises at who mans the crease for the Rangers this season. After an unceremonious buyout of longtime Blueshirt Henrik Lundqvist, it opened the floodgates for a new era in the net.
Igor Shesterkin's long-awaited arrival to New York was just as glorious as anticipated and he showed he is ready to lead a new age in Rangers history. With a stellar 10-2 record, a 2.52 goals-against average (GAA) and an impressive .932 save percentage (SV%) on a sub-par defensive team, Shesterkin could reasonably make a case for the Calder Trophy. He is expected to be the starter after being named the number one goalie late last season.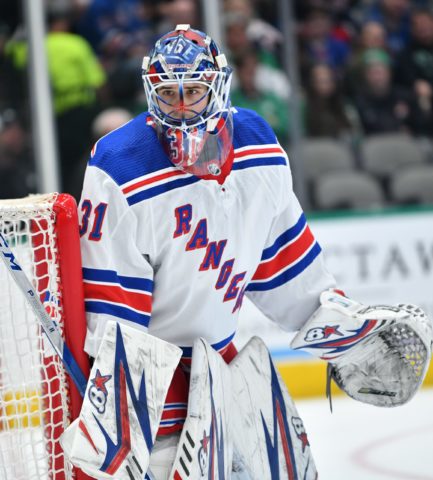 Behind him will once again be Alexandar Georgiev as the backup goalie. He is more than capable of coming in to play and keep the team in games. Since Shesterkin has only played over 30 games for a team in one season, having another quality goaltender to split the workload with is important for the Rangers. Over the past three seasons, Georgiev has shown he is up to the task. Goaltending has been the Rangers' biggest strength since Lundqvist took over and all signs point to it being their strength once again. 
The East Division is stacked with talent including three of the top four teams in the Eastern Conference. The Rangers have a tall order ahead of them if they want to return to the playoffs but it will be a great test for the youth and serve as a tracker for just how close they are to being a contender again. On paper they definitely have the talent, they just have to go out and perform.
---
---