On Jan. 9, the Florida Panthers claimed veteran defenseman Gustav Forsling off of the waiver wire from the Carolina Hurricanes. Forsling was originally a fifth-round pick, 126th overall, in the 2014 Draft by the Vancouver Canucks.
Forsling's Career So Far
Although he was drafted by Vancouver, Forsling would never play a single shift with them as he was traded to the Chicago Blackhawks for Adam Clendening. It was in the Windy City where his career would start.
However, Chicago provided his only NHL ice time, as his entire 122-game NHL career to date was with the Blackhawks. Through those games, he has eight goals and 19 assists for a combined total of 27 points. However, his career rating is minus-9.
Related: Panthers' Affiliate Charlotte Checkers Opt-Out of 2020-21 Season
He was then dealt to the Carolina Hurricanes where he hoped to jumpstart his career. He was sent to the AHL where he spent 57 games last season playing for the Charlotte Checkers, notching 26 points (eight goals, 18 assists). As previously mentioned, he was then placed on waivers.
So, with less-than-great results seen so far, why would the Panthers pick him up?
Depth Is Wanted
For many seasons, depth has always been an issue for Florida. It always felt as if one player went down — or if one player failed to meet expectations — their season was lost. Last season was no exception as there have been cases where they have lost time from multiple forwards, defensemen and even their starting goaltender in Sergei Bobrovsky due to injury. While Forsling may not be a shoe-in for the opening night lineup, he's someone they can rely on if a starter goes down.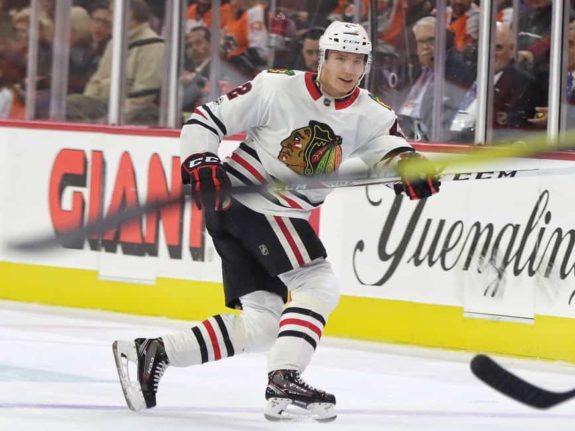 Assuming he gets sent down, he can also be a great part in assisting the young guns with the Syracuse Crunch in the AHL, where he found success during his time with the Checkers. In the grand scheme of things, everybody wins in the end of this deal.
Familiarity with Coach Q
Florida Panthers head coach, Joel Quenneville, spent 10 years as a head coach in Chicago, bringing them three Stanley Cups. During that time, he got to coach Forsling. It's obvious he likes what he sees from the guy, so bringing in someone who understands his style and scheme does not seem like a bad idea.
In addition, this may feel as a wakeup call for the other players on the roster as a way of saying "play to your potential, or you're packing your bags" as his hard style is a staple of what made Coach Q a legend in the NHL. With that, its easy to see why he has three Stanley Cups as a head coach.
Experience Teaches Youth
As previously mentioned, Forsling could pass his wisdom to the younger players in the AHL. However, that does not mean he couldn't do it in the NHL. A lot of young players may be getting their first crack at making an NHL roster this offseason. Someone like him could tell these younglings how to get the job done and to properly develop their skills.
For example, Panthers defenseman Brady Keeper might finally be a "keeper" in the lineup for the start of the season. With the help of someone that is only 24 years of age with NHL experience like Forsling, it should send him down the right path towards success in the future.
The Season Draws Closer
This defenseman acquisition comes less than a week before the start of the NHL season. With that in mind, this could shake things up in camp as cuts have already been put in place. In addition, Florida is going to get some more time to mesh their lines and pairings as their home opener was postponed due to a COVID-19 outbreak within the Dallas Stars organization. Because of this, Florida will now start their season on Sunday, Jan. 17 against Chicago rather than Thursday, Jan. 14. against Dallas.
Regardless, general manager Bill Zito makes another move to attempt to improve the team. He's been hard at work this offseason and here's hoping it leads to more success in the future.
---
---