The 2020-21 San Jose Sharks will be looking to qualify for the playoffs after failing to do so in 2019-20. If they do rebound, there will need to be at least one if not more young players who break out next season. The Sharks have several positions where young players could assume prominent roles. I'll examine a few of the likely candidates based on position, along with their chances of being the top breakout player for the Sharks in 2020-21.
Goaltending
Though one of the Sharks' biggest weaknesses is in goal, with the arrival of Devan Dubnyk, it is unlikely that potential candidate Josef Korenar will get a legitimate shot at a breakout. After a great 2018-19, Korenar struggled in 2019-20 for the San Jose Barracuda. He is now back in his native Czech Republic and the early results are that he looks good.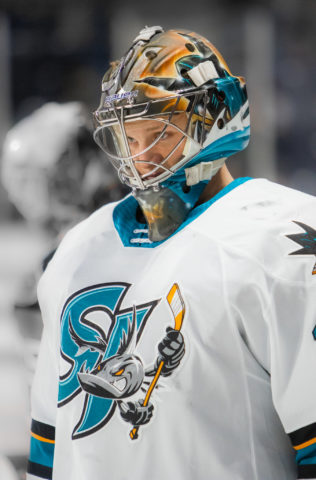 As of this writing, he is sporting a 2.30 goals-against average, .914 save percentage, and three wins for the HC Ocelari Trinec. He is giving up as many goals as expected, which is about as much as you can ask from your goalie. With regained confidence, 2021-22 could be his year. Alexei Melnichuk has probably passed him in terms of upside and some consider him an untouchable prospect. Either way, Korenar is still likely closer to NHL ready.
Defense
For the defense, most of the spots are spoken for with Mario Ferraro, Marc-Edouard Vlasic, and Radim Simek locking down the left side, while Norris Trophy winners Erik Karlsson and Brent Burns patrol the right side. That leaves one right-shot defense spot up for grabs. While many hope the supremely talented right-shot Ryan Merkley will jump from junior to that role, that is a big jump and seems doubtful. 
Recently signed Brinson Pasichnuk, though he's a left shot, might play on his off side. In his senior year, he recorded over a point per game with 37 in 36, while driving a 67% Corsi shot share. He'll likely need a year in the AHL, but could make the jump straight to the bottom pair in the NHL. One of the left-shot defenders could move the right side and allow Pasichnuk to play his more comfortable side.
Jacob Middleton, in his 10 game NHL sample size, looked serviceable landing him fourth on the team for Corsi% per 60 minutes ahead of Burns, Ferraro, Simek, and Vlasic per Evolving Hockey. As a left shot, though, Middleton would also have to play his off side or would force one of the regular lefties to do so. In the end, I doubt any of these defenders has a prominent role as the top-four defensemen will maintain their status for the Sharks.
Wing
Right wing remains one of the biggest weaknesses for the Sharks after Joe Pavelski left. Kevin Labanc is probably their best right-shot right wing, after him, it really drops off. Timo Meier has played both wings and it is possible newcomer Ryan Donato can play the right side, but beyond that, it would probably be Joachim Blichfeld.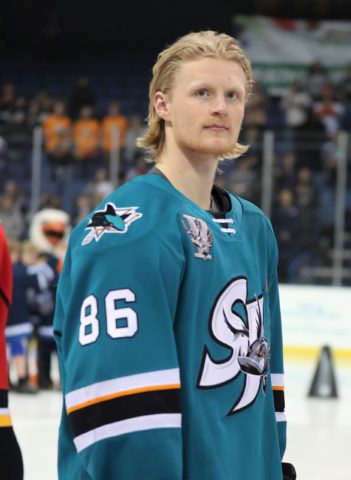 The Danish-born, right-shot Blichfeld had a fantastic first season with the Barracuda in the AHL. He scored 32 points in 44 games, though he sported a minus-eight. Digging deeper, he got caved in with only a 35% Corsi for, so it seems like he might have trouble driving play. Paired with a good two-way center like Tomas Hertl or Logan Couture, that deficiency might be moot. Seems like Blichfeld needs another AHL season, but if he gets a legitimate top-six role, he certainly could be a top candidate to break out. His three-game cameo for the Sharks in 2019-20 was not terribly reassuring.
Center
Besides right wing, the most glaring hole in the Sharks' depth chart is likely at center. Beyond Hertl and Couture, the other forwards listed as a center with NHL experience include Donato, Antti Suomela, Lean Bergmann, Alexander True, Joel Kellman, Maxim Letunov, and Noah Gregor. Donato might be given a shot to be the third-line center, but may be better suited for the wing. Of all the other skaters, only True had a positive Corsi% per 60 minutes in 2019-20.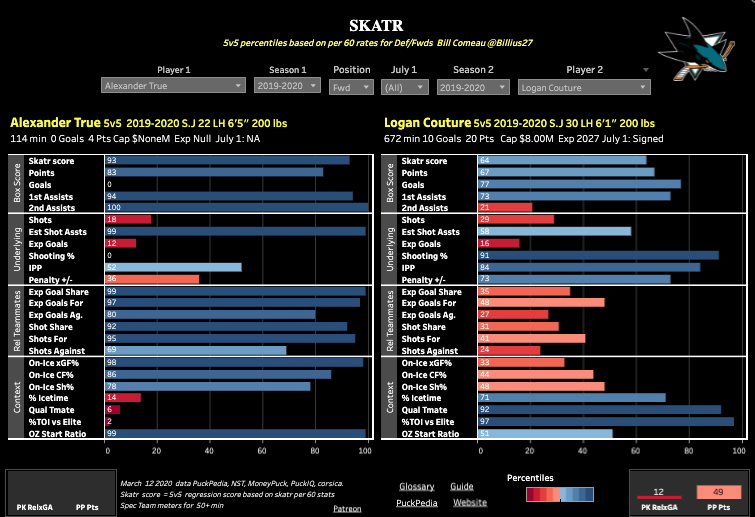 In his 12-game NHL tryout last season, True looked very capable. His per 60 Corsi% was better than Couture and Evander Kane. Certainly, those 12 games aren't enough to adequately make an assessment and the quality of competition is unequal, but nonetheless, it is a positive sign. From the SKATR tableau above, it is helpful to see that True had only 2% of his time on ice versus elite competition, whereas Couture had 97%. This disparity shows just how much more difficult Couture's job is and how hard it will be for True once he gets more difficult assignments.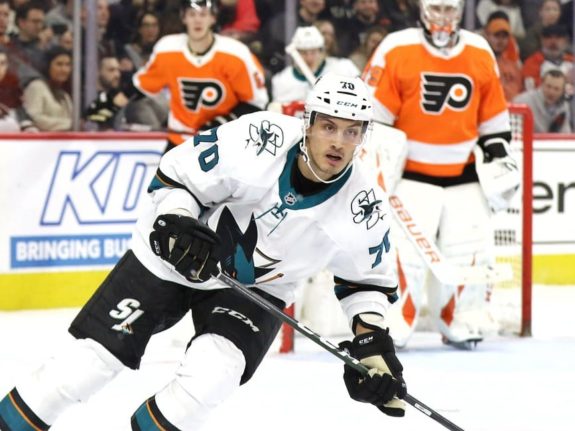 Assuming he can continue to progress and perform well against better competition, True is a leading candidate to be the breakout star the Sharks desperately need. In addition to having good size at 6-foot-5, he uses his size well. His hits per 60 minutes were second on the Sharks only behind Bergmann, who also enjoyed a 12-game NHL sample in 2019-20. He actually hit more than twice as often in the NHL than in the AHL, and it wasn't because he was losing the shot share battle, so that is reassuring.
True Breakout?
Lack of center depth is arguably the biggest need for the Sharks and aligns well with one of their most NHL-ready prospects in True. The combination of opportunity and skill usually leads to the best chance of breakout. While Korenar, Merkley, Pasichnuk, Donato, and Blichfeld certainly have a chance to be the top breakout candidate, they have obstacles in opportunity, as well as individual skill. Obviously, it would be great for the Sharks if all these players fulfilled their top potential in 2020-21, but the most likely candidate is True.
Insights provided by InStat
---
---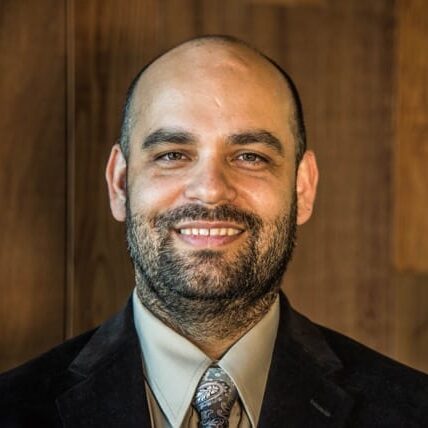 Victor Nuño is a physician in private practice in Santa Cruz and an associate professor of osteopathic manipulative medicine at Touro University in California. He is an avid hockey fan ever since the San Jose Sharks joined the NHL in 1991. He plays, watches, and consumes everything related to hockey, but especially the Sharks and AHL affiliate Barracuda. In addition, he is a father to two beautiful young girls and husband to a wonderful wife. Follow me @VictorNuno12