The San Jose Sharks are headlined by Tomas Hertl and Logan Couture, both great two-way centers. However, both had injury-riddled seasons in 2019-20, and the team was forced to utilize their young centers. Management also traded Barclay Goodrow at the deadline and lost Joe Thornton to free agency, making the Sharks' lack of center depth all the more important. Now they must rely on unfamiliar faces to fill out the bottom two center options. Here's a look at the team's current options up the middle:
Tomas Hertl
Hertl is the Sharks' best center. He was drafted 17th overall in 2012 and made his NHL debut in 2013-14. He is a sensational talent with impressive puck possession, a great two-way game, and made an impact on last season's league-best penalty kill.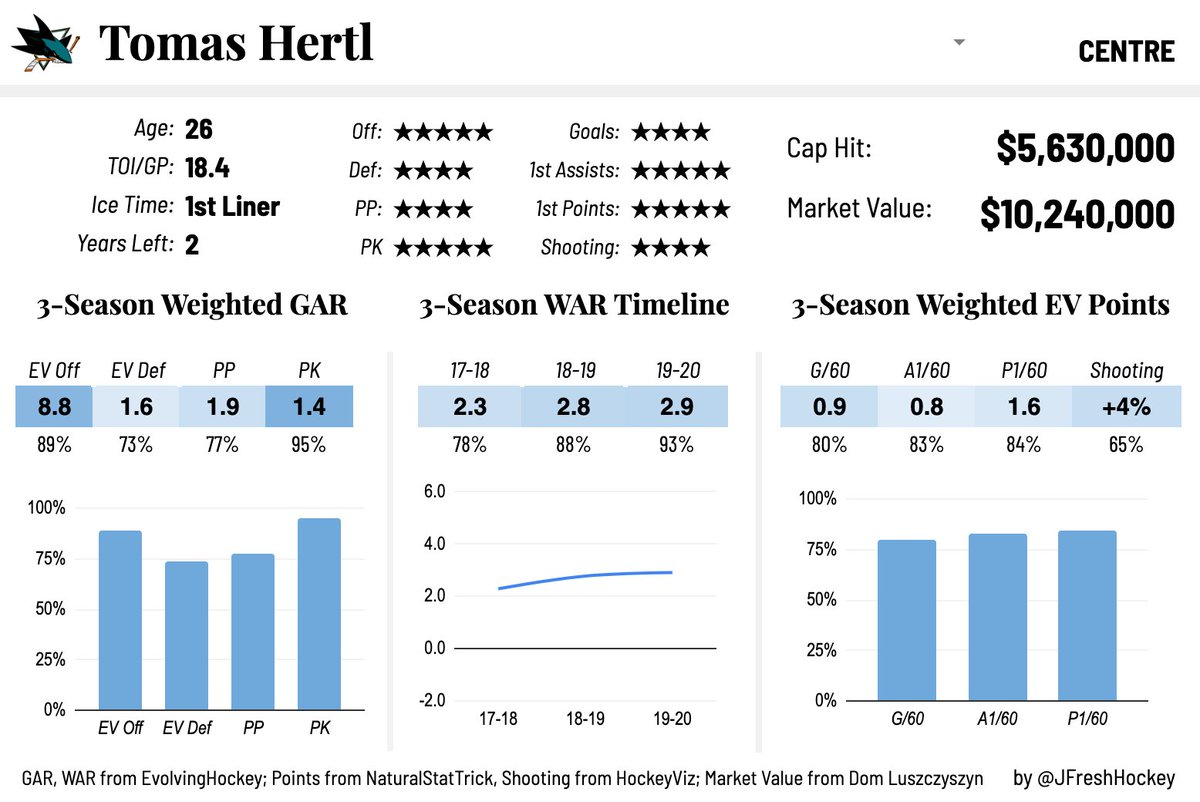 He has always been a goal-scorer. Last season, Hertl was on pace to score 27 goals and 62 points (in an 82-game schedule) and tied Couture in points per game. He was also second behind Kevin Labanc in relative Corsi for % among Sharks forwards at 4%. He was fifth in the league in expected goals per 60 minutes, according to Money Puck. The site also ranked him behind Anthony Mantha of the Detroit Red Wings in relative expected goals.
Hertl is a tremendous talent who drives the play extremely well. He can carry a line or succeed on the first line. He will look to return to the points he put up in 2018-19, 35 goals and 74 points in 77 games, next season.
Logan Couture
Couture has been consistently great for the Sharks with at least 20 goals in eight of his 10 NHL seasons. He is known for his incredible playoff performances and plays well on both special teams. While his analytics may not be as impressive as Hertl's, his talent is undeniable.
Money Puck rates Couture as the Sharks' best forward in goals above expected. Additionally, his 12.7 shooting percentage was second among Sharks forwards who played most of last season, behind Hertl. His 16 even-strength goals were only behind Timo Meier for most on the team, and his nine power-play assists were best among the team's forwards. Considering that Couture missed 18 games last season, it is quite impressive he was able to put up these point totals.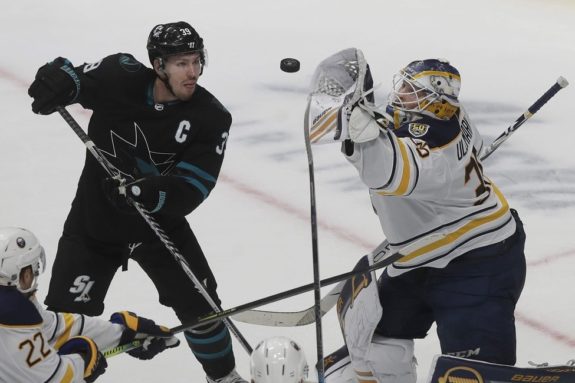 Couture was the first choice to represent the Sharks at last season's All-Star Game. He is the team captain and a consistent producer. After these two centers, the team's depth up the middle is suspect, however, they have young options who have some nice upside.
Joel Kellman
The Sharks signed Joel Kellman out of the Swedish Hockey League where he played for Brynas IF Gavle during the 2019 offseason. He played 31 games with the Sharks after a 25-game stint with the San Jose Barracuda in the 2019-20 season. He was great defensively, but lacked offensive production and puck possession in his first NHL season.
Related: San Jose Sharks 'Untouchable' Prospects
With Melker Karlsson and Stefan Noesen, the line averaged 1.74 goals-against per 60 minutes, better than any other line playing at least 60 minutes. However, they only averaged 1.84 goals per 60 minutes, which is below most of the team's starting lines. Kellman was behind only Hertl and Thornton in faceoff win percentage (among centers who played at least 30 games).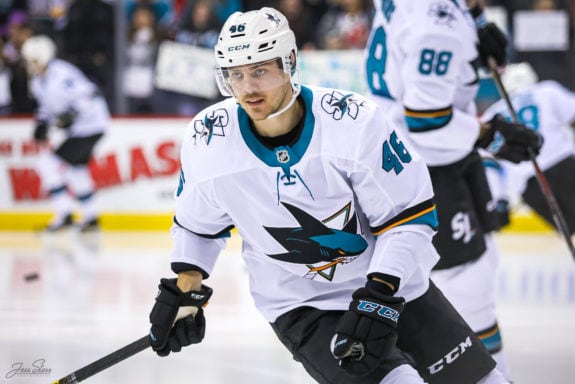 However, he lacks offensive impact. Kellman had three goals and seven points last season. He is currently playing in the second division of Swedish hockey and has just five points in 14 games. He is a quality defensive center, however, his offensive play needs improvement. He will need to prove himself as a point-producer before he solidifies a spot in the starting lineup.
Alexander True
After aging out of the WHL, Alex True joined the Barracuda for the 2017-18 season. In 2018-19 he put up 24 goals and 55 points in 68 AHL games and emerged as a potential option for San Jose.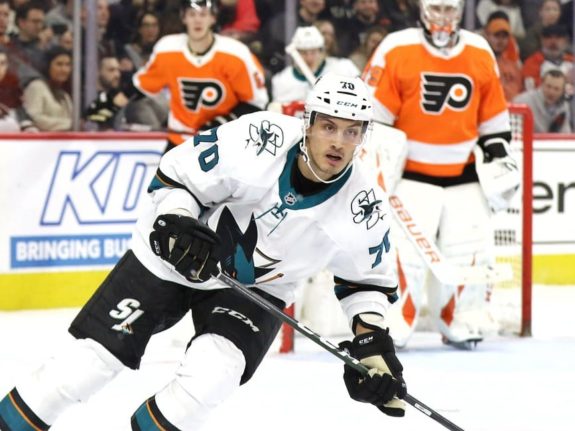 In my 2020-21 roster prediction, I have True slotted in as the team's fourth-line center. He played well as a rookie in his first 12 NHL games, and although he has yet to score a goal, he had four assists and was a plus-1 on a struggling team. The sample size is small, but True seems to be a nice option for the Sharks. His relative Corsi for% was fourth on the team (among players who played at least 10 games), behind only Labanc, Hertl, and Meier. His roster spot is uncertain, but he is an option for next season.
Noah Gregor
Noah Gregor is another young option who was drafted in the fourth round of the 2016 NHL Draft. He aged out of the WHL after the 2018-19 season and was first exposed to professional hockey last season. After 25 AHL games, he was called up to the Sharks for 28 games where he tallied three goals and five points.
Gregor is listed as a center, however, he played most of last season as a winger on different lines, some times slotting in next to Couture. He is 22 years old with lots of potential, but his greatest asset is his speed which is how he provides offense.
His analytics are not too promising, unfortunately, with a relative Corsi for of -4.3%, which ranked near the bottom of the team. He only played on one line that logged 60 total minutes together. Of Sharks' lines that played at least 60 minutes, Gregor's was worst in expected goals for and against. Of his 19 faceoffs, he won only 31.6%.
Related: San Jose Sharks' 3 Worst Contracts For 2021
Gregor's quickness and speed are nice, however, his on-ice effectiveness is questionable. The youngster will have to prove himself a capable center, especially in creating offense if he wants to crack the starting roster.
Other Options
Dylan Gambrell is likely the next best option. The 24-year-old had five goals and 11 points in 50 NHL games in the 2019-20 season. He was drafted in the second round of the 2016 NHL Draft, and in the last two seasons, he has been a consistent .9 points-per-game AHL forward. His shooting percentage was fourth on the Sharks (among players who played at least 10 games), however, his control and defensive game are below average. Still, his 61 games of NHL experience is more than any other option outside Couture and Hertl.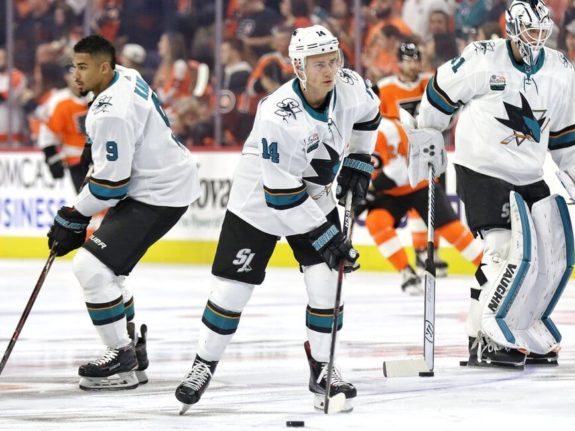 Fredrik Handemark is another possible option. He has two goals and nine points in 14 SHL games, after a 14-goal and 38-point season in 52 games last year. The Sharks inked him to a two-year contract this offseason, signifying that they believe he could make an impact. However, with no NHL experience, it is difficult to know where he lands on the depth chart.
Antti Suomela could also push for a consistent roster spot. He had one goal and seven points in 20 games in San Jose last season. He was signed from the Finnish league ahead of the 2018-19 season and played 27 games in his first year. He has yet to establish a consistent roster spot, however, will definitely have opportunity to do so with the lacking center depth on the roster.
Maxim Letunov could also push for more NHL ice time. The Russian was drafted in the second round by the St. Louis Blues in 2014. He slotted into just three games last season for the top club and scored one goal. In the AHL last season, he posted 12 goals and 40 points in 50 games, which is pretty good for his second season of professional hockey. Again, the sample size is small, but he is another player looking to land a roster spot.
Sasha Chmelevski is also worth mentioning, although it's unlikely he'll make the NHL next season. The 21-year-old was selected in the sixth round of the 2017 NHL Draft and scored over 70 points in his last two OHL seasons. In his first AHL season, he put up 27 points with 11 goals in 42 games. He is one of the better prospects in the organization's system and depending on how the season goes, he could get a chance with the top club.
My Thoughts
The Sharks will miss Thornton who manned the third line in 2018-19 and provided offense that could overpower many teams' bottom six forwards. I don't see the same upside among the team's center depth. Kellman, True, and Gambrell are viable options, but can the team succeed without the depth scoring they've had in previous seasons? I'm optimistic, but outside the Sharks' quality top-two centers, their depth down the middle will not be enough to improve on their last-place finish in the Western Conference in 2019-20.
---
---