It's safe to say that right now there are a lot of holes on the San Jose Sharks' roster. One of the major ones is the forward position, despite the bandages general manager Doug Wilson put together by signing Patrick Marleau and Matt Nieto. With this year's NHL Draft, they selected a quality bunch of forwards, but the timelines of those draft picks are unknown as of the writing of this article. Luckily, there could be a young forward who makes his way into the roster come January. 
The forward in question is none other than Fredrik Händemark. He plays for the Malmo Redhawks in the SHL (Sweden) but was signed by the Sharks to an entry-level deal in May.
Händemark Deserving of Roster Spot
Händemark's stats in 2019-20 were as follows: 14 goals and 24 assists for a total of 38 points in 52 games along with 65 penalty minutes and a plus-9 rating. In his current stint with Malmo, he has played 10 games and scored a goal and 4 assists with 8 penalty minutes and a minus-6 rating. 
It seems like he's in a bit of a slump, but it's only 10 games so far, and the SHL season is 52 games, so he has plenty of time to turn his season around before Sharks training camp begins. The question is, however, will he have enough to start for the Sharks on opening night? 
Kevin Kurz of The Athletic thinks so. In his Depth Chart 2.0 article that he published on Oct. 13th, he puts Händemark on the 3rd line with the Nieto and Marleau. Kurz says about Händemark, "I still get the impression they really like this guy. You don't sign a player at that age unless you think he's going to be able to help you at the NHL level right away. He's big — 6-foot-4, 210 pounds — which would give the Sharks some needed size up front." (from 'Sharks Depth Chart: How Patrick Marleau and Matt Nieto fit into the lineup,' The Athletic, 10/13/20)
This would make Händemark seem favorable, right? Yes, but training camp could be a whole different story. If you follow any other sport with a training camp, you know that the most hyped prospects can either fizzle out or show up and be a superstar. Numbers usually aren't a major piece in decision making. It matters what you can do on the ice itself, so we could see the 2019-20 version of him, or somebody completely different. With that said, if he gets the opportunity to come to Sharks training camp, whenever that may be, he'll have to battle for a roster spot, let alone the third-line center position.
Training Camp Battles
Händemark's competition would most likely come down to a few players. There's Dylan Gambrell, a Sharks veteran, as well as Antti Suomela, who's had lackluster production with San Jose thus far (4 goals, 11 assists, +5 rating, 8 penalty minutes). There's also Noah Gregor, who made a great impact to the team after being called up from the AHL's San Jose Barracuda, and Alex True, another Barracuda veteran, who is looking for a permanent roster spot. And don't forget Joel Kellman, who's someone who could probably bring the biggest threat to the roster. He would probably also have to battle with Marleau unless head coach Bob Boughner sees something different and shifts him to a wing position. There could also be another signing that can play center that adds to his challenge.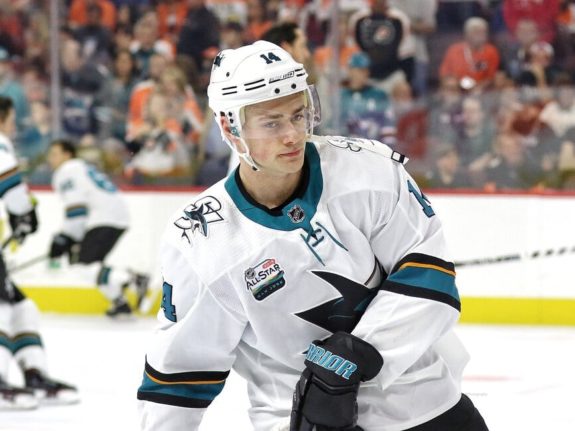 Händemark has a tough hill to climb in order to make this roster. With his current lack of production in the SHL, as well as a respectable handful of competition he'll have to go against with the Sharks, he has to prove himself worthy of being in the NHL. He has a long road ahead of him, but let's hope he's ready for it.
---
---