Patrick Marleau will be returning to the San Jose Sharks for his 21st season with the franchise, as the club has signed him to a one-year deal worth $700,000.
Sharks Legend Marleau Simply Belongs in Teal and Black
Marleau, 41 years old, is Sharks royalty and is their all-time leader in most statistical categories, including: Goals with 518, power play goals with 160, shorthanded goals with 17, game-winning goals with 98, points with 1,082, shots with 3,798, games played with 1,493, and consecutive games played with 624.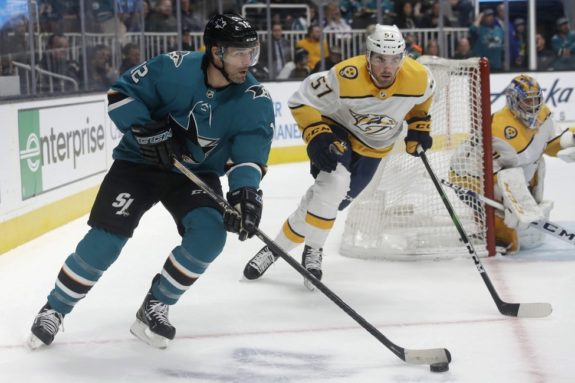 He was one of the NHL's most dominant centres throughout the 2000s, exceeding 50 points in a season 11 times and acting as Sharks captain between 2004 and 2009.
Originally selected second overall in the 1997 NHL Entry Draft, Marleau is one only three active NHL players who began their career in the 1990s (former Sharks teammate Joe Thornton and Zdeno Chara are the other two.)
Marleau Just Can't Stay Away from San Jose
2020-21 will be Marleau's third stint with the squad. In 2017-18 and 2018-19, he played for the Toronto Maple Leafs after signing a three-year contract worth 6.25 million annually. With the Leafs, he recorded 43 goals and 41 assists for 84 points in 164 games.
He then returned to the Sharks for the beginning of last season — and got a standing ovation when he did. However, he was traded to the Pittsburgh Penguins at the trade deadline as the Sharks — who were selling as they were falling out of the playoff race — wanted to give him a chance to win a Stanley Cup. Unfortunately for Marleau, the Penguins were upset in the Stanley Cup Qualifying round by the Montreal Canadiens.
Related: 2020 NHL Playoffs Qualifying Round Upsets Described in One Word
Marleau can still generate offence and possesses a deadly shot despite his age, and will also provide the Sharks with an unmatched level of veteran leadership. He's basically a player/coach at this point.
Marleau is only 45 games shy of passing Gordie Howe's NHL record of 1,767 games played.
---
---