Hockey media everywhere has been critical of Erik Karlsson—and the $11.5 million contract the San Jose Sharks signed him to—ever since his first full season in California. Traded from the Ottawa Senators in September of the 2017–18 season, his sheer point output has taken a dip since joining the Sharks.
In the 2015-16 season, he tallied 82 points; by comparison, he is yet to hit 50 points for the Sharks. Sportnet's Andrew Berkshire claimed Karlsson is in decline, Golden Gate Sports argues the Sharks lost the trade, and hockey writers from everywhere consider his contract one of the worst in the league. But these numbers and criticisms ignore the broader context and scope of his play, which, I argue, is still elite. 
Setbacks in His Two Seasons in San Jose
Karlsson has played two seasons for the Sharks, both of which have come with off-ice hindrances. Most notably, he was injured during both seasons. In 2018-19, he missed games because of a suspension and a groin injury and he missed the last third of this season because of a broken thumb. These injury-ridden seasons came shortly after the tragic and unexpected death of the first child of Karlsson and his wife.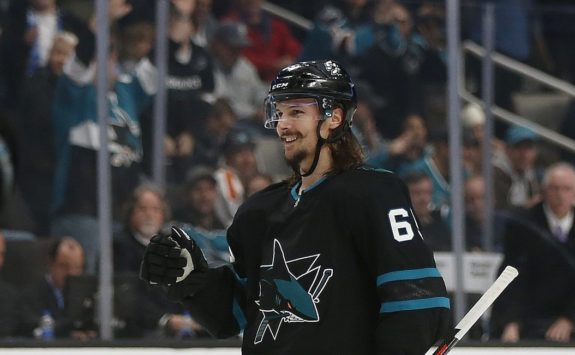 These extenuating circumstances, in addition to moving his family to a new country, have not made for the easiest first transition to San Jose. Having an extended break because of Covid-19 and time to recover fully from his thumb injury, the 2020-21 season may be his first fully settled season in San Jose. 
Statistical Adjustments for Full Seasons
Despite these injuries, and although he only scored three goals in his first season as a Shark, he still recorded 42 assists, including an amazing run of 14 consecutive games with an assist. In an 82 game season, he was on track for 70 points. For the 2018-19 season, these numbers would have placed him in a tie for fourth place with John Carlson for defensemen scoring leaders. He would have finished behind Brent Burns (his occasional partner), Mark Giordano, Morgan Rielly, and Carlson—this is elite company. 
This past season, he played 56 games and hit 40 points—which would have amounted to just short of a 60 point campaign in a full season. This drop-off was most likely influenced by the dismal San Jose power play, which, with their 17.5% conversion rate finished with the 23rd ranked power play. The year before? They finished with the sixth-best. 
Related: San Jose Sharks: A Brief History
With a more effective power play, his numbers could resemble the best of his Senators years. His record in Ottawa attests to this. With them, he hit 30 powerplay points twice; this past season, he had just 13. It also wouldn't be fair or accurate to blame San Jose's recent power play failure on Karlsson—one player, especially a defenseman, doesn't define a team's special teams. 
His only playoff opportunity with the Sharks, in 2018-19, was by any account a remarkable performance. He hit a total of 16 points in 19 games—almost a point per game average. He blocked 33 shots and threw 15 hits—upping his normal outputs in both of these categories for the playoffs. All of this to say: Karlsson still produces offensively.
A More Complete Player
Not all of his stats need to be adjusted for a full season to look impressive. His defense, according to the tools provided by CJ Turtoro, is amongst the league's best.
In his most recently updated statistics, from the 2018-19 season, Karlsson breaks up just short of 17% of rushes per target—this makes him the 11th best in the league and one of the only defensemen on the list with offensive talent. Even more impressively, there isn't a player in the league better than Karlsson at exiting the defensive zone.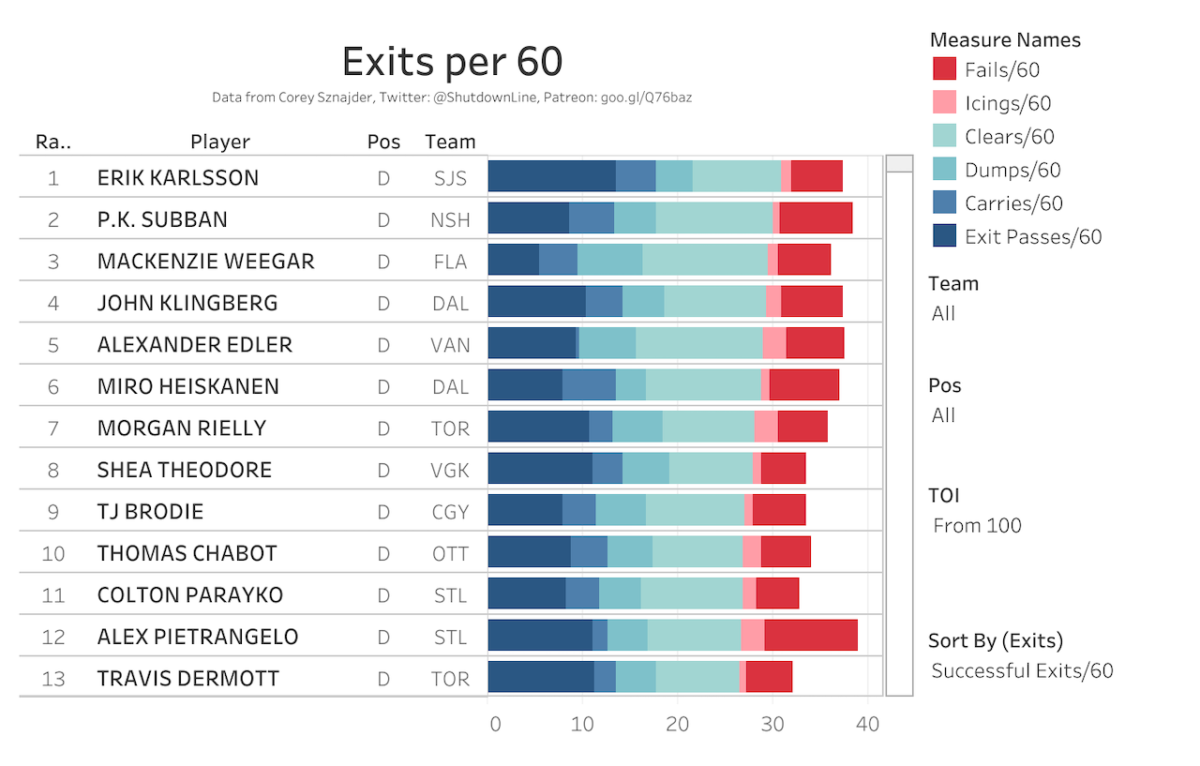 Moreover, in a side-by-side comparison with Giodornao, who won the Norris that season, Karlsson's the better player in all 10 categories measured. The 2018-19 Norris trophy winner's complete game, in other words, paled in comparison to Karlsson.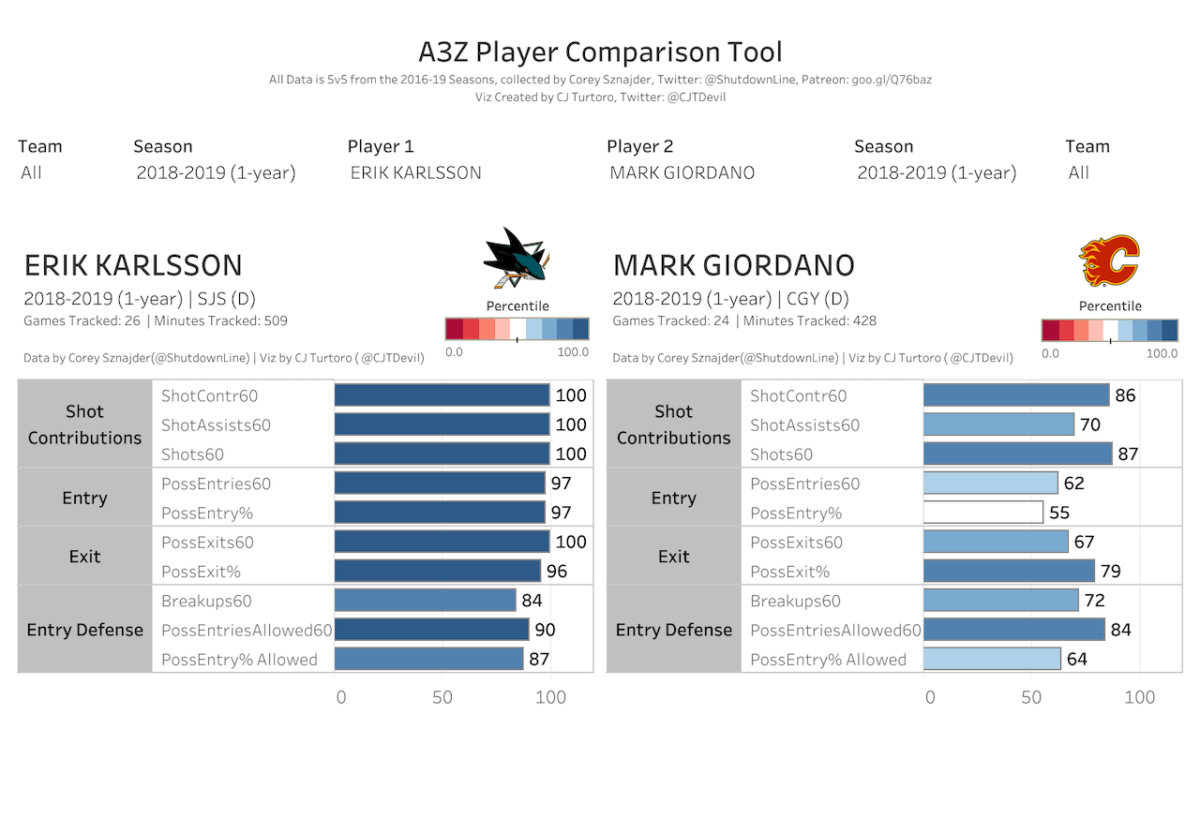 In fact, most of Karlsson's non-point based statistics point to his elite play as one of the world's best defensemen. His clean play keeps the Sharks out of the box: this season he only tallied 16 penalty minutes, remarkably low for a player with as much ice-time as him. His penalties, even adjusted for full seasons, have been lower in San Jose than in Ottawa. This isn't the only way his game's improved. His giveaways have almost halved since going the Sharks, and his takeaways have remained steady despite playing fewer games in both of his Sharks' seasons. 
Despite winning two Norris trophies in Ottawa, his defensive zone play wasn't always the strongest. These graphs from Hockey Viz show his influence in the defensive zone, which has seen consistent improvement in his Sharks' seasons.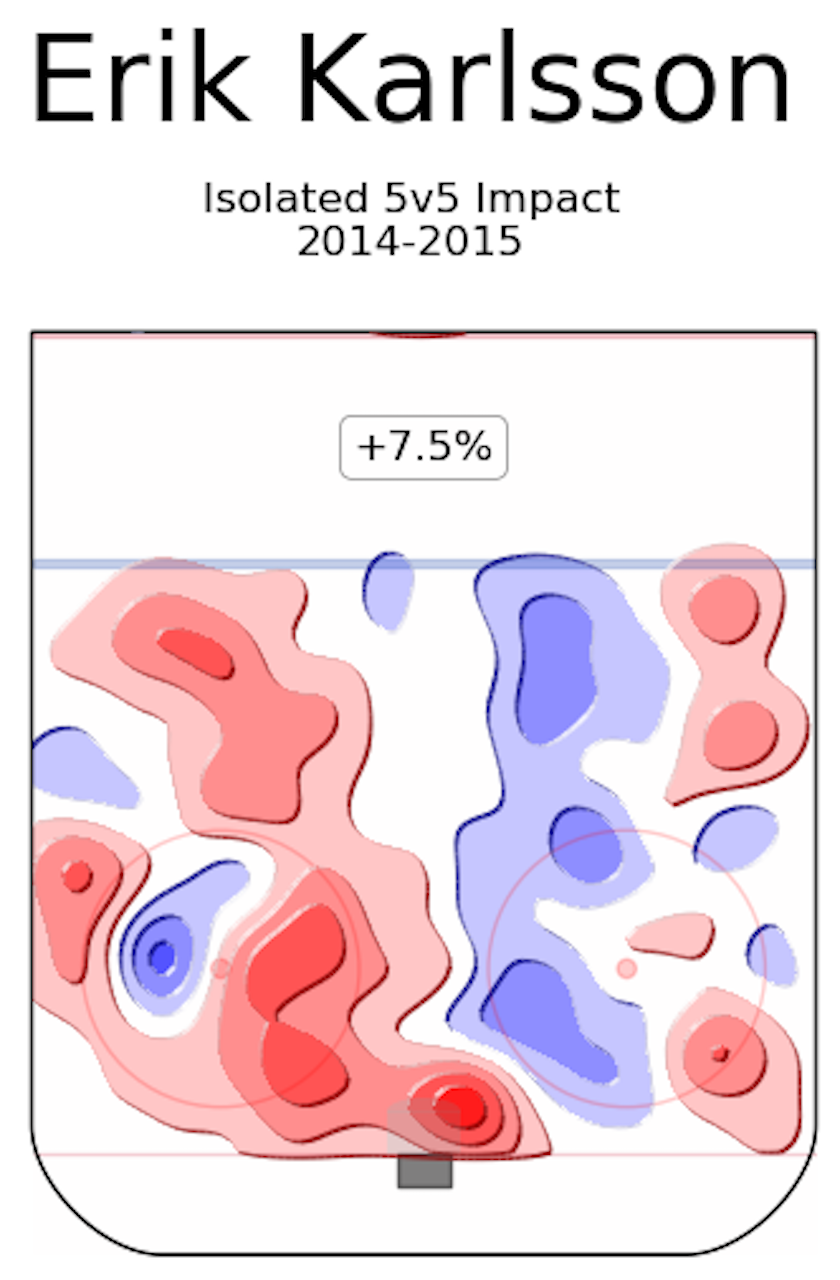 The red zones are areas where Karlsson's play enables the opposing team to score more than average in that spot, while the blue areas are where Karlsson's play results in fewer goals than normal. As you can see, his Sharks seasons have resulted in more blue than his last Norris Trophy-winning season, 2014-15. Hockey Viz's defensive zone graph from this season, though not as great as 2018-19, still show a general upward trend. The two-time Norris winner has been improving in the defensive zone. 
He also led the Sharks in Expected +/-, a stat that "utilizing league-wide shot location data, shows what we'd expect a player's +/- to be, based on where his team's shots and his opponent's shots came from while we have on the ice in even-strength situations." 
Puck Possession
In general, Karlsson's puck possession has improved since the trade. This season, he finished behind Kevin Labanc for the team's second-highest Corsi per 60 minutes. Corsi is an advanced statistic used to measures a player's consistent impact on the game. It's calculated by using 5-on-5 play (Shots on Net For + Missed Shots For + Blocked Shots Against) – (Shots on Net Against + Missed Shots Against + Blocked Shots For).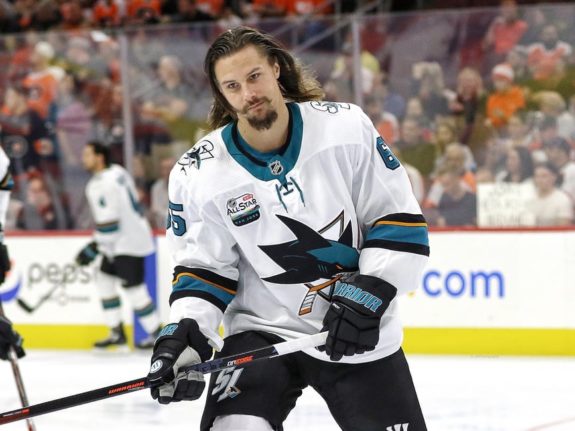 He finished with a relative Corsi/60 of 4.33. The next player, Barclay Goodrow, who is now playing for the Tampa Bay Lightning, finished with 3.74. And since Labanc (C/60 of 6.99) is not yet re-signed for the next season, there is almost a full point between Karlsson and the next guaranteed returning Sharks player, Tomas Hertl. His first season for the Sharks came with a relative Corsi of 7.6, the second-best of his career. Karlsson, in this respect, is one of the best Sharks.
Karlsson, in this respect, is one of the best Sharks. 
Different Teams, Different Scenarios
Karlsson's play for the Senators produced some of the most remarkable statistical seasons for defensemen in recent memory. His play in San Jose hasn't been a straight drop-off, but an adjustment because San Jose doesn't need him to produce league-leading numbers to score enough goals to win. They have Evander Kane, Logan Couture, Hertl, Timo Meier, Burns, Joe Thornton, and Labanc—their input should come from across the board, not just the blueline.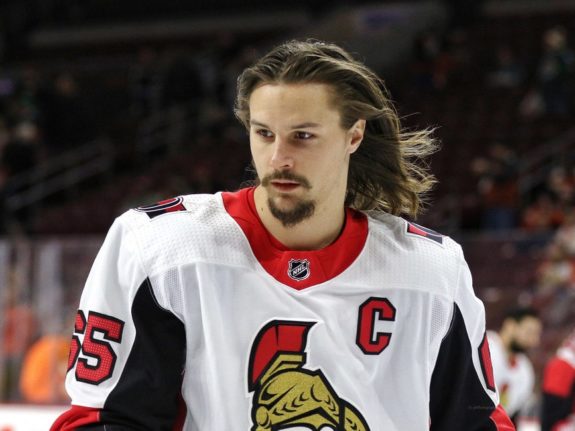 It was a different story in Ottawa. He needed to produce insane numbers offensively for the Senators to succeed. His total point share hovered around 10% his entire time in Ottawa. Despite being nine points away from leading the Sharks in points while playing 14 fewer games than the team leader, his point share was just 5.5%. 
Related: Sharks' Best Players in Franchise History
Likewise, his ice-time since joining the Sharks has been more realistic for top-player numbers rather than the absurd video-game-like average time-on-ice he was playing for the Senators. He's gone from an absurd average of 28:58 in 2015-16 to a more humble 24:31 in 2019-21.
When an elite player like Karlsson plays close to 30 minutes, it's no surprise to see him tally an 82 point campaign in the 15-16 season. San Jose, who has another Norris winner on the blue line, doesn't expect or need 30 minute nights from Karlsson—though, they might if Burns has another season like this past one.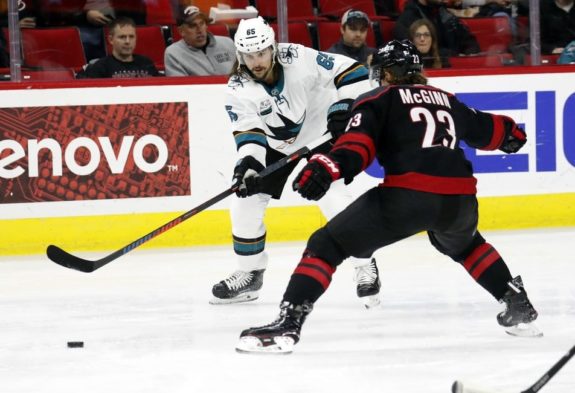 All-in-all, Karlsson's transition to San Jose has been one that pulls him away from the highlight reel but that doesn't mean he isn't an elite defenseman. He is playing a different role, and it's arguably a better-suited role for a 30-year-old than his end-to-end skating of previous seasons. Now while it's worth noting that his $11.5 million cap-hit can still be over-priced despite him being an elite player, that's a different conversation for a different time. Arguments about his contract often lose sight of the fact that Karlsson is still a world-class player.
---
---
A graduate of Calvin University in Grand Rapids, MI, Joshua studied strategic communication and religion before moving to Boston, MA to attend Boston University for graduate school. The highlight of his hockey career was learning the game from André Lacroix, the all-time WHA point scorer.