The Colorado Avalanche are one of a few teams that will have the cap space to take on additional salary this offseason. The club has a good enough farm system, and relatively inexpensive young NHL players, that it can use as trade chips.
We have covered the ways by which the Avalanche can sign top free agents like the Florida Panthers' top-six forwards Mike Hoffman and Evgenii Dadonov, Vancouver Canucks' Tyler Toffoli, the New Jersey Devils' Taylor Hall. Recently we wrote about why the club should pursue the top blueliner UFA, St. Louis Blues captain Alex Pietrangelo. In this post, we will look at which attractive players still under contract the Avalanche may pursue in free agency and through trades, respectively.
In each of the past three seasons, Avalanche general manager Joe Sakic utilized the team's salary cap space to acquire quality players otherwise (nearly) unaffordable by their teams. Last season, Sakic shipped defenseman Tyson Barrie and third-line center Alex Kerfoot to the Toronto Maple Leafs for a package highlighted by second-line center Nazem Kadri. The Avalanche took on an additional $2.5 million in the deal. At the 2018-19 trade deadline, the team brought on Derrick Brassard and $3 million in exchange for a 2020 draft pick.
The previous season, the Avalanche made two huge splashes, first on November 5, 2017, by trading away Matt Duchene in a three-team deal with the Nashville Predators and Ottawa Senators from which the club is still receiving many benefits. Eight months later, Sakic traded for the Cup-winning Washington Capitals' backup goalie Phillip Grubauer, adding $4.3 million in payroll.
It goes without saying that always adding salary without shedding some will balloon the organization's salary obligations, so Sakic has also been adept at trading away unneeded and expensive club assets. Last summer, he sent Carl Soderberg packing to the Arizona Coyotes in exchange for defenseman Kevin Connauton and $3.4 million in cap room. That extra cap space balanced out the extra $2.8 million the Avalanche took on a week later in the Kadri trade.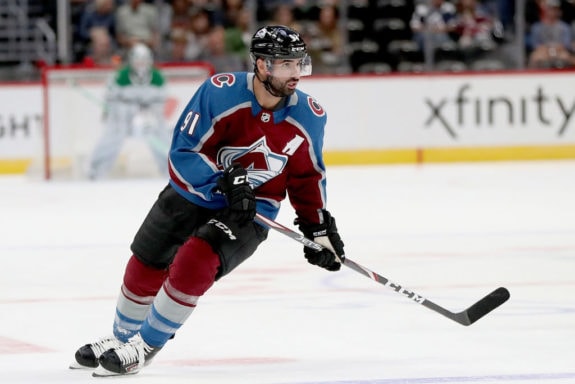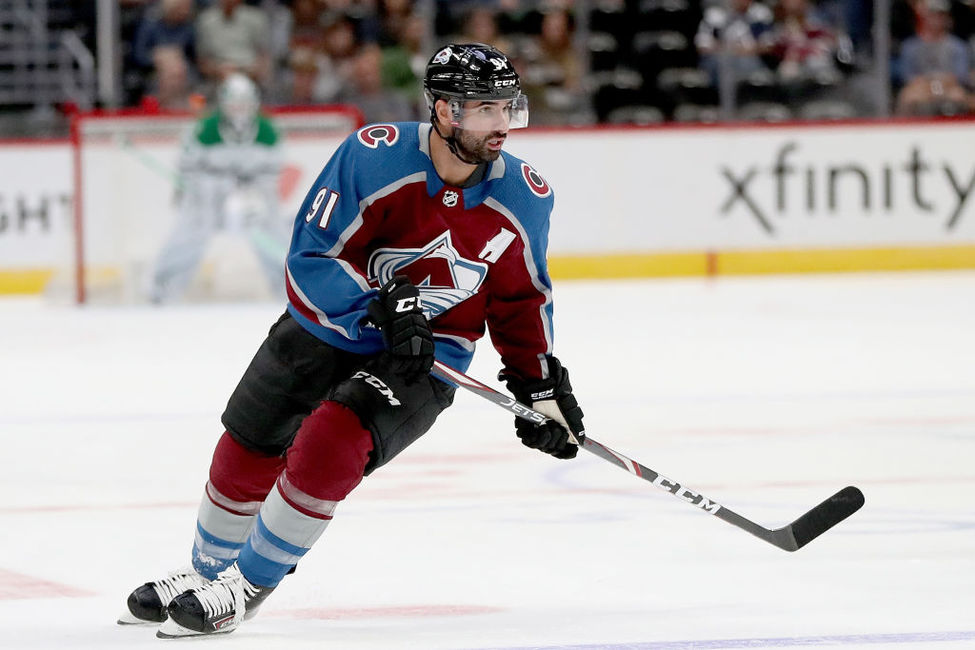 In 2020-21, after the Avalanche has signed its restricted free agents, it is expected that they will have anywhere between $3-8 million in space. That kind of "free" room will not price the club out of practically any offseason target. Its farm system is also stocked with NHL prospects. While I would not expect the Avalanche to trade its blue-chippers like Bowen Byram and Alex Newhook, the club has intriguing and young depth behind them in Shane Bowers, Alex Beaucage, and Sasha Mutala.
Related: Quebec Nordiques – A History of Beer, Brawls, and Van Halen
All these prospects will make several current Avalanche skaters expendable over the next couple of seasons, creating more trade assets this offseason. Then there's the 2021 Seattle Kraken Expansion Draft that will threaten the long-term future of others in the organization like Tyson Jost and JT Compher. Below are some of the best fitting, soon-to-be NHL free agents who the Avalanche should pursue this upcoming off-season via trade (in no particular order).
Kyle Palmieri, RW, New Jersey Devils
Palmieri will become an unrestricted free agent next offseason. He's a 29-year old former 2009 first-round pick who is lethal on the top power-play unit and is fairly affordable at $4.75 million in 2020-21. He's averaged around 0.70 points-per-game (P/GP) over the past five seasons, all with the Devils, and led the team last season with 18 power-play points.
He would complete the Avalanche's second scoring line, playing right wing on the Kadri/Andre Burakovsky (or Gabriel Landeskog) line. The Devils were among the basement dwellers in the Eastern Conference in 2019-20 and are not expected to compete for the playoffs next season.
It would take a trade package centered around Shane Bowers to acquire Palmieri. It is a trade that the Avalanche should consider only if it can extend Palmieri soon after the acquisition. He carries the risk of being overrated because his production may be inflated given that he played with Hall.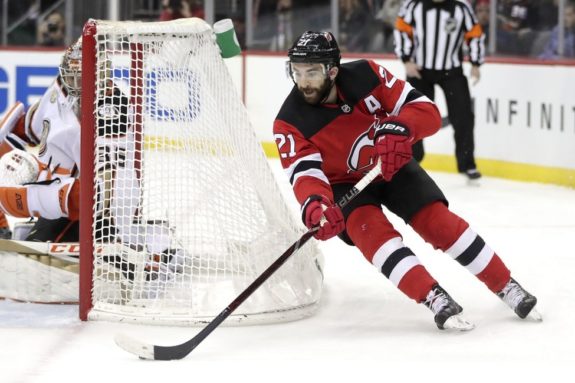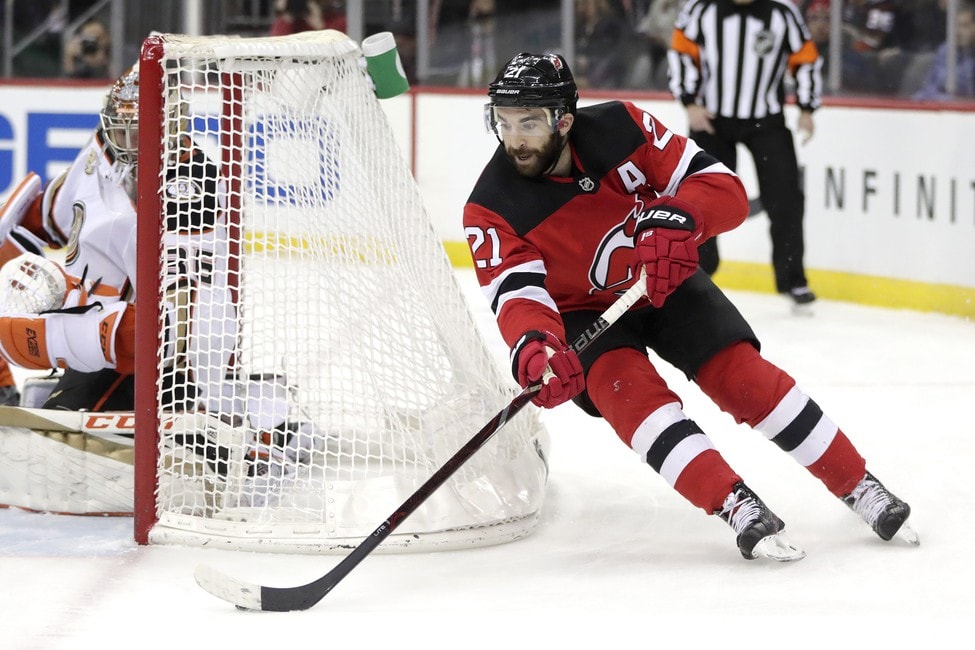 Bowers is still at least a season away from seriously challenging for an Avalanche roster spot and two to three seasons from realizing his offensive potential. Adding a top-six forward like Palmieri would significantly boost the Avalanche's complementary weapons cache, especially on the power play on which the Avalanche have struggled in the past, especially in the playoffs.
If the Avalanche cannot work out an extension with the prized winger, then building a package around bottom-six forward Jost may make the most sense. It is hard to justify handing out such a good prospect in Bowers for a one-season rental. Still only 22-years old,
Jost was one of the better defensive forwards for the Avalanche this season and is a cost-controlled asset. He is an RFA this offseason and will most likely receive the minimum qualifying offer of around $920k. It's unlikely that the Avalanche will protect Jost in the 2021 Expansion Draft, effectively putting him on a one-year deal.
Shayne Gostisbehere, RD, Philadelphia Flyers
Top Avalanche prospect Byram may win a permanent position in the NHL right out of offseason camp, but it may be more likely that he begins the season back in juniors. Not many 19-year old blueliners successfully make the jump from the WHL to the NHL, and the Avalanche do not need him to do so at the start of 2020-21. Prospect Connor Timmins looked good in his playoff stint earlier this month, and there is still the Nikita Zadorov RFA situation to sort out.
Trading away the inconsistent Zadorov in a salary cap move to afford Gostisbehere makes a lot of sense. The club does not need to trade Zadorov specifically for the Flyers transition defenseman, as we have seen Sakic make salary cap space in a series of one-off moves.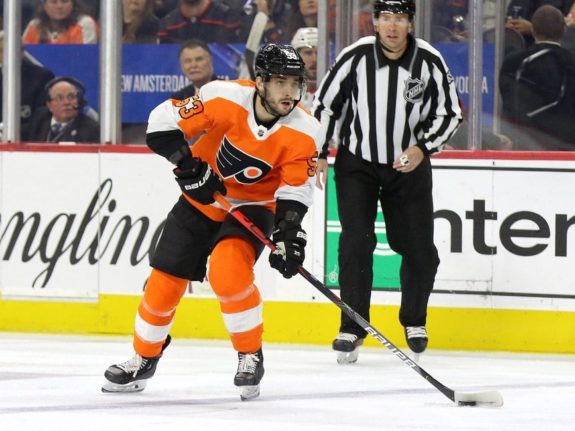 Gostisbehere is not a good fit for the Flyers' new conservative system under 2019-hire head coach Alain Vigneault and would thrive in the Avalanche's preferred manner of play. JFresh Hockey established that Gostisbehere is one of the best transition defensemen in the NHL:
From 2016 to 2019, Gostisbehere was an elite transition player, ranking above the 95th percentile in zone exits and entries with possession of the puck – both per 60 and as a percentage of total exits and entries. Put simply, the guy was an instrumental part of the Flyers' transition game. But now that the team plays a more simple a dump and chase game with relatively unambitious breakouts, he didn't really fit. Assuming those puck skills didn't disappear overnight, he could turn it around on a new team…that could make him a nice buy-low target.
As we saw this season, the Avalanche struggled to keep healthy and the lack of defensive depth in the playoffs prevented it from capitalizing on an expected Stanley Cup run. Gostisbehere has shown flashes in the past of defending well in his zone and is actively progressing in his development to be a two-way player. The same cannot be said for Zadorov who was a major liability at both ends of the ice this season. Zadorov's spot as Ian Cole's partner can be manned by Gostisbehere.
That will give the team the chance to spread Timmins' time around more liberally next season. Cole is a UFA after 2020-21, which will open the door for Byram. Ryan Graves had an excellent first season with the Avalanche in 2019-20 but he played so poorly in the playoffs that it is fair to question how he fits into the club's long-term plans. Giving up a mid-round pick or an older minor leaguer like TJ Tynan may be all it takes to get Gostisbehere since the Flyers have relatively low leverage given that the secret is out that he does not fit in his coach's system.
Alex Killorn, C, Tampa Bay Lightning
Killorn does not hit unrestricted free agency until after his age-33 season of 2022-23. The Lightning need to shed salary because they only have $5.3 million to extend their RFAs. If the Lightning wants to extend RFA C Anthony Cirelli this fall, then they may have to trade two out of Killorn, Tyler Johnson, and Ondrej Palat. Killorn fits in better with the Avalanche because of his size, shooting ability, and positive possession scores. Granted that he had a career season in 2019-20, scoring career highs in goals (26), and shooting possession (20.0%), so he will demand a package of NHLers and prospects.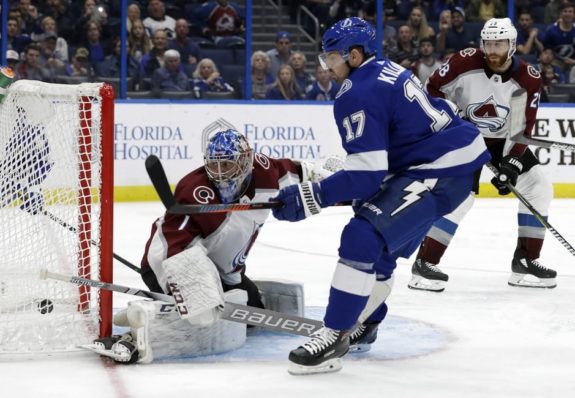 Going back to the Lightning could be Jost and at least a second-round draft pick, and possibly multiple extra selections. The Avalanche will take on $4.45 million in Killorn's extra payroll costs over the next three seasons. Teams do not typically take on hefty contracts if they need to provide blue-chip prospects; it's one or the other.
Currently, Killorn is less expensive than Palat or Johnson and the Lightning will surely prefer to trade one of them over Killorn. Jost is a cost-controlled asset who plays a great defensive forward role and would fit in well with the heavy batch of defensive forwards on the Lightning.
Max Domi, LW, Montreal Canadiens
The Canadiens have a boatload of free agents for 2020-21 that form the nucleus of their team. Domi is a quality two-way forward who can play as a middle-six guy but he had difficulty keeping his emotions in check this season. His scoring production fell off a cliff; he scored 72 points in 82 games in 2018-19 and just 44 in 2019-20 in 71 games.
This past February at the trade deadline, Sakic was reportedly talking to Canadiens GM Marc Bergevin about Carey Price and Domi. Even if he never repeats his 2018-19 production, he would still be a great addition to the Avalanche's third scoring line. But the Avalanche will most likely need to offer a package of players and picks like Domi will regain his scoring given that he's only 25 and cost-controlled. Jost would not get this deal done for the Canadiens as he would for Killorn, but 2018 first-round draft pick Martin Kaut might.
Domi is five years younger than KIllorn and cost-controlled for longer. Essentially, Kaut is a younger version of Domi but on the wing and with a shoot-first mentality. Both players are good not great two-way players with inconsistency issues, but both project as middle-six forwards. It is common for a team in better financial health to acquire a more experienced player by trading away the cheaper and still-developing version.
Ryan Strome, C, New York Rangers
The New York Rangers are in a bit of a squeeze. They are developing serious depth behind stars like Mika Zibanejad, Artemi Panarin, Chris Kreider, and Strome. However, they have 7 core players who need extensions in the next two off-seasons and do not have the salary cap to extend everyone.
The Rangers will need to make a few tough choices. In 2020-21, Strome and Tony DeAngelo need new deals and the season after so will forwards Pavel Buchnevich, Julian Gauthier, and Filip Chytil. After 2022-23, Mika Zibanejad and Kappo Kakka hit unrestricted and restricted free agency respectively.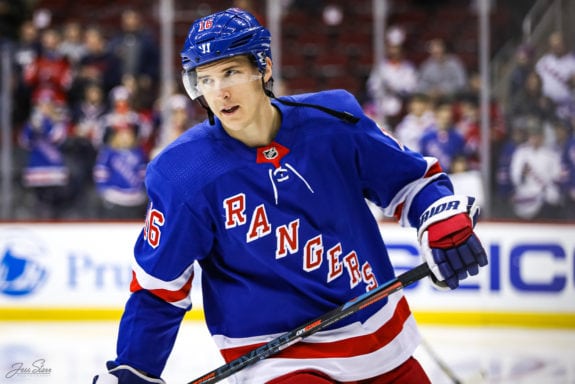 Breaking up the chemistry between Strome and Panarin is hardly ideal so Strome's availability hinges on how well arbitration discussions go, what the Rangers could receive by trading Strome, and how convinced the club is that Chytil can adequately replace Strome as its long-term second-line center.
Strome broke out in 2019-20 scoring 59 points in 70 games, having averaged around 35 points in the three seasons prior. More than likely, that bump is due to playing with Panarin rather than an outlier "contract year" performance. If the Rangers believe that Strome improved mainly because of Panarin, then it's reasonable to think that Chytil may as well.
This is not necessarily a reason to not pursue Strome; it just means that expectations should be lowered. The Avalanche were weak down the middle this season, and have little center depth down on the farm after Newhook. Strome is three years younger than Kadri who himself is up for free agency after 2021-22. Sending a prospect with a decent chance of making it to the NHL like Boston College defenseman Drew Helleson could tempt the Rangers as the club attempts to emerge out of the salary cap bog in which they are trapped.
Phil Kessel, RW, Arizona Coyotes
The Coyotes have one of the worst salary cap situations in the league with a projected 2020-21 cap space of a little more than $1 million. That is not a great look for a team that has close to 15 free agents over the next two seasons. The club is building itself around its young core of Clayton Keller, Christian Dvorak, and Nick Schmaltz.
At 32-years old, Kessel is not a long-term solution in the desert. He has two seasons at $6.8 million per before he hits unrestricted free agency. The Coyotes are at least that far away from seriously challenging for a playoff spot, much less from making a serious postseason run. Also, he put up nearly career lows in scoring this season after coming off an 82-point season in 2018-19 with the Pittsburgh Penguins.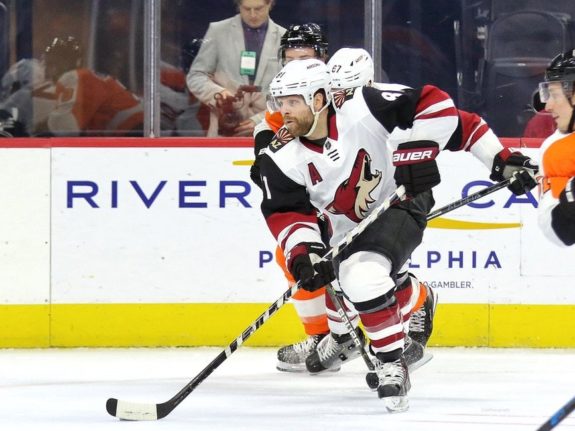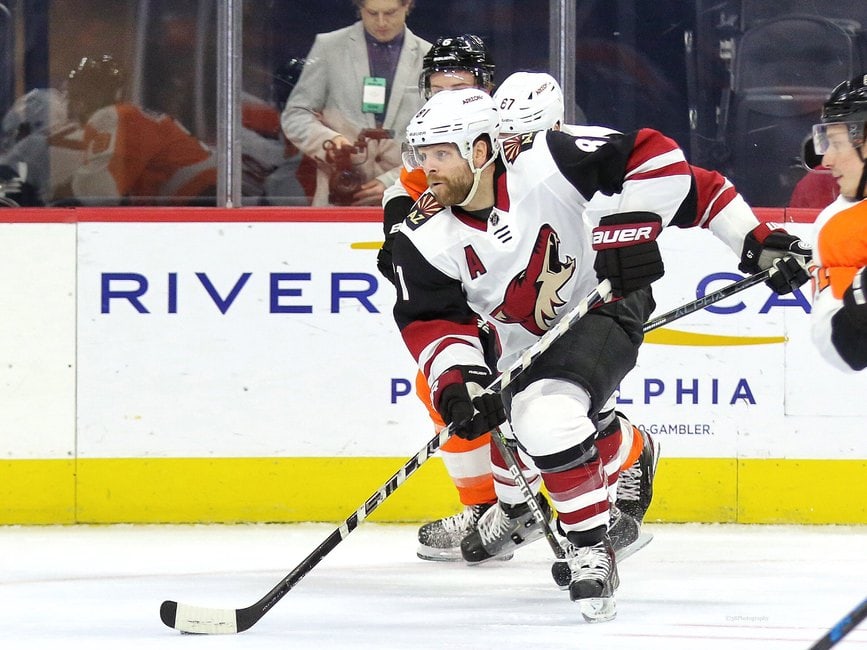 If the Avalanche wants an ironman sniper to man its second-line right wing, then look no further than Kessel. He has not missed a game since the 2009-10 season with the Maple Leafs. He would reunite with his old Maple Leafs linemate, Kadri, and transform the Avalanche's second line into a gritty, tough as nails, bonafide scoring trio. He led the Coyotes this season in power-play points, a trait mentioned earlier that will help the Avalanche.
His presence would relegate Nichushkin down to the third scoring line and not put as much pressure on him to score like a second-line winger. Nichushkin dropping down a line would also put pressure on Joonas Donskoi to step up in 2020-21 after a terrible first season in Denver. For the Coyotes, salary relief of $13.6 million might be enough for them to part ways with Kessel for a fifth-round pick or low level prospect (Josh Dickinson or Travis Barron come to mind).
Avalanche Are Built to Last
It is off-seasons like 2020-21 to which financially robust teams look forward, and the Avalanche is no exception. The club has the luxury of capitalizing on the misfortune of other organizations, whether that is acquiring assets via trade or free agency. It can land top-six forwards through trades without giving up its top prospects in Newhook or Byram.
Related: Avalanche/Nordiques Top-10 Goal Scorers All-Time
The front office can be patient too because there are no glaring holes in the roster. The Avalanche adding Palmieri or Kessel to its lethal arsenal will put the rest of the league on notice it is determined to put its recent postseason failures well behind it.
---
---
My name is Chris Haddad and I've lived in Denver since 2014. When I'm not writing about the Colorado Avalanche or watching their games, I'm usually in the mountains with my wife and two dogs.