It seems inevitable at this point that Braden Holtby will be leaving the Washington Capitals to test the free-agent market. His departure will leave sophomore netminder, Ilya Samsonov, responsible for the Capitals' crease for the upcoming season. Although it seems odd from the outside looking in for Washington to let their Vezina Trophy-winning goalie walk, it makes a lot of sense.
Related: Cup-Winning Capitals – Where Are They Now?
Holtby will be too expensive to re-sign and Samsonov showed a lot of promise in his rookie season. The Russian goalie went 16-6-2 last season with a 2.55 goals against average (GAA) and a .913 save percentage (SV%). It is his net to lose from this point on. The only real question that has been asked about the goaltending situation is "who will be the backup to Samsonov?"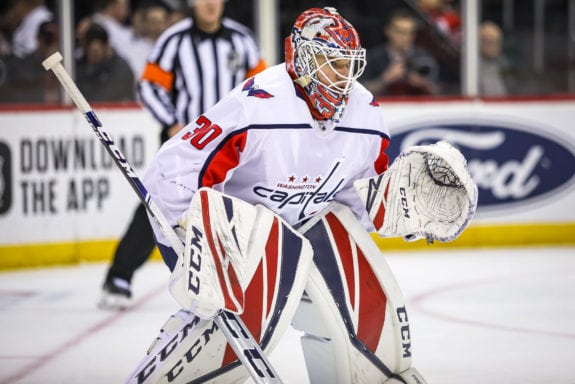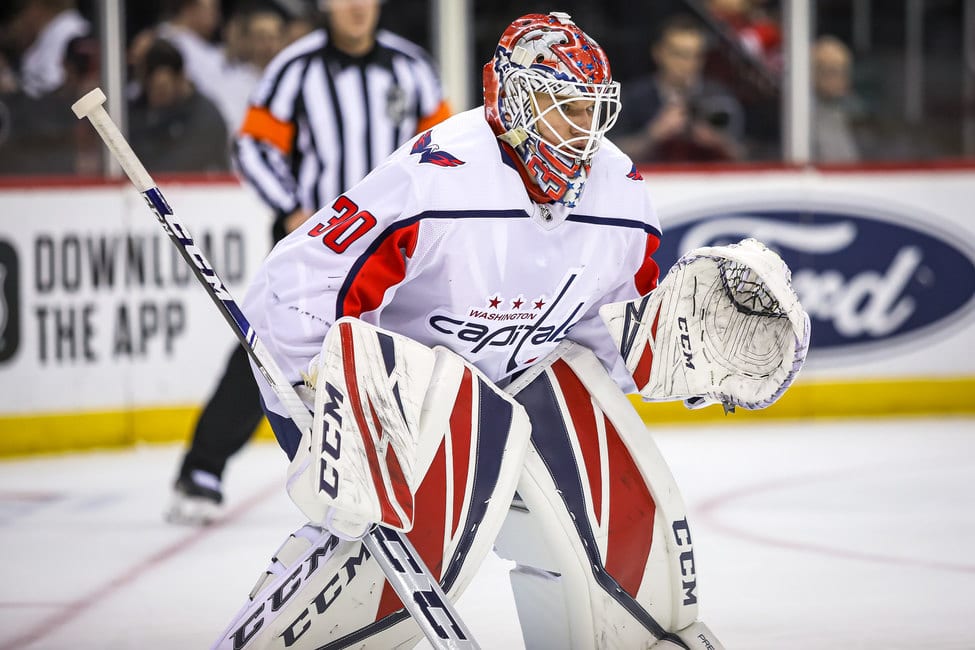 There has been some debate about whether it would be best to fill the vacant backup position with a veteran or a rookie. I personally believe that Washington would be fine if they went with Vitek Vanecek as the backup goalie for next season. However, there are arguments as to why they should go with a veteran, as opposed to having two inexperienced goalies. I am not blind to these issues and do in fact see the positives to having an experienced backup.
Since the Ottawa Senators are letting him walk, I believe that if the Capitals elect to go with a veteran goalie, they should take a serious look at Craig Anderson.
This Stage in His Career
The end of this season meant the end of the 17th season played in Anderson's long career. This career has seen some serious trials, including him being drafted once in 1999 by the Calgary Flames, and once again in 2001 by the Chicago Blackhawks. He was also picked up off waivers three times in less than a month — the last team to claim him was the Blackhawks. Since then, Anderson has played for the Blackhawks, the Florida Panthers, the Colorado Avalanche and the Ottawa Senators.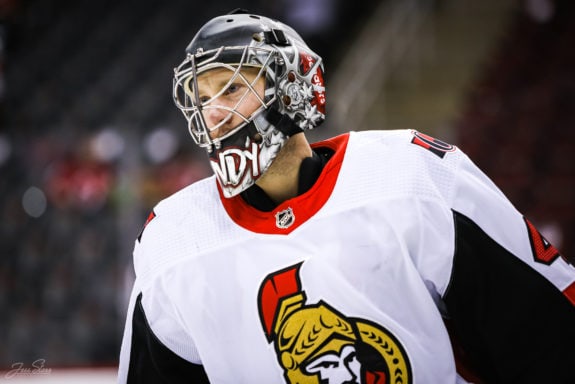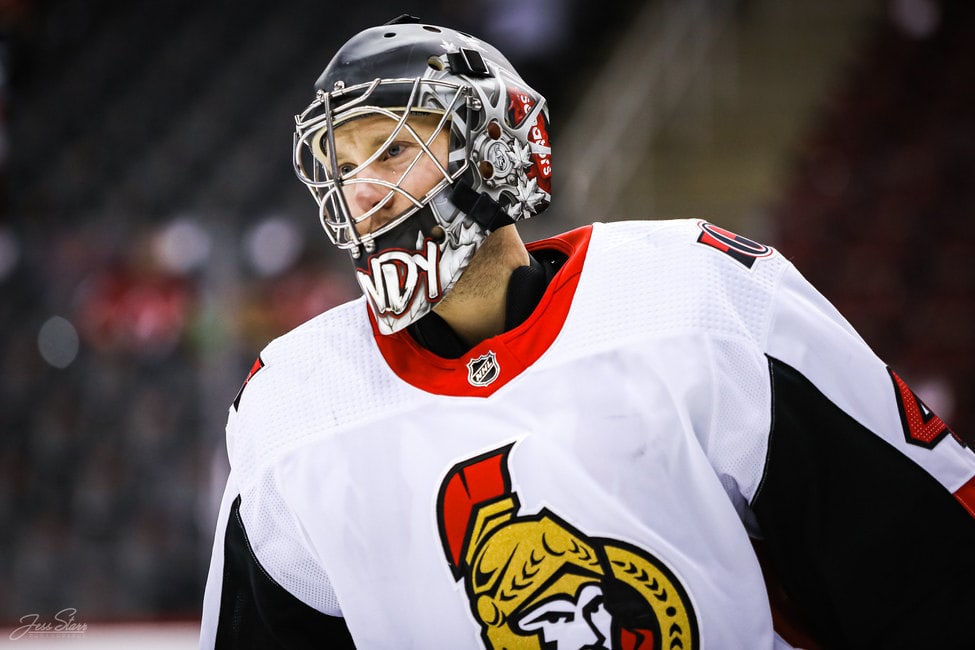 Anderson has been the Senators' rock in the net for the last decade since being acquired for Brian Elliott back in 2010-11. His greatest success was leading them to double overtime in Game 7 of the Eastern Conference Final against the Pittsburgh Penguins (when Chris Kunitz buried the Senators franchise with a knuckle puck).
Anderson's time with the Senators has come and gone, and now, at age 39, he is in need of a new home. At his age, it is unlikely that any team that is interested in acquiring a new starting goalie will be calling Anderson's phone, and I think he understands that. He is past the point in his career where he is the go-to guy in the net. Now, he needs to adjust to being a backup goalie because that's the role that any team interested in him will want him to fill.
The teams that should be showing an interest in him should be contenders that need both a backup goalie, and a veteran presence in the locker room. This accurately describes the Washington Capitals.
How He Would Be Perfect for the Capitals
First off, allow me to explain why the Capitals need a veteran presence in the first place. That may seem confusing due to the plethora of experienced vets they already have roaming the locker room. However, what I mean is they need a veteran presence to mentor young Samsonov. Not because he is off the rails and needs to be toned down, but because Anderson has been a starter in the NHL for a very long time. He can teach Samsonov what it takes to be a starting goalie, but also what it takes to carry himself as a professional on and off the ice.
It is tough for a young goalie to step into the league comfortably without the help of an experienced goaltender who has done it all before. It is the same reason teams sign veteran defensemen to help mentor their young, up-and-coming blueliners. Playing in the NHL can put a lot of pressure on young guys, so having someone like Anderson there to act as a life coach is key to the development of a young goalie like Samsonov.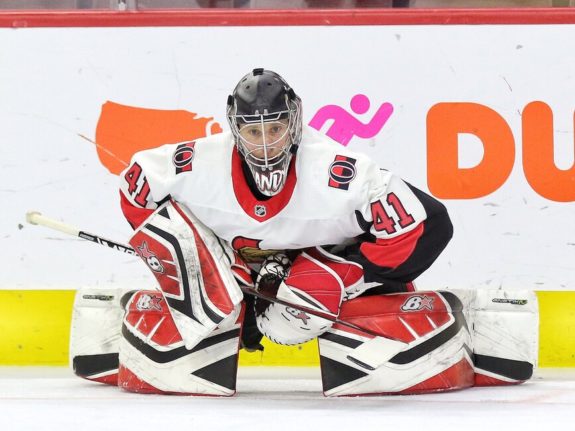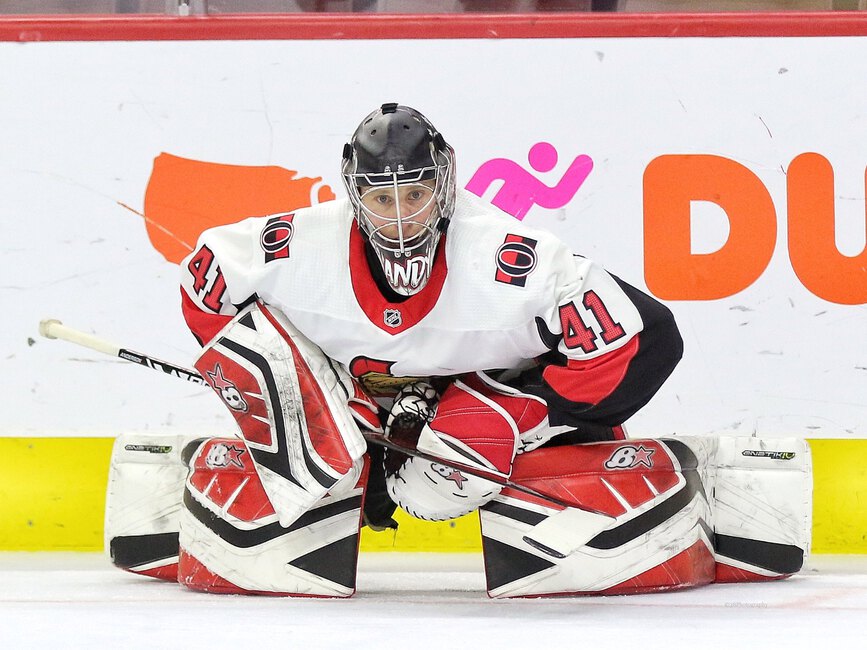 There aren't many other goalies available that are better-suited to support a young goalie than Anderson because of an important factor; he is just a very good person. An example of this is when Anderson got pulled in a game against the New York Rangers in 2017. Instead of breaking his stick or storming down the tunnel, he sat and chatted with a young Rangers fan on the end of the bench. This is a small sample size, but it says a lot about his character.
Also, who can forget when Anderson left the Senators during the 2016-17 season to be with his wife, who was diagnosed with throat cancer. He would return later that season and help his team to the Eastern Conference Final before taking home the Bill Masterton Memorial Trophy for exemplifying perseverance and showcasing a dedication to the game of hockey. If the Capitals want Samsonov to learn the ropes from not only a great goalie but a great person, Anderson fits the bill like few others.
On top of his off-ice qualities, Anderson has also been a starter in the NHL for a little over a decade. He has a career .913 SV% and 2.84 GAA, which are more than respectable numbers considering that, for a good chunk of his prime, he was playing on a weak and poorly run Senators team. He is more than capable in the crease and wouldn't be a liability whenever he was called upon to play.
Reasons This Might Not Work
Like most things that may or may not happen for the Capitals this offseason, the potential signing of Anderson will come down to dollars and cents. In order for this to work, he will have to be willing to take a pay cut from his $4.75 million salary he had over the past two seasons. Again, this is something I would suspect he already knows and expects. He is going to be turning 40 next season and it wouldn't make sense for a goalie of that age to demand a raise, especially to be a backup.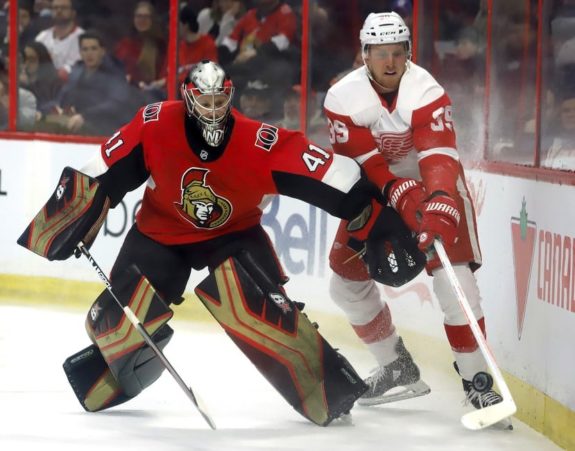 I think, if both sides wanted this to work, anything north of $2 million is an overpayment. If the Capitals are convinced they want to go with a veteran backup goalie, they need a cheap solution. Anything more than $2 million isn't worth it because the Capitals have other issues that need to be addressed aside from just goaltending.
Also, if a veteran goalie ever did demand more money, the Capitals need to turn their backs on that and go with Vanecek. Yes, he may be inexperienced, but the only way he is going to get experience is by playing. It isn't an ideal situation for a team with Cup aspirations to have two goalies with 26 total NHL games of experience between the two of them, but look at what happened with the Columbus Blue Jackets this season. Not to compare Samsonov and Vanecek to Elvis Merzlikins and Joonas Korpisalo, but these two were no-name goaltenders before they were given the reigns. Anything is possible.
Related: The T.J. Oshie Trade Analyzed
However, if the Capitals are able to strike a deal that works for both parties, I believe that Anderson is the guy the Caps should target for their backup goalie position.
Provided Andrew Hammond isn't already signed (I'm sorry, Craig, it's just a joke).
---
---
21-year old Capitals fan from Muskoka, Ontario. 5'9 but could be 6'3, depends on the day. Love good movies, but hate bad movies. Covered the Capitals for Stars and Sticks.