The 2020-21 NHL season starts on Jan. 13, and the Vancouver Canucks are wrapping up their training camp. The organization had to cancel a training camp practice on Sunday due to potential exposure to COVID-19. Details about the exposure were not released by the Canucks, as they will resume practice on Monday. 
The Canucks have had quite a few storylines develop in the first week of training camp. The team's 2020-21 camp included changes in the top six and a showdown between the two goalies. 
Nils Hoglander's Emergence
Nils Hoglander has emerged as a top-six player for the Canucks in training camp. The 2019 second-round pick had 14 points in 23 games for the Rogle BK in the SHL this season before his loan ended. He joined the Canucks for training camp and immediately lined up next to Bo Horvat and Tanner Pearson. Head coach Travis Green has not demoted the 5-foot-9 forward, as he continues to stand out throughout camp.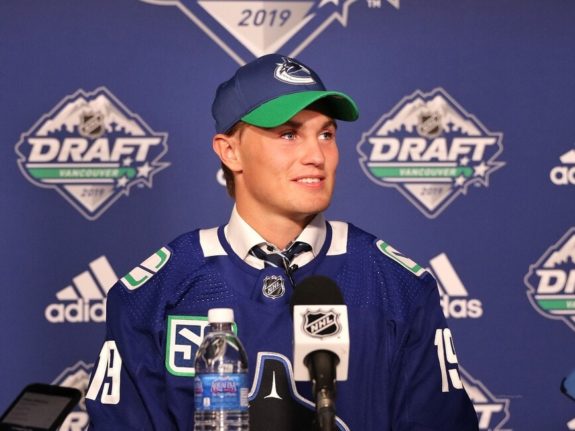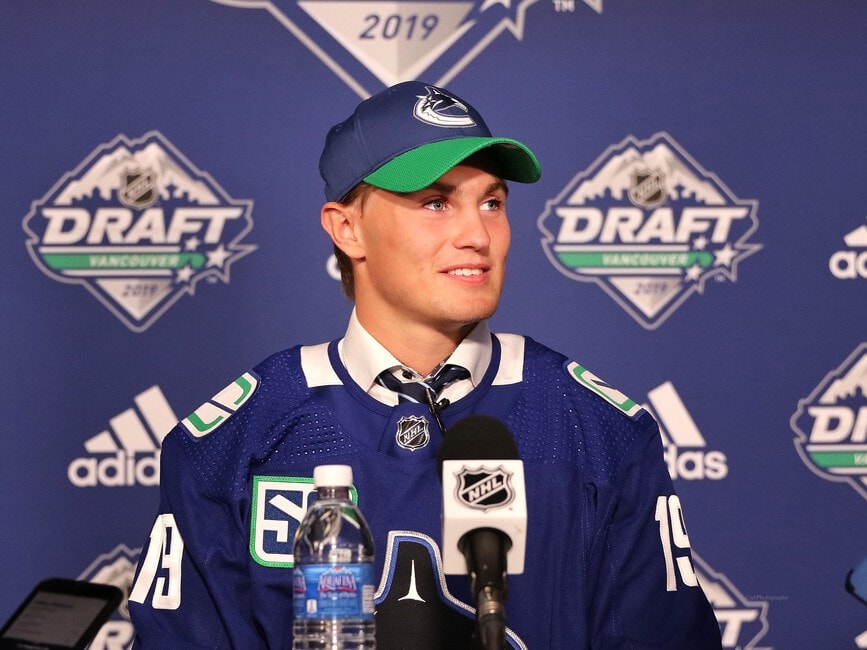 Hoglander has an advantage over his teammates, as he has shown up to camp in mid-season form. There is a good chance the forward won't stand out as much once his teammates catch up, but having a head start may benefit him in the long run. 
Goalie Showdown
The Canucks held two scrimmages in training camp, one on Wednesday and one on Saturday. Braden Holtby and Thatcher Demko looked much more impressive on Saturday night than on Wednesday. With no pre-season games, scrimmages are important for the two netminders heading into the season. They played every minute in both scrimmages to prepare for the 2020-21 season.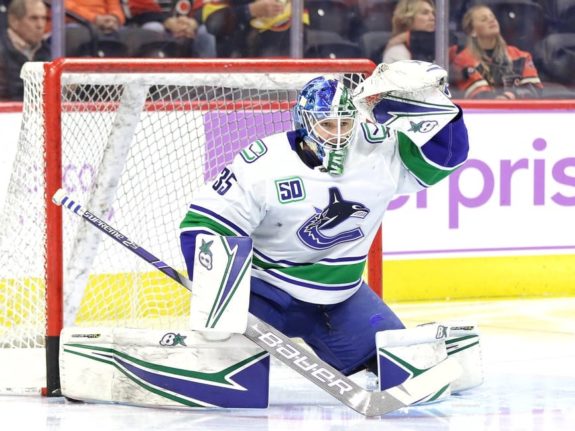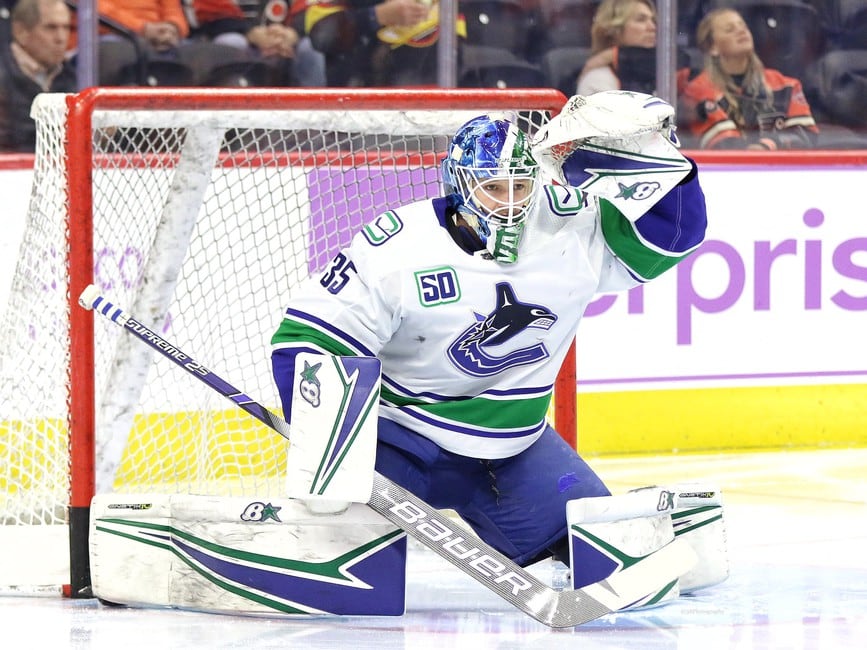 The Canucks will need both their goaltenders at their best with 56 games in a little over four months. Holtby hopes to have a great start after one of his worst seasons in 2019-20 based on his .897 save percentage. After backing up Jacob Markstrom last season, Demko gets an opportunity to split starts with Holtby in 2020-21. The goalie tandem won't have to wait long until either sees action, as the Canucks will start the season off with a back-to-back. 
Jake Virtanen's Battle
Jake Virtanen seems to be a topic of discussion at training camp every season. Last season, he showed up out of shape and looked rough during drills. This season, he lost his second line spot to Hoglander. After re-signing with the Canucks this past offseason, Virtanen seemed like a lock in the top-six. Green believes it is up to forward on how his season goes. 
"As far as Jake goes, it'll be up to him to decide where he plays, whether it's first line, second, third, fourth. And for us, it's not about what's best for Jake, it's about what's best for the team, and how that looks. He knows that as well. It's all about winning."

Green said about Virtanen's playing time.
Virtanen skated with Tyler Motte and Brandon Sutter in Saturday night's scrimmage. He will likely start on the third line, short of where most expected the forward to play. He will have to prove to Green that he can help the team win games by being consistent. 
Boeser Is Ready for the Season
Green will have Elias Pettersson, J.T. Miller and Brock Boeser on his top line to start the season. The Lotto Line looks prepared to start the season, especially Boeser. The departure of Tyler Toffoli means the American forward will be back with Pettersson and Miller after he had moved throughout the lineup in the 2019-20 season and the 2020 Stanley Cup Playoffs.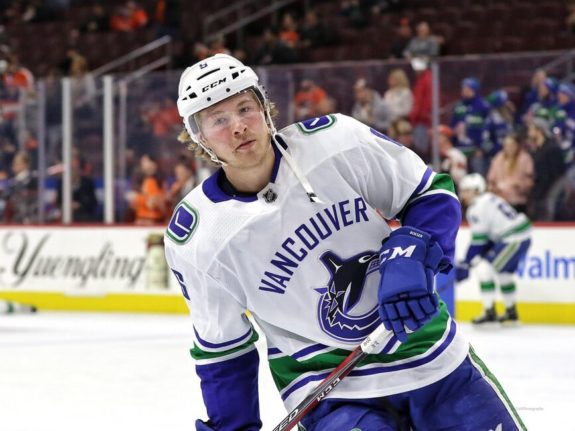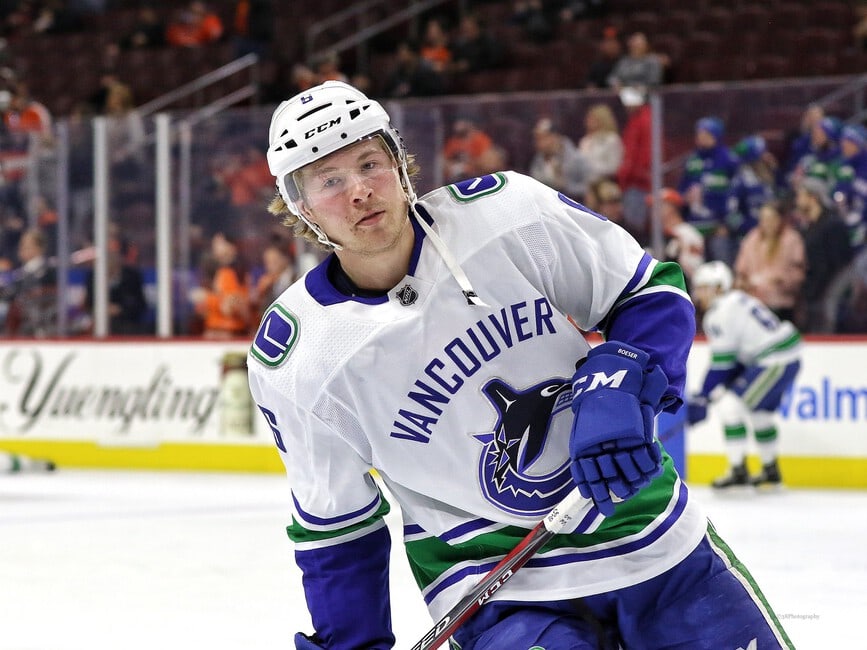 Boeser had 43 points in 45 games to start the 2019-20 season while playing with Pettersson and Miller. The right-winger struggled to score midway through the season and missed time with a rib injury. He has been impressive at camp as he scored two goals in the first scrimmage, but the hype around Hoglander has overshadowed his play.
Boeser will look to start the season strong, similar to 2019-20 but with a better finish this time around. The 2015 first-rounder has scored 75 goals and 161 points in 197 games over three seasons. He hopes his experience playing with others last season will help improve his play with Pettersson and Miller. 
"Yeah, of course I want to be there with Millsy and Petey. (It was a) learning experience playing with other guys and other lines and I think it will help me. I think it pushed me to work harder in the off-season. I think. . . we have great chemistry and we read each other well and we communicate well, so obviously I'd like to play with those two." 

Boeser told Sportsnet's Iain MacIntyre.
Podkolzin News
Vasily Podkolzin's third trip to the World Junior Championships (WJC) ended in a bronze medal loss to Finland. The 2019 first-round pick and fellow Canucks' prospect, Arvid Costmar (Sweden), impressed at the 2021 WJC. Podkolzin returned to the KHL's SKA St. Petersburg, but it seems as if his season may be over. The forward was held out of the lineup in a recent game against rivals CSKA Moscow and may finish the season in the VHL.
Benning has said he will look to sign the forward once his contract ends in April. Therefore, Canucks' fans can look forward to their top prospect joining the club late this season. 
Coming Up
The Canucks' season starts in a few days, and they could be without newly acquired Jayce Hawryluk. He signed with the Canucks this offseason and was expected to play on the bottom six. He left Saturday's scrimmage after being upended by Motte, and there has not been an update on his condition. Motte was also involved in a fight with teammate Adam Gaudette. Travis Hamonic also finished his one week quarantine and should join the team at practice this week. 
The Canucks start the 2020-21 season with a back-to-back against the Edmonton Oilers. Both teams won two games apiece last season in their head-to-head matchups. 
---
---