After the loss in Winnipeg earlier this week, the San Jose Sharks playoff hopes are pretty non existent at this point. Now if they somehow manage to go 9-1-1 in their final 11 starting tonight in Montreal they would likely make the playoffs. However the Sharks haven't been able to string more than two wins in a row since January so their current push is too little too late. While San Jose has won five out of their last eight, they still need to be better than that moving forward to sneak into the playoffs. The likelihood of that happening is extremely low. However, there is a particular development that will certainly help the Sharks in their attempt at miraculous finish. They all of a sudden have three capable scoring lines.
Finally Some Depth?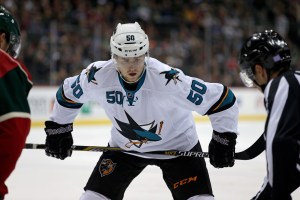 For the majority of this season and for most of their Joe Thornton era, San Jose has not had enough depth on their bottom two lines. However, all of a sudden, Sharks head coach Todd McLellan might have stumbled onto some new combinations that give San Jose three scoring lines instead of just two.
The preview of tonight's game in Montreal from CSN insider Kevin Kurz has the following two lines listed as the Sharks' second and third respectively.
Patrick Marleau—Chris Tierney—Tomas Hertl
Matt Nieto—Logan Couture—Tommy Wingels
Since establishing himself in the league as a Calder candidate in 2010-11, Couture has never not been a top-six center. So that is why I have a hard time thinking of a Couture line as a third line. However, Kurz points out the Tierney line had more ice time than the Couture unit against Toronto. You could think maybe the Couture second line was getting rest in a game with a comfortable lead, but Marleau is the oldest veteran of these lines that could most use rest. Kurz and I went back on forth on twitter a bit this morning and he acknowledged the Couture line was wearing white jerseys at practice which typically signify top-six lines.
@ViewFromBensch They played fewer minutes last game, but were wearing white this morning. Hard to say

— Kevin Kurz (@KKurzNHL) March 21, 2015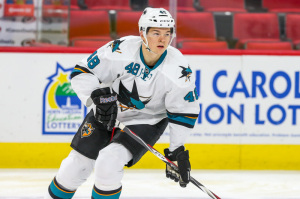 As mentioned above, the Sharks have had scoring issues all season, being in the bottom third of the league in even strength scoring. However in recent games all three players on the new-look umm… let's call them the "2B line", that being Couture, Wingels, and Nieto, have scored goals. Furthermore, Tierney and Hertl are playing their best hockey of the season on the "2A line" so maybe the two youngsters can get Marleau snapped out of his funk? The rookie center and the second year forward have played together a good amount this year. They teamed up for a couple goals in a February loss the Hurricanes. While these new look combinations have only been together for parts of the last two games, the improvements from Hertl and Tierney have given the Sharks three lines capable of scoring regularly.
It certainly looks to be too little too late, but if the Sharks are going to manage the hot run they need to make the playoffs, they are far more likely to do it with three strong lines than just the two they usually have going.
Andrew has been credentialed to cover the Sharks since 2010 and the 49ers since 2012. He graduated with his BA in Broadcast Electronic Communication Arts in 2013 from San Francisco State University.