Before surprise rookie Melker Karlsson moved up to the Joe Thornton line last season, he and fellow rookie Barclay Goodrow put together a quality stretch of games as third-line wingers. Despite the fact their center James Sheppard was better suited for fourth-line duty than third, this trio had some solid success as a third line.
Karlsson, Goodrow and Sheppard played together in early December over a stretch of six games that saw Goodrow score four of his 12 points on the season. While the points came against the lowly Edmonton Oilers, the stretch also included two strong victories over top Western Conference teams at the time. San Jose beat Minnesota, who was top of the conference at the time, by a 2-1 final, and then they beat Nashville 2-0 in back-to-back games on Dec. 11 and Dec. 13.
Solid Production in Third-Line Minutes
During those close, big games, Goodrow skated 14:52 and 13:28 respectively. In fact, from Nov. 16 through Jan. 29 (a stretch of 26 games), Goodrow skated double-digit minutes in 24 games. During that period, he scored nine of his 12 points while averaging between 12 and 13 minutes per game. Nine points in 26 games during third-line caliber minutes equates to around a 30-point 82-game pace. That is terrific production.
Over the final 28 games of the season, Goodrow's ice time fell off a cliff. He saw a three-minute reduction, averaging only about nine minutes per game. Over that span, he started playing with worse linemates in a fourth-line role and not surprisingly only picked up three points.
Going into next season, Goodrow is projected to be a fourth-line player again, but he should have the same caliber of linemates that he played third-line minutes with last year. As I have been suggesting the last couple weeks, a fourth line of Goodrow, Ben Smith, and Karlsson would be ideal. New head coach Peter DeBoer will be able to trust these three against all other teams' fourth lines and against some weaker third lines as well. He will be able to skate them 10-11 minutes per night without even thinking about it. Given the fact Smith is a comparable player to Sheppard, the Sharks will essentially have that strong third line from last year but playing as a fourth line in easier minutes.
Underrated Skills and Value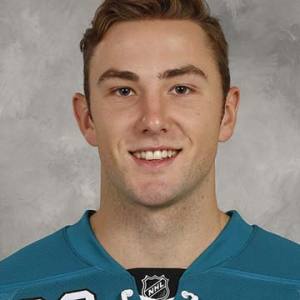 While Goodrow won't see the ice time that he did in last year's 26 game stretch where he scored nine points, he will have similar talent around him. Therefore, as a fourth-line winger averaging around 11 minutes of ice time with quality linemates, Goodrow, I expect, will finish with around 18-22 points with a plus-5 rating. In other words, he will give the Sharks terrific fourth-line production.
Not sure why a lot of Sharks fans seem to be mum on Goodrow. At 6 feet 2 inches and 215 pounds, with good speed and a strong defensive game, Goodrow is an ideal fourth-line left wing. He uses his body well to protect pucks and will be able to help eat up critical penalty-kill minutes. His offensive game may be underwhelming when it comes to a top-nine role but for a fourth-line guy, he has underrated passing skills. Look at this defensive effort on the penalty kill below. Goodrow steals the puck away from one of the best defensemen in the game in Oliver Ekman-Larsson and then makes a perfect pass on the tape of Tommy Wingels for the goal.
Or how about this pass though defenders from behind the net to Sheppard for the goal? You can see the perfect feed once again right on the tape. Take notice in the video below that the defender whom Goodrow slips the pass through is actually one of the more respected Oilers defensemen, Oscar Klefbom. Not to mention two of the Oilers forwards on the ice are Ryan Nugent-Hopkins and Taylor Hall. Pretty sure most of you have heard of them.
The 21-year-old Goodrow may not have top-six potential, but he can play third-line minutes in a pinch and should kick butt as a fourth-line penalty killer this season. Don' sleep on No. 89 in teal.
Andrew has been credentialed to cover the Sharks since 2010 and the 49ers since 2012. He graduated with his BA in Broadcast Electronic Communication Arts in 2013 from San Francisco State University.