The San Jose Sharks are off to a slow start in 2020-21. Though the team overall is struggling, there are a few bright spots, like the play of Dylan Gambrell. The Sharks have long held high hopes for the former high draft pick, but so far, he has disappointed. Here is a review of his journey to this point and what to expect moving forward.
Initial High Hopes
The Sharks drafted Gambrell back in 2016, 60th overall, the penultimate pick in the second round. The pick was a bit controversial at the time, as he was passed over in his draft year of 2015 and had just completed his first season at the University of Denver (UD) of the NCAA as an overager. There is a lively discussion in the scouting community about the value of drafting overagers versus first time eligible players, but it is important to note that where you draft the player matters. After round two, the data skews to being favorable in drafting overagers.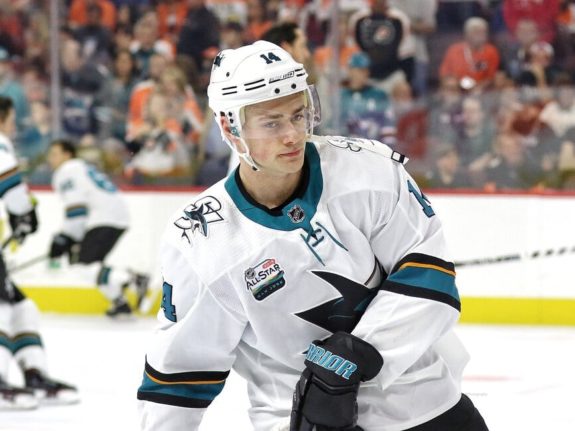 Back to Gambrell, he had a very fruitful career at UD. He was over a point-per-game in every season of his collegiate career. He was named to the all-rookie team in his first season and won the NCAA championship in his second season. He also took home second-team all-star honors in both his second and third seasons. After a quick look at the end of 2017-18 and the beginning of 2018-19 with the NHL club, the organization sent Gambrell to the San Jose Barracuda of the AHL. In his only full season with the Barracuda in 2018-19, he looked almost as good as he did in college. He put up 45 points in 51 games, and he seemed to be progressing nicely toward a fruitful NHL career.
First Signs of a Stumble
In 2019-20, Gambrell played the most games in one season for the Sharks to date, but this was a year where much went wrong for the Sharks. They were certainly hoping that young players like Gambrell could take a big step forward, but he did not, with only 11 points in 50 games. During that season, he averaged under 12 minutes per game. He struggled to drive play, with just a 47% Corsi, while his offensive zone starts were near 45%.
In addition to these numbers, Gambrell's play was perceived as "soft," meaning he would get bumped off checks easily, lose the puck, and not fight hard to win pucks. Despite a large number of games to work on these issues, he did not improve much throughout the season. Gambrell spent 15 games with the Barracuda to further improve his game before the pandemic shut down the season.
Signs of a Turnaround
In 2020-21, things seem different for Gambrell. I'll discuss a few of the reasons to think so. But it is important to mention that he is a restricted free agent at the end of this season and with a minimal NHL impact to date. He is surely motivated, as he is playing to prolong his career at this point. If this season does not go as well as possible, it is conceivable that he won't be in the NHL much longer, at the very least, not with the Sharks.
Increasing TOI
The biggest sign of improvement thus far is his time on ice. So far in 2020-21, Gambrell has yet to skate less than 13:53, which was his first game. In both games against the Anaheim Ducks, he skated over 19 minutes and was one of the most dangerous forwards on the ice, though he didn't register a point. He is averaging nearly 16 minutes on the season, which is nearly a four-minute increase from the previous season. Gambrell is getting the opportunity, but what is he doing with it?
The Eye Test
The first thing is that he is noticeable on the ice. Watching the Sharks in 2019-20, I would rarely notice Gambrell, with the exception of him losing the puck, causing a turnover. This season, he is holding onto the puck better and is difficult to get the puck from. He seems stronger and more willing to engage physically, though he only has a hit per game on average.
I'm not the only one who noticed this, either, as Sharks beat writer and author at San Jose Hockey Now, Sheng Peng, has this to say:
"Gambrell is not as easy to knock off the puck as he was last year. He's clearly upgraded his strength without losing any of his speed and smarts. Question with him, what's his offensive ceiling? Right now, he looks like a good fourth-line defensive center being forced into a 3C role by the Sharks' shallow forward depth. He's shown San Jose this year that he belongs in the NHL; now, he has to show them that he can be a playoff-caliber top-nine forward. Can he?"
I agree with Sheng that things do look positive, but it really depends on where Gambrell goes from here. There are some favorable variances in his underlying numbers that suggest he may be due more points. At the same time, some numbers suggest he hasn't changed that much.
Expected Something Different
Evolving Hockey tracks many statistics that note the global impact of a player on the team. Expected goals above replacement (xGAR), expected wins above replacement (xWAR), and expected standing points above replacement (xSPAR) all take into account many different events like shots for and against, penalties taken or drawn, and well as others explained here. By these metrics, Gambrell does not look much different.
| | | | |
| --- | --- | --- | --- |
| Dylan Gambrell | xGAR | xWAR | xSPAR |
| 2018-19 | -1.2 | -0.2 | -0.4 |
| 2019-20 | -0.9 | -0.2 | -0.3 |
| 2020-21 | -1.3 | -0.2 | -0.4 |
Dylan Gambrell xGAR, xWAR, and xSPAR courtesy of Evolving Hockey.
Both the 2018-19 and 2020-21 seasons have a small sample size that could be skewing the data, but early impressions do not support what the eye test shows. If Gambrell wants to be an impact NHL player, these metrics will need to dramatically turn around to at least be neutral. Let's look at some other data to see if it corroborates the eye test.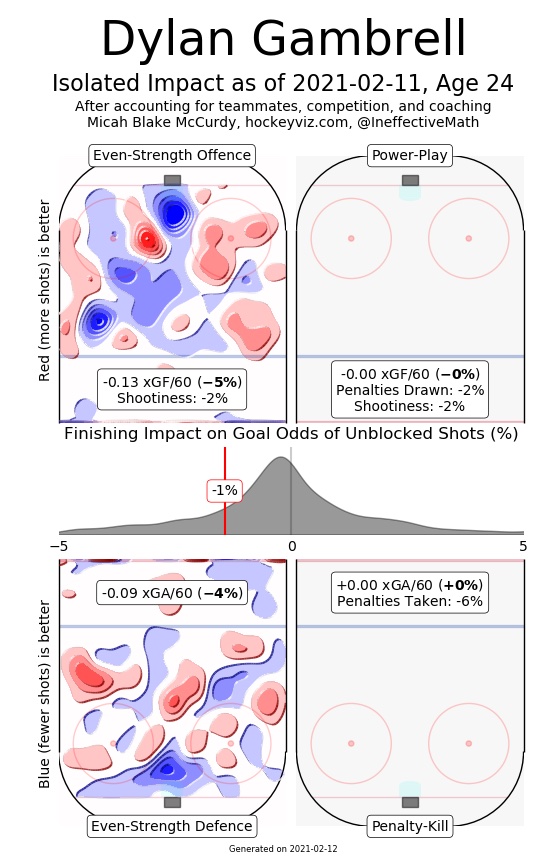 As can be seen in the image from HockeyViz, the isolated impact of Dylan Gambrell on the Sharks for his career is not good. Both offensively and defensively, he has been a detriment. Has this changed so far this year?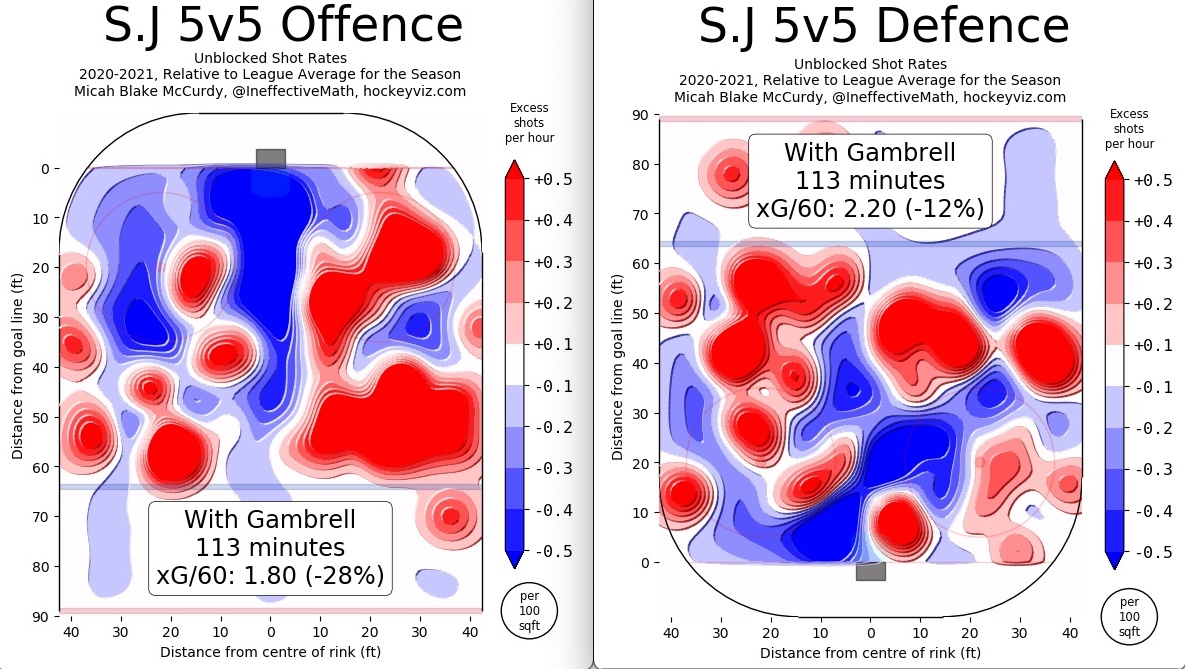 So far, the answer to that question is a resounding no. In fact, it seems like Gambrell has gotten worse this season. Even though the Sharks haven't been scoring many goals, his offensive impact is terrible. He has never been great defensively, and that seems to have also gotten worse.
What Happens Next?
Is the eye test correct? Or should we believe the analytics? It's hard to say. Gambrell definitely looks different this season, but it's unclear whether that will translate to a positive impact on the team. The Sharks are desperate for help down the middle. So far, none of the other young players have taken appreciable steps forward. Perhaps with the new voices on the coaching staff and history of working well with young players, he can revamp his career and be a positive in the bottom six for the Sharks. But I'm not that optimistic.
---
---