Swimming in Circles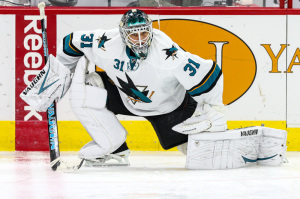 Over their last seven games the Sharks have beaten the Los Angeles Kings, Anaheim Ducks, Chicago Blackhawks, and Vancouver Canucks, and lost to the New Jersey Devils, Edmonton Oilers, and Calgary Flames. This is a trend that has been a part of San Jose all season long. They play up to the level of top caliber teams and down to the level of lesser teams. Not to mention a general inconsistency to regularly beat the division leading Ducks but struggle with teams right behind them like Vancouver and Calgary.
Being in the bottom third of the NHL in even strength scoring, nobody in their right minds would bet on the Sharks making any significant noise come the postseason. The one player that turned their five on five scoring from putrid to phenomenal during the 2013 lockout shortened season by moving from defense to forward is once again firmly entrenched on the blue-line. That of course being Brent Burns, who, in all fairness can certainly be a quality top pair puck mover and in time should clean up his defensive zone deficiencies to the point where he is a positive even strength player again. However, for the time being the Sharks never replaced his offensive production up front, and that, along with Patrick Marleau's terrible luck this year have drastically hurt the offense. Defensively Justin Braun has struggled, Jason Demers, who was great a year ago, was traded back in November, and so the blue-line at best is as good as a year ago. Between the pipes Antti Niemi has not had the bounce back season many expected being in a contract year.
Currently Sharks management, led by GM Doug Wilson, have been steadfast in saying the team will not trade future (picks nor prospects) for immediate veteran help. If that is indeed the plan, than their current lineup usage makes little sense. At the forward position the Sharks continue to roll out John Scott, who scored just his fourth goal of his entire career against Calgary on Wednesday. This in spite of the fact Scott's fourth line in the previous game against Edmonton was hemmed in their zone every shift for two periods before being benched for the entire third period. With Scott in the lineup, the Sharks have gotten AHL call up Daniil Tarasov into just one NHL game. Tarasov had been scratched in three straight games before playing against Vancouver. Furthermore, veteran defenseman Scott Hannan continues to play and while he hasn't been as terrible as some would suggest, his minutes would be more useful to get a read on younger players. And finally since this team clearly isn't going to win the Stanley Cup this year as currently constructed, why not see what backup goaltender Alex Stalock can do playing 20 out of 25 games? Currently behind Niemi, Stalock is only getting in on the rare occasion, primarily on back-to-backs. If the Sharks have decided he isn't the future answer in goal, than why not see what Worcester goaltender Troy Grosenick can do at the NHL level?
Commit One Way or Another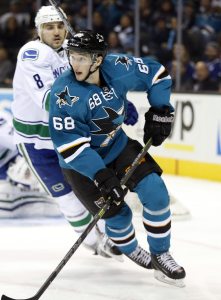 The Sharks have gone to a more youthful lineup this season but they are trying to have their cake and eat it too. And that is getting them nowhere. They aren't maximizing ice time to see what they have in all their young players and they don't have enough quality established players to get the job done. Case in point, Melker Karlsson was called up a few weeks ago and found his way into a full time role on the top line. Nobody, not even the Sharks management could have forecast such an immediate impact. Had they expected the 24-year-old rookie Swede to be this good, he would have been up much sooner. Sometimes, certain young players just need a chance at the NHL level to prove they belong. It wasn't as if Karlsson was lighting up the AHL but for whatever reason he has been a fit for this Sharks team. Perhaps other guys from AHL Worcester, like the aforementioned Tarasov, would also be a fit. However these types of young players simply aren't getting that opportunity.
In the 2014 playoffs San Jose lacked a clear identity. They kept flip flopping Joe Pavelski around the lineup and started Alex Stalock cold going into Game 6. This season they still don't have an identity. Are they going young or are they trying to win right now? Trying to do both does not make this team better in the present nor does it maximize future growth. The trade deadline is just a few weeks away and if the Sharks simply stand pat, that will be a colossal mistake. If they aren't going to give up future for needed immediate help like a Cody Franson type, then they ought to move on from veterans like Niemi, Hannan, and others and see what their young players in the organization have to offer. If those young players struggle and the Sharks miss the playoffs, then Team Teal will have a higher draft position. If they play well enough so that San Jose still makes the postseason, they will gain valuable experience going into next season. However, making the playoffs in the current fashion and losing in the first or second round would be a travesty. Not getting young players experience and missing out getting a higher draft position would be a waste.