The Boston Bruins front office spent much of last summer contemplating different ways to work around their salary cap crunch.
Restricted free agents Torey Krug and Reilly Smith were signed to matching one-year deals worth $1.4 million. Fan favorite defenseman Johnny Boychuk was traded to the New York Islanders for a trio of draft picks days before the 2014-15 NHL season began. General Manager Peter Chiarelli cleared over $3.3 million of cap space at the cost of scathing criticism from Bruins fans.
This year, early season inconsistency has given way to a Boston bunch that has gone 9-3-4 after the NHL's holiday break with impressive victories over the Tampa Bay Lightning, New York Islanders, and the current Stanley Cup champion Los Angeles Kings during that span. Their cap issues will come into focus once again however, as the Bruins approach the upcoming March 2 trade deadline with just over $2 million in cap room to make trades as they see fit. The problem is compounded further by a total of 11 free agents (5 unrestricted, 6 restricted) that will be seeking new contracts in the summertime.
It may only be February, but here is a glimpse into key free agents the Bruins should be keen to hold on to.
Dougie Hamilton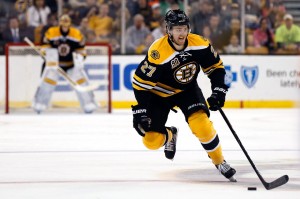 The third and final piece of the Phil Kessel trade of September 2009 is the biggest fish Boston's front office would like to keep in their pond. Dougie Hamilton is in the last year of his rookie deal and playing well enough to earn a modest pay raise in the offseason. He has already set new career highs in goals (8), assists (19), points (27), and power-play goals (4) in 51 games this season. The 21-year-old stepped up in Zdeno Chara's absence as the Bruins captain recovered from a PCL tear suffered at the end of October. Hamilton is a promising talent with limitless potential playing with Chara, but still has work to do in the defensive zone, particularly being more physical using his six-foot-five-inch frame. Hamilton will be a restricted free agent at the end of the season.
Torey Krug
Torey Krug signed with the Bruins as a rookie free agent out of Michigan State. His four goals in five games against the New York Rangers in the 2013 Eastern Conference Semifinals put Boston's brass on notice.
He led the club in playoff scoring last season, scoring 10 points from Boston's 12 postseason games. Krug's playoff performance earned him a one-year deal in training camp. The move as paid dividends for both he and the Bruins as the number 47 has 10 goals and 26 points through 47 games this season. The 23-year-old defenseman is usually found on Boston's third defensive pairing with Kevan Miller, which makes his numbers all the more impressive. Krug's small frame and occasional defensive issues are matched by his puck-handling ability, power play prowess, and booming shot from the blue line. It will be interesting to see how Boston handles contract negotiations with Krug and his agent going forward.
Reilly Smith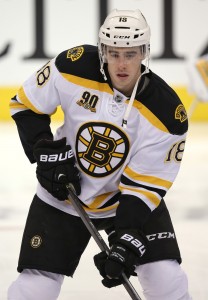 Many considered Reilly Smith to be a throw-in when he was shipped to Boston as part of the infamous Tyler Seguin trade on July 4, 2013. The former third-round pick of the Dallas Stars in 2009 single-handedly saved the trade from being a complete bust last season, scoring 20 goals and 51 points while developing great chemistry with Brad Marchand and Patrice Bergeron. Similar to Krug, the Toronto native also signed a one-year contract during Bruins training camp. This season, Smith has scored 10 goals and 27 points with six points in his last five games. He currently resides on the top line with Milan Lucic and David Krejci. The 23-year-old has settled in to a top-nine role nicely, but questions linger regarding Smith's ability to be a consistent scorer. The right-winger will be a restricted free agent at the end of the season.
Carl Soderberg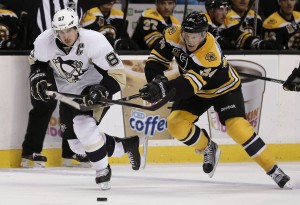 Boston's third-line center could be in for a jackpot payday in free agency. Carl Soderberg is in the final year of a contract that carries a meager cap hit of slightly over $1 million. His 22 assists this season lead the Bruins while his 32 points are second only to Bergeron's 34. "The Yeti" has played well centering Loui Eriksson and Chris Kelly for much of the season prior to Claude Julien's recent rotation of forwards. Soderberg will be an unrestricted free agent at season's end and will pursue a significant pay raise over his $1 million salary this season. The Bruins would love to keep him around, but given the depth at the center position and Soderberg's desire for top-six money which he deserves, Chiarelli may focus his attention more towards his younger core of RFAs than the 29-year-old native of Sweden.
Boston's front office will have some tough decisions to make on what direction the team heads in for not only the rest of this season, but the future as well with the trade deadline fast approaching.