Yes, it is only 12 games into the San Jose Sharks' 1016-17 season so it is not the time to panic. However, it is time to evaluate where the Sharks are and whether adjustments should be considered.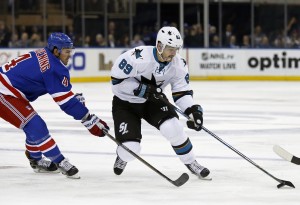 Need for Speed
As many teams did in the offseason, the Sharks adjusted their roster to increase team speed, the model for success for the Stanley Cup Champion Pittsburgh Penguins. Mikkel Boedker, one of the fastest skaters in the NHL, and David Schlemko, an above average puck moving defenseman, were added, while slow-footed, Dainius Zubrus and Roman Polak were let go.
The changes have provided mixed results, at best. The Sharks have done well against slow plodding teams in their wins over the Los Angeles Kings, Anaheim Ducks, New York Islanders, Columbus Blue Jackets (twice) and Nashville Predators. However, the Sharks have lost, in very ugly fashion, to the Detroit Red Wings and New York Rangers, two teams that also retooled for speed in the off season and twice to Pittsburgh, including an awful 5-0 loss at the SAP Center that dropped the Sharks to 6-6.
Additionally, after ranking 4th in goals scored last season, the Sharks have scored only 27 goals in 12 games (2.25/game), good for 25th in the league. The Sharks also had only a plus 30 goal differential in 2015-16 (237 scored and 207 allowed), providing only a small margin for error. At minus 5 (27 – 32) for 2016-17, the Sharks have not seen a significant offensive benefit from their roster adjustments.
Lack of Scoring Depth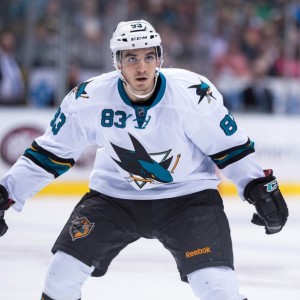 Matt Nieto and others do not provide the scoring depth the Sharks need
Coach Pete DeBoer's system has historically been defense first. His system allowed the New Jersey Devils to outperform their talent and also led the Sharks to the Stanley Cup Final last season, but the current team may not have enough scoring talent to allow a return to the playoff success of last season. The Sharks have only two players with 10 or more points, Joe Pavelski and Brent Burns and newcomer Boedker has only two goals and is minus-5 in 12 games. The Sharks do not have scoring depth. Chris Tierney, Melker Karlsson, Mikkel Boedker, Tommy Wingels, Michael Haley, and Matt Nieto all have three points or less and have never shown, in the minors or NHL level, to be consistent scoring threats in the NHL.
The Sharks appear to have acknowledged the offensive deficiencies by promoting 18-year-old Kevin LaBanc from the San Jose Barracuda. LaBanc has 10 points in the Barracuda's first six games. LaBanc is also a plus-6 so far this season. Other offensive threats in the AHL are former first-round picks Nikolay Goldobin (10 points and plus 4) and Timo Meier, who recently returned from an injury suffered during the pre-season.
Based on the first 12 games, changes need to be considered, but major changes need not occur……..yet.
Michael Miller
My name is Michael Miller. I am a native New Yorker and a semi-retired attorney who has been in the SF Bay Area for over 20 years. I am an avid sports fan and still play competitive baseball in what my kids call the OFMBL (Old Fat Man's Baseball League). I am also an assistant varsity baseball coach at the local high school. Hockey is a passion and always has been for me. As a kid I played street hockey year-round and still wonder why I never tried ice hockey. I hope to bring that passion to my contributions on THW.