There is no question that San Jose's deadly top unit power play carried the team last season. The Sharks' penalty kill and five-on-five play was absolutely dreadful. While Team Teal managed to find themselves in second place in the division at the end of January, it never felt like the same high level Sharks teams of previous seasons. Their man advantage prowess helped mask their problems for most of the season until the infamous February collapse.
Last year said power play finished sixth overall in the league. With Brent Burns replacing the departed Dan Boyle on the top unit last year, San Jose's overall percentage jumped from 17.2 percent to 21.6 percent. A usually dominant Sharks power play fell off in 2013-14 when Boyle had his worst season as a Shark yet surprisingly remained on the top unit for most of the year. With Boyle gone last season, Burns took over and instantly revived the No. 1 unit.
Now chances are first year Sharks head coach Peter DeBoer and assistant Steve Spott will leave the top group of Joe Thornton, Patrick Marleau, Joe Pavelski, Logan Couture and Burns intact. However, given the offseason additions, the Sharks power play should see an even slightly better year overall. The second unit looks much improved on paper.
New & Improved Second Unit
Instead of Marc-Edouard Vlasic quarterbacking the second unit, newcomer Paul Martin can take over that role. Martin is a shut down defender in the Vlasic mold but he has significantly more offensive flair. Over nearly 700 career games, Martin has picked up 103 power play points. Vlasic meanwhile has only 46 power play points over his career in nearly the same amount of games played (697 vs 670).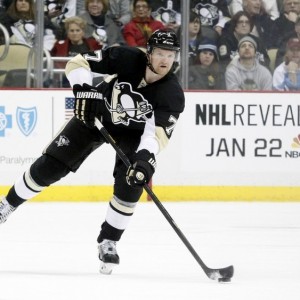 Depending on whether or not Matt Tennyson starts the season as the sixth defenseman, the opposite point on the second unit will likely be either Tennyson or Justin Braun. Both right-handed shots will complement Martin as a left-handed point man. Braun and Tennyson each have underrated offensive skills and are not afraid to jump down into the zone to keep plays alive. Plus Braun has always had a knack for getting his pucks through traffic and on net.
Last season the Sharks' second power play point men were often Vlasic and Tennyson, or Vlasic and Matt Irwin. While Irwin brought a bomb of a shot, his foot speed and stick-handling wasn't quit to the level of Tennyson or Braun. A Martin-Braun or Martin-Tennyson pair on the second grouping should be an upgrade this year.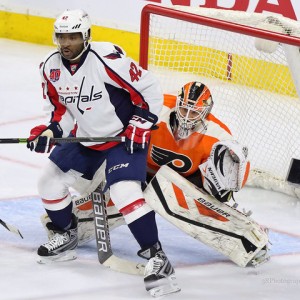 Not only will the point men on the second unit be better than a year ago but the Sharks will also have much more lethal options up front. For most of last year the Sharks rolled out a combination of Tomas Hertl, Matt Nieto, Melker Karlsson and Tommy Wingels as the second line forwards. This group was missing a pure play-maker and lacked a tenacious net-front presence. These two areas should be much improved with Chris Tierney's emergence late last season as a dynamic play-making center and the free agent addition of Joel Ward to play that Tomas Holmstrom role just outside the crease.
Ward spent quite a bit of time on the Capitals' top power play and he is known for using his big buttocks to establish body position in front of the net. A second unit forward group of Tierney setting up on the half wall a-la Thornton, Hertl circling the slot area and Ward in front of the net for screens and tips sounds pretty darn good on paper. Sharks fans should have high hopes for this second power play group to be much improved. Overall, don't be surprised if the Sharks percentage ends up in the 22.5-23.5 percent range this season.