In the San Jose Sharks' mixed bag of results, there are a lot of glaring issues that have been exposed by teams. One of those issues involves line combinations, which the Sharks have changed a lot. Marcus Sorensen, however, has been a constant despite the many, many changes the Sharks have made, riding the fourth line with Patrick Marleau and Matt Nieto.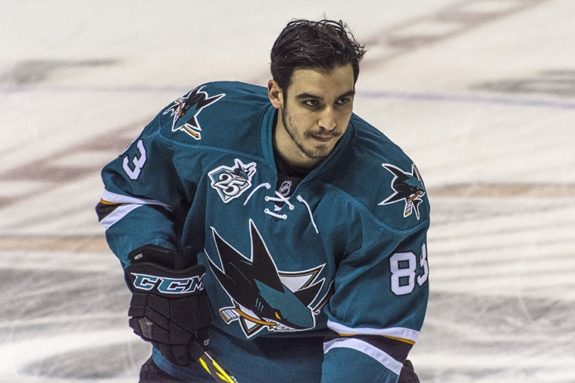 As it stands, all Sorensen is doing is filling a spot on the roster, and not really contributing much. Take a more recent example, the 3-0 loss to the Colorado Avalanche on Thursday night. He had no shots, one penalty minute, and a total of 10:37 of ice time, the third-lowest on the team.
With that in mind, it might be best just to trade Sorensen, and save the roster spot for a younger forward. In this article, we'll discuss the benefits, but also where he would go and what the Sharks can get in return for the 28-year-old forward. 
Why Trade Him?
Before we go into the benefits, let's explore why the Sharks should trade him. I mentioned in another article that he's more of an obstacle than an asset, and this season further proves that point. In playing all eight games this season, he has one goal and no assists for a total of one point. He has also earned four penalty minutes to boot, and only 11 shots. Not to mention, his plus-minus hasn't been above a plus-one. 
In terms of advanced stats, According to Natural Stat Trick, he is eighth highest in Corsi against (shots plus blocks plus misses) with 78. This means he was on the ice for a sum of every shot attempt, including goals. His total time on ice is also becoming a roller coaster, with the last game being 13 minutes, and his lowest this season being eight minutes. 
All of this means that Sorenson is slowly becoming an anchor on the Sharks fourth line, while Nieto and Marleau are thriving without him.
Where Would They Trade Sorensen?
Sorensen's contract is worth another $1.3 million for a year. If they were to trade him now, it would need to be to a team that needs a filler at the left-wing position, possibly due to an injury or a young prospect who's not performing to par. Colorado could be a potential for a good destination. Matt Calvert, a left wing, will be out for a while according to a tweet from The Athletic's Peter Baugh.
Sorenson would fill in and be on a fourth line pairing with Tyson Jost and Pierre-Edouard Bellemare. To add, he would be playing on a significantly younger line than he was with Nieto and Marleau. Jost is only 22, and Bellmare is 35.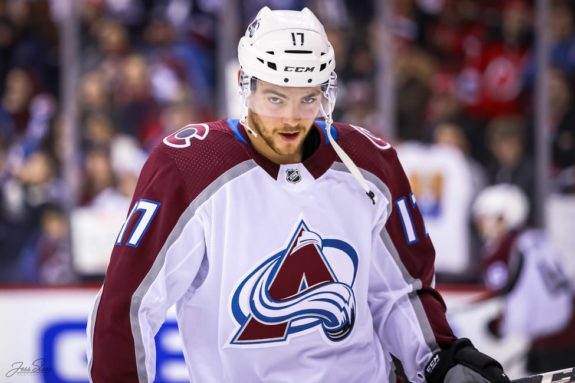 In return, Colorado would only need to send a late-round pick, possibly a fifth or a sixth-round pick, creating a low-risk scenario for both sides. In terms of money, the Avalanche would have enough cap space to put Sorensen on the payroll.
Benefits Now
One major benefit of trading Sorensen involves putting a player into the roster that's only a few weeks away from joining the main roster. I'm talking about Rudolfs Balcers, who was reacquired from the Ottawa Senators off of waivers after the Sharks sent him there in the Erik Karlsson trade.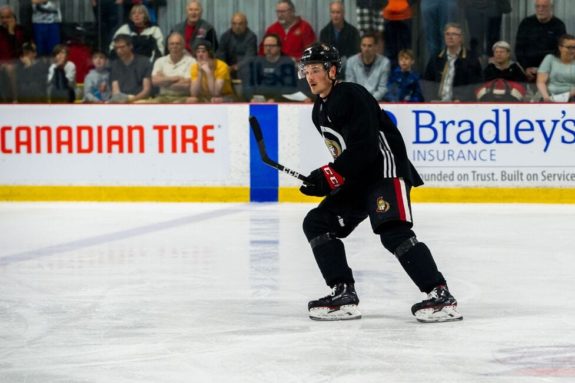 According to a tweet from San Jose Hockey Now's Sheng Peng, he will be skating in Arizona, where the San Jose Barracuda, the Sharks' AHL affiliate, is currently holding their training camp.
Sorensen or Stefan Noesen would probably be the odd-man-out once he does get onto the roster anyway, so trading him would not only free up cap space, but would free up a spot for Balcers to slot in the fourth-line left wing. Balcers was great in the AHL last season with the Belleville Senators. In 33 games, Balcers scored 16 goals and 20 assists, for a total of 36 points. He also had a goal and two assists for three points in the NHL with Ottawa. 
To add, he played a clean game, with no penalty minutes in any of the 15 games he played in the NHL. He also had only 15 minutes of penalty time in the AHL over the 33 games, adding to the argument. Adding Balcers into the lineup would give the Sharks a younger upgrade to Sorensen, and good production on that fourth line could make him a permanent mainstay on the Sharks roster. 
Benefits Later
As mentioned earlier, if Sorensen were to be traded, it would only cost a team like the Avalanche a fifth or a sixth-round pick. It may not seem like it's much capital, but to the Sharks, they can do a lot with later round picks. 
This is because general manager Doug Wilson can turn later round picks into gold. Most of the players on the current roster, with the exception of a few players, have been late-round picks and have had incredible careers so far. THW's Victor Nuno compiled a list of players that Wilson drafted in the late rounds in his article "Sharks' Wilson has a History of Late-Round Draft Success". 
Notable names in that article include Joe Pavelski,  captain of the Sharks from the 2015-16 season to the 2018-19 season, and Justin Braun, who is currently playing for the Philidelphia Flyers after the Sharks traded him, and subsequently signed a two-year extension worth $1.8 million average annual value in October.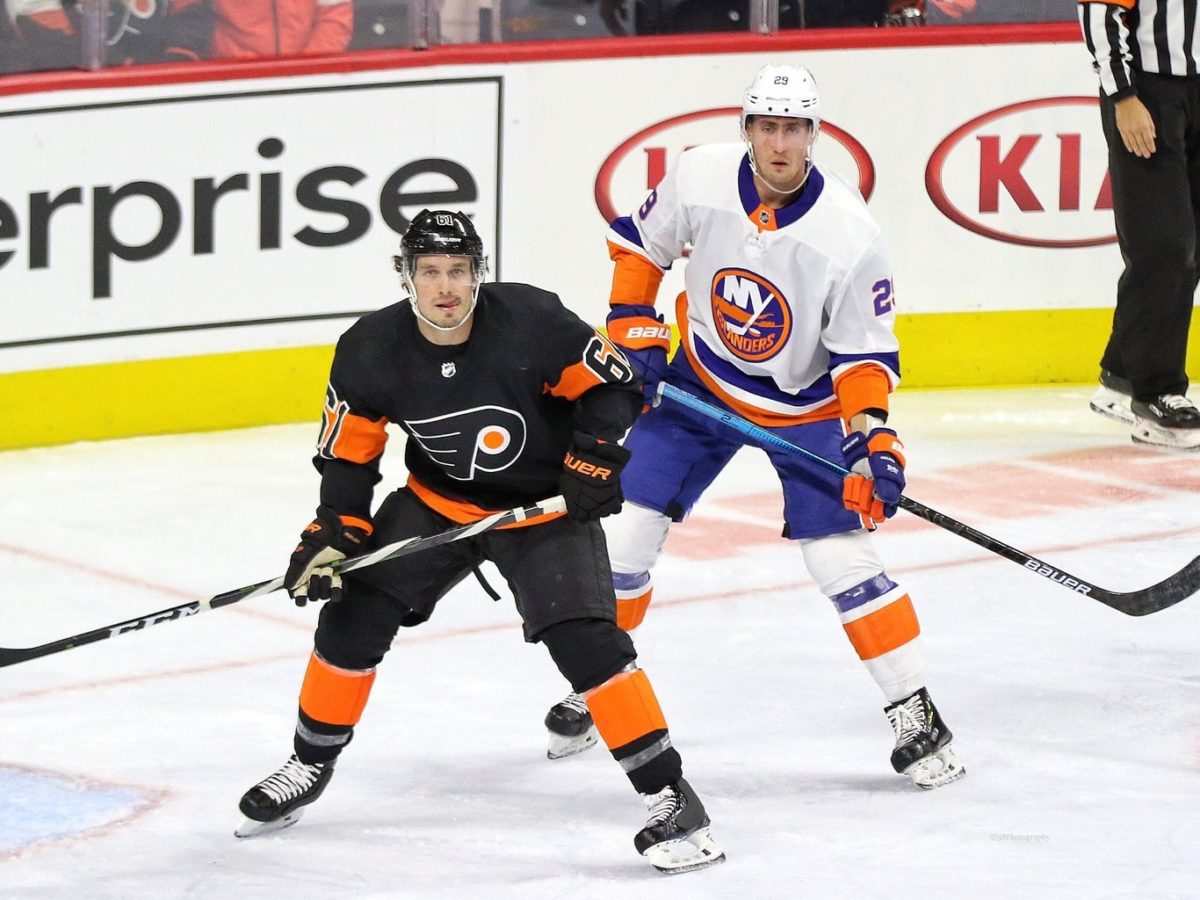 So, this is how the Sharks can benefit from trading Marcus Sorensen. Like what was mentioned earlier, it would clear up cap space to bring in Balcers and it would give a team a quality fill in for an injury. Not to mention, Wilson could use the late-round pick to get in return to find a gem in the draft, which he has a history of doing.
---
---