The Anaheim Ducks split their second series in a row, beating the Arizona Coyotes 1-0 on Tuesday night and falling 3-2 on Thursday night. The team continued to rely heavily on John Gibson while its offense struggled with more inconsistency. By the end of the two games, Gibson started to show frustration while their power play shows signs of life.
Gibson Continues Mastery, Show's Frustration
After Tuesday's 1-0 victory over the Coyotes, in which Gibson turned away all 31 of the shots he faced, podcast host Dimitri Filipovic posted this Tweet.
Gibson's performance against the Coyotes in Game 1 was spotless, going along with his play this season. His performance in Game 2 had but one blemish that actually came off the stick of a Coyotes player, and that goal was nearly impossible to save. 
The first two Coyotes goals in Game 2 came via fluky deflections off of Ducks players. The first deflected off of Kevin Shattenkirk's skate and behind Gibson after Christian Dvorak, a noted Ducks killer, threw the puck out from well behind the goal line. Gibson stood no chance on the Coyotes' second goal either after Jani Hakanpaa deflected a Connor Garland centering pass into his own goal.
Even the Coyotes game-winner wasn't Gibson's fault. After facing 32 shots and killing off a 5-on-3, the Ducks allowed Dvorak to enter the slot and slam home a centering feed for the game-winning goal.
The ordinarily mild-mannered Gibson finally lost his cool just after the Coyotes go-ahead goal. That's when Garland appeared to say something to Gibson after skating towards the Ducks goaltender, causing Gibson to put him in a headlock. 
Pressure Getting to Gibson?
While it's impossible to know what Garland said to Gibson, the more startling point observation from his behavior is his show of frustration. It's impossible to blame Gibson either. He's been stellar, and the fact that his teammates can't seem to come through for him has to be aggravating. Through unlucky bounces and five penalties before his own, Gibson's team again did him no favors. The Ducks are still among the league's worst on the power play, and rank near the basement in goals for. They allow opponents to set up camp in his territory on an almost constant basis.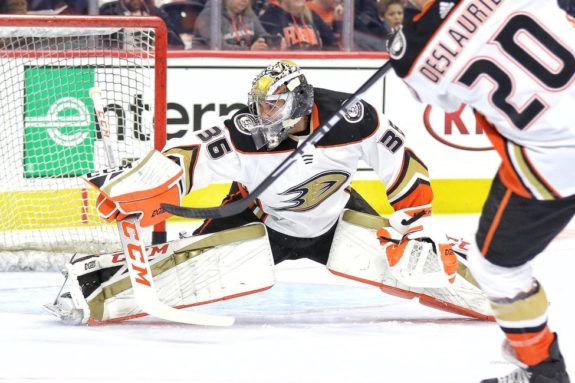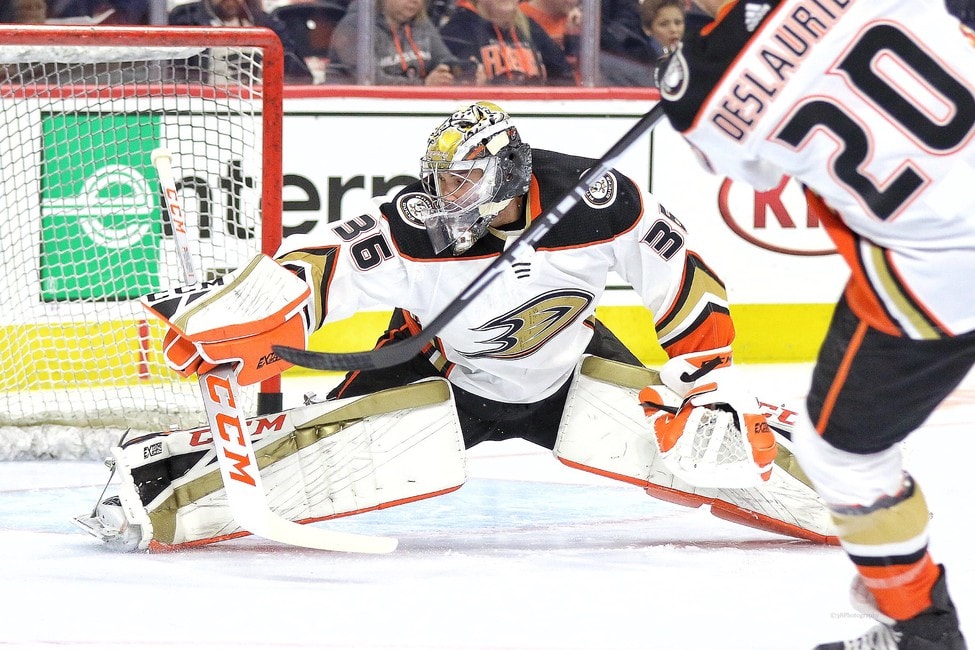 The fact that Gibson hasn't shown this frustration until now is a miracle in and of itself. Still, if this continues, one has to wonder if his state of mind will finally buckle under the immense workload and responsibility to single-handedly win games on a nightly basis.
Ben Hutton Makes Debut
Head coach Dallas Eakins didn't waste any time utilizing Bob Murray's recent defensive acquisition, Ben Hutton, in his debut series versus the Coyotes. Hutton stood out as one of the more physical defenders on the ice in Game 1, which makes sense since Josh Manson's injury. 
Hutton trailed only Hampus Lindholm in time on ice in all situations playing 20:16 in Game 1. He led Ducks defenders in penalty kill time during Game 1, playing 2:45 in man-down situations. Game 2 featured another steady performance by Hutton, who ranked third among Ducks defenseman playing 20:01, behind only Lindholm and Shattenkirk.
In spite of his sizable time on ice, the Ducks did not surrender any goals with Hutton defending. At worst, he played relatively mistake-free hockey and did not stand out negatively. At best, his ability to eat minutes and not be a liability on the ice after missing the first six games of the season is a reason for optimism. He will only improve as he gels with his teammates and adjusts to playing NHL hockey again.
Ducks Finally Break Through on the Power Play, Get Broken Through on Penalty Kill
Even though the Ducks only had three power-play opportunities in their series against the Coyotes, they scored a power-play goal, their first of the season. Danton Heinen's game-tying power-play tally meant the Ducks were the last team in the entire NHL to score with the man advantage.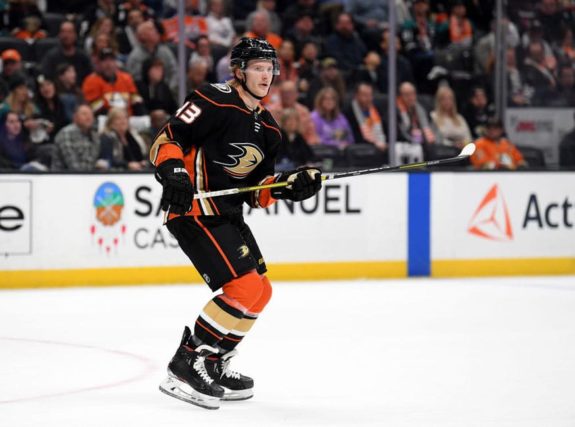 The power play has struggled immensely over the past three seasons, ranking second from last in front of only the Nashville Predators with a success rate of just 15.5% during that period.
The fact that the Ducks' power play still struggles isn't a surprise, but after almost 10 months off, the Ducks are also not getting much help from the referees. The team has had only eight power-play opportunities since it started the 2020-21 season, good for 26th in the NHL. 
Yes, much of the tinkering with power play happens during practice, but seeing what works and what doesn't within actual games helps too, and the Ducks don't have a lot of tape to study.
Penalty Kill Bends, Then Breaks
On the other hand, the Ducks' stellar penalty kill cracked for just the third time all season, part of the reason they lost Thursday's game and split the series. For a team that has trouble scoring and has such a small margin of error to win games, a strong penalty kill is vital.
The Ducks played with fire against the Coyotes in Game 2. They committed five penalties and got burned on their final penalty kill that allowed the Coyotes to score the game-winning goal.
In spite of allowing a goal, the Ducks penalty kill continued its strong play. Carter Rowney and Derek Grant are anchoring the successful penalty kill. The duo ranks first and second among Ducks forwards in blocked shots with 13 and 12, respectively. Coming into the night, Rowney ranked second in the entire league among forwards in blocked shots, while Grant was tied for fourth.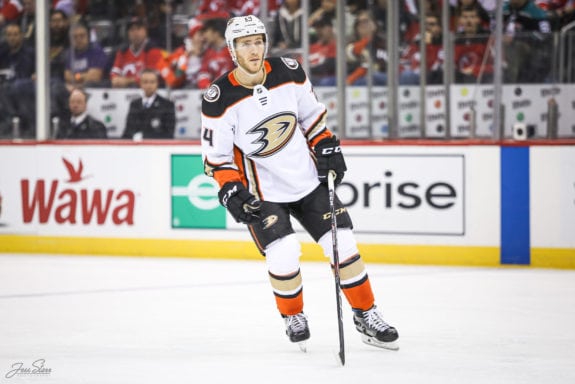 If the Ducks want to continue to stay in games, they will need their penalty kill and Gibson to keep playing out of their minds until the power play can earn more opportunities and somehow find some consistency.
Trying Not to Feel Blue
The Ducks' competition will ratchet up again in their upcoming series versus the Blues. The Blues are a physical team with size, making defending in front of Gibson all the more challenging and essential. The Blues had their series with the Golden Knights postponed due to positive coronavirus tests, so they will be rested when they travel to Anaheim Saturday. 
Look for the Ducks to emphasize playing three solid periods of hockey, something they've rarely done so far. 
All stats from hockey-reference.com
---
---