Kryptonite
Over the last couple of seasons the San Jose Sharks have made it a frustrating habit of losing to some of the worst teams in hockey. Typically it has been Eastern Conference teams like the Buffalo Sabres and Florida Panthers, but earlier this month they were the first Western Conference team to lose to the dreadful Edmonton Oilers. Therefore when the Sharks went down 1-0 and then 3-2 to the Oilers Thursday, you knew it wouldn't of been a happy locker room had things not turned around. Despite being out-shot by Edmonton through two periods, the Sharks skated away 4-3 winners, scoring twice in quick succession in the third period on goals by two rookies.
On the power-play mid-way through the final frame, San Jose's second unit (a unit that still clearly needs Justin Braun on it instead of Marc-Edouard Vlasic) tied things up at three. Defenseman Matt Tennyson received a pass from Tommy Wingels in stride along his natural right side. The rookie defender would beat Ben Scrivens for his first career goal, even though he admitted after he was just trying to shoot it off the pad for a rebound.
"Always good to get that [first one] out of the way, and it was a goal that tied it up for us so that makes it even better" commented Tennyson who continued on. "Actually I saw Shepp coming and I was trying to go off the far pad, I don't know if it got tipped or he just misplayed it off his pad but I'll take it."
Talk about a brutally honest response for a player who just scored his first career goal. As head coach Todd McLellan noted, it was the first goal from a San Jose area native in franchise history. The head coach was more than pleased with the effort from his young guys. Not only did Tennyson score but fellow rookies Barclay Goodrow and Melker Karlsson had multiple point nights.
The Kids Are Alright
"I don't know what it was, four or five rookies in the lineup and they are really starting to feel like they belong" confirmed McLellan when asked about his young players. "It takes a little bit of time but you look at Barclay, Melker hasn't been here that long, Shepp feels good. I think I said it the other night, Shepp's in a leadership role. He used to be the kid on a line, he's now leading that line, making sure that it's ready to play every night. They've given us some really good games so the youthful enthusiasm is spreading throughout the team."
San Jose got on the board to tie the score at one in the second period when Karlsson made a nice reverse backhand feed behind the net to Goodrow who had some time and space. He was able to thread a pass through the crease to an onrushing Sheppard who made no mistake and buried it in the back of the net. On the game winning goal, Brent Burns sprung Goodrow with a terrific head man pass. Goodrow fought off a strong backchecker and slid it by Scrivens for his second career goal.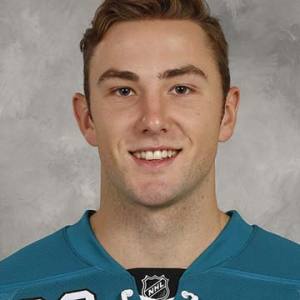 "Great vision [from Burns]" recalled Goodrow on his game winner. "I was yelling, I don't know if he could hear me but I was yelling pretty loud and he got his head up and made a great pass up the middle."
A few games ago it was Goodrow's strong defensive effort and penalty killing that stood out, but in recent games he's shown more offensive flare. It's not just the two goals in his past four games now but the assist on Sheppard's goal and a nice cut-back move in the game against the Predators showed some real skill. Now all of a sudden a veteran on this team, the still relatively young Tommy Wingels was quite impressed with the performances of his younger teammates.
"Yeah it's great [the play of the young guys], this league has really changed where young guys are affecting the game, contributing in a positive way and they had a great goal tonight. Nice play behind the net, you know Goody hit Shepp in the slot and then Goody's individual effort on the breakaway, it's fun to watch."
Closing Window?
Many NHL fans who don't follow the Sharks on a regular basis still think of them as being old and that their Stanley Cup window is closing because of age. It makes sense that they would think that way since all most fans ever talk about are 35-year-olds Joe Thornton and Patrick Marleau. However, old is the furthest thing from the truth. Even outside of these young rookies, Goodrow 21, Tennyson 24, Karlsson 24, most of the Sharks' established players are under 30. Logan Couture is 25, Wingels 26, Matt Nieto 22, Tomas Hertl 21, Braun 27, Vlasic 27, Brenden Dillon 24, Andrew Desjardins 28, and Brent Burns is 29. Marleau and Thornton are the only two key skaters on this team that are 31 or older. Fans around the league need a reality check, the Sharks are getting younger on the fly without having to miss the playoffs to do it.
Andrew has been credentialed to cover the Sharks since 2010 and the 49ers since 2012. He graduated with his BA in Broadcast Electronic Communication Arts in 2013 from San Francisco State University.