The San Jose Sharks' will be playing their first game on Jan. 14 against the Arizona Coyotes. Coincidentally, they will also have their training camp in Scottsdale, AZ, due to the ongoing ban in Santa Clara County on contact sports.
That said, it doesn't mean that the Sharks won't have an injury, or still have a player test positive for COVID-19, or be in close contact with someone who did. That is why this season in particular a "taxi squad" is vital to organizations around the NHL.
Before we project who will be on the Sharks' version of this roster, let's get a better idea as to what this "taxi squad" means.
What Is a Taxi Squad Anyway?
The answer to this question was mentioned a bit above – a squad where teams have players at the ready at a moment's notice to be called up, in case of an injury or a positive COVID-19 test. Essentially, it's another name for a practice squad.
A tweet from the site CapFriendly explained the NHL's taxi squad rules for this season.
With the rules in place, we can now project who will make the Sharks' "Taxi Squad". The first rule says that there is a maximum of six players allowed, and that's exactly how many I'm going to be picking: three forwards, two defensemen, and one goalie.
Forwards
Forwards are something the Sharks have quite an abundance of, so there's a ton of options that they could keep on the roster.
I'm going to start with the center position, and this one is the easiest player that I can project to make the taxi squad if he doesn't already make the roster out of training camp. The player in question is Fredrik Handemark.
Handemark should be on the roster when the Sharks play the Coyotes on the 14th, but in the situation that he doesn't make it, he'll be a shoo-in for the taxi squad.
He put up 15 points (six goals, nine assists) in 25 games before he was called back from the loan to Malmo of the Swedish Hockey League. That may not seem like much for the first to second-line but that is perfect for the middle to bottom-six center role that he can fill in if need be.
At left-wing, it was a little bit tougher to pick, because of the fact that there so many great options. After a lot of consideration, I decided to pick Jayden Halbgewachs.
Halbgewachs has been a great wing with the San Jose Barracuda. He put up 35 points last season (19 goals, 16 assists) and earned Sharks' Prospect of the Week honors on March 4. He earned that honor after three straight games with a point.
Halbgewachs may also make the roster out of training camp, but if not, I wouldn't be surprised if he is the first option to be called up from the taxi squad, considering his production.
Finally, at right-wing, it was another easy decision, with the caveat that he could make the roster out of training camp. That is Kurtis Gabriel, formerly of the Philadelphia Flyers AHL affiliate, the Leigh Valley Phantoms, but has had NHL experience with the New Jersey Devils.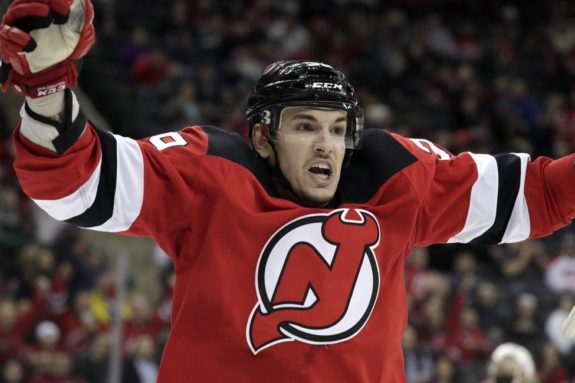 Gabriel was mostly an enforcer in the AHL, with 92 penalty minutes and only five points last season. The Sharks have had experience with players like this before, like Michael Haley, so it might be nice to have another one of those at the ready.
Defensemen
For the defensemen, it's going to be a bit harder, because the Sharks have only a few with any NHL experience. Not to mention, there is a lot of depth at the left side defenseman position and not much at the right side.
For the left side, it was a difficult decision because of the fact that there are so many going for a roster spot. So, after thinking about it, I decided on Trevor Carrick.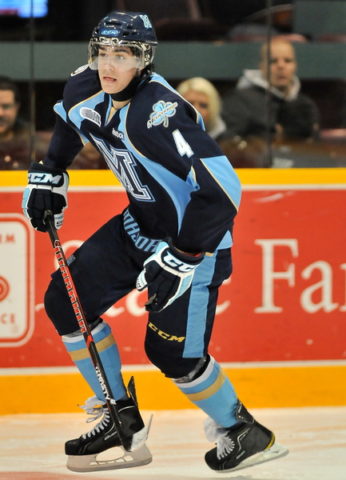 Carrick has had some NHL experience, filling the right defenseman role at the end of the season last year. He played three games, scoring no points, and acquiring five penalty minutes in the process. However, with the Barracuda, he posted 23 points (10 goals, 13 assists) in 48 games. He ranked 10th on the entire team in points and second among all the defensemen.
He's another player that could make the roster out of training camp, but if not, Carrick would be a great and productive player to store on the taxi squad if need be.
At the right defenseman position, I am not going to say Ryan Merkley for one reason. He's probably going to make the roster out of training camp unless the Sharks sign a right defenseman after the writing of this article.
Having said that, the selection for the taxi squad for this position is Nick DeSimone.
DeSimone has played mostly in the AHL with the 'Cuda and put up 19 points (5 goals, 14 assists) this past season. It doesn't seem like much, but his stat line is not the reason I picked him. First of all, he's 6-foot-2 and a tall defenceman is always good to have around.
Second of all, he was highly praised by general manager Doug Wilson when he was re-signed in the summer of last year. In the article announcing that he had been re-signed by the Sharks, he was praised for his smooth skating and his hockey sense.
To sum, he's tall and has good hockey sense. He would be a great addition to the taxi squad.
Goaltenders
The rules state that you have to have one goaltender on the taxi squad with you. Luckily for the Sharks, they have a bunch that can step in. Some of you may be thinking of Josef Korenar to be the, but I am going to go a different route.
I'm going to go with the Sharks' most recent goaltender addition, Alexei Melnichuk, whom they signed out of the KHL's SKA St. Petersburg.
He's currently on loan to the KHL's Torpedo Nizhny Novgorod, and will most likely be recalled for training camp soon. His numbers are pretty great with Torpedo so far, playing in 14 games with a record of 6-6-2, a save percentage of .912, and a goals-against-average of 2.68.
We know there are a lot of options they could promote like Melnichuk, but also there's Korenar, as well as Zachary Emond, the Sharks' sixth-round pick in 2017, so it would be a tight competition to see who makes it.
That is who I think can make the cut for the "taxi squad" that the Sharks will have this season in case of an injury or a positive COVID-19 test. Training camp starts on Dec. 30, so we'll just have to see how these predictions fare.
---
---