In a rematch of last year's gold medal matchup, Team Canada took to the ice against Team Russia in their lone pre-tournament game. With group action kicking off on Friday, the contest served as an important test, as both sides have only had internal scrimmages in preparation for tournament action.
With Canada having an abundance of household names to keep an eye on, Wednesday night's action also served as a crucial measuring stick for the coaching staff and provided a better understanding of Canada's roster structure and line combinations.
Whether it was Cole Perfetti and Connor McMichael generating plenty of scoring chances below the dots, the physical presence brought on by Kaedan Korczak and Kaiden Guhle, or the effectiveness of the Bowen Byram-Jamie Drysdale pairing, no line seemed to have on off-night in Canada's only pre-tournament tune-up.
With that being said, here are three players that caught my eye specifically, as Canada prepares to open the tournament on Saturday.
Devon Levi
Let's start with the obvious. Devon Levi, who spent most of selection camp practicing with the NCAA cohort after crossing the border from Northeastern University, joined Canada's final roster after Brett Brochu, who had been fantastic throughout camp, was shockingly sent home early.
Now, after getting the nod in Canada's only pre-tournament contest, Levi is making a strong case for Canada's starting job, following a 23-save shutout over Vasily Podkolzin and company.
Throughout the game, Levi never seemed to lose focus, most likely due to his "three-and-a-half hour pregame routine", as noted by TSN's Craig Button on the live broadcast. Against a handful of Russian chances, Levi was sharp, playing aggressively when needed and seemingly shutting down any offensive momentum the Russians could muster.
Although the Florida Panthers prospect was caught deep in his crease on a couple of occasions, it didn't seem to faze him, as he challenged the likes of the aforementioned Podkolzin, and turned aside breakaway chances from Yegor Chinakhov and Arseni Gritsyuk. Ahead of Saturday's tournament opener, it'll be difficult for the Canadians to say no to Levi's calm and cool demeanor.
Quinton Byfield
While not showing up on the scoresheet, Quinton Byfield showed off an improved version of himself from last year, despite centering Canada's fourth line. Being Canada's youngest player for the second straight year, it's obvious why Byfield deserved to return to the junior squad, establishing a physical presence on each and every shift.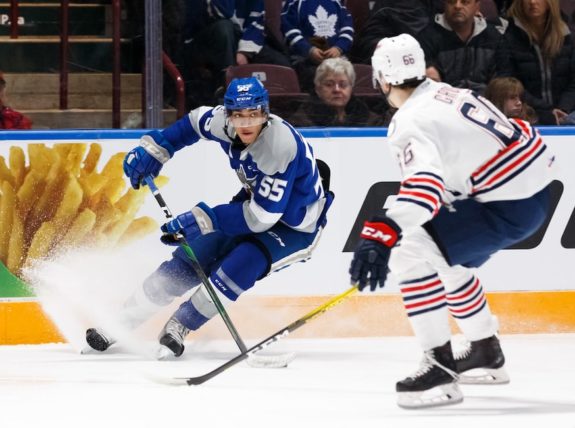 The Newmarket native seemed to command the flow of the game with every opportunity he was given. Hunting down loose pucks and engaging in puck battles in all quadrants of the ice provided Canada with a grittier, more "in your face" style of play, which ultimately contrasted the rest of the team. This is nothing short of great news for the Canadians, as Byfield has seemingly embraced his role of being more than just an offensive threat.
The Los Angeles Kings prospect also found instant chemistry with linemates Connor Zary and Dawson Mercer, distributing the puck in high-danger areas and generating a handful of scoring chances. With a roster this deep, it's unfortunate that Byfield will likely find himself on the fourth line to begin the tournament. However, should he continue to become an impact player, that could change in the blink of an eye.
Thomas Harley
While the flashy names seemed to take control of Wednesday's affair, Thomas Harley flew quietly under the radar. The Mississauga Steelheads standout was partnered with Braden Schneider on Canada's second pairing, and they saw a healthy dose of Russia's top lines.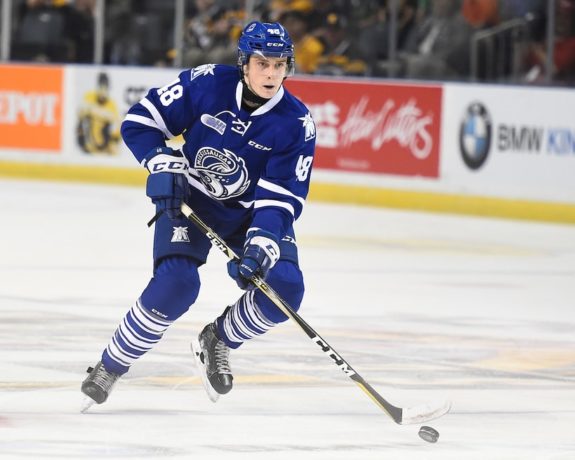 Using his long reach and smooth skating abilities, the Dallas Stars prospect lived up to expectations, effectively shutting down rushes and getting in the way of passing lanes. Heading into camp, Harley was certainly a name that was overshadowed by others. However, with the focus now on the final roster, he has seamlessly transitioned into the type of defenseman that Canada needs.
If Wednesday was any indication, a Harley-Schneider pairing could become Canada's shutdown combination, simultaneously allowing the Byram-Drysdale pairing to flourish offensively.
Canada Loses Kirby Dach
In what ended up being a bittersweet performance, Kirby Dach picked up right where he left off from Canada's intrasquad scrimmages, dazzling the empty Rogers Place with his creativity and puck handling skills. Contributing in all facets of the game, including one-on-one rushes, power-play chances, and puck distribution, Dach's performance Wednesday night would've served as an optimistic prelude for what's to come.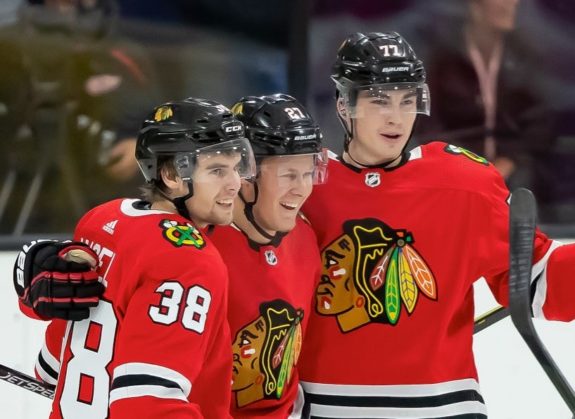 Unfortunately for Canada, Dach will not have the opportunity to showcase those skills over the course of the tournament itself. After landing a hit on Ilya Safonov midway through the third period, Dach favoured his right wrist almost immediately, departing for the Canadian dressing room shortly afterward. Thursday morning, following an update from TSN's Bob Mckenzie, Dach is reportedly done for the tournament with a fracture in that same arm.
In short, this will be an early test for a team that relies heavily on its depth. Dach was set to become one of the premiere players in the tournament and has become a fixture on Canada's top line. With him gone, saying it's a substantial loss would be an understatement.
Nevertheless, this opens the door for other players to rise to the occasion. Philip Tomasino, who was the only healthy scratch ahead of Wednesday's tilt, will all but certainly draw into the lineup. Mercer could move to centre to accommodate Tomasino on his flank, while a more experienced name like McMichael or Byfield could find themselves within Canada's top six.
What Lies Ahead for Team Canada?
With Canada beginning group action against Team Germany on Saturday evening, their victory over the Russians brought with it many promising signs. All four lines seemed to find a certain level of chemistry throughout, the goaltending picture became much clearer, and the defensive strategy seemed to function smoothly.
Although Dach's injury continues to put a damper on Canada's potential ahead of tournament play, the Canadians certainly have the depth to make up for a loss of that significance. Minus their recently named captain, this is arguably one of the most talented Team Canada rosters in recent memory and the prospect of a gold medal is still well within reach.
Who caught your eye in Canada's pre-tournament game? How concerned are you over Dach's injury? Let me know in the comments.
All the 2021 World Junior Championship Team Information:
Austria — Team Preview — Roster
Canada — Team Preview — Roster
Czech Republic — Team Preview — Roster
Finland — Team Preview — Roster
Germany — Team Preview — Roster
Russia — Team Preview — Roster
Slovakia — Team Preview — Roster
Sweden — Team Preview — Roster
Switzerland — Team Preview — Roster
USA — Team Preview — Roster
Selection Camp Invites by NHL Team
Draft Eligible Players to Watch
One Player to Watch for Each World Junior Team
7 Predictions for the 2021 World Junior Championship
---
---