Tomas Hertl is on track to be ready for the start of the regular season with the San Jose Sharks despite missing the World Cup due to injury, Sharks general manager Doug Wilson said in a statement released Sunday.
As we reported yesterday, Hertl expected to be ready by start of #SJSharks camp. Doug Wilson statement here: pic.twitter.com/ZUL1NObwxC

— Kevin Kurz (@KKurzCSN) September 4, 2016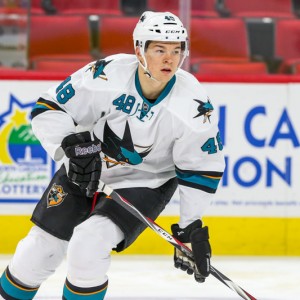 On Saturday, news surfaced that Hertl opted out of representing the Czech Republic at the World Cup to focus on his right knee injury in preparation for the start of the regular season with the Sharks. Hertl suffered the injury during Game 1 of the Stanley Cup Final on June 1. Hertl's injury did not require surgery, but earlier this summer Hertl acknowledged that he would not play at the World Cup unless he was fully healed.
"I just want to be 100 percent ready for season and I don't want to go to World Cup at just 80 percent health," Hertl said on June 30.
Hertl, 22, has played the past three seasons with the Sharks after being drafted by the club 17th overall in the 2012 NHL Entry Draft. During the 2015-16 regular season, Hertl skated in 81 games and posted career highs in goals (21), assists (25) and points (46). In 20 postseason games, Hertl emerged as an impact player for the Sharks in route to the Stanley Cup Final, tallying six goals and five assists.
Hertl was rewarded by the Sharks earlier this summer when he signed a two-year bridge deal worth $6 million.
---
The Hockey Writers coverage of the World Cup of Hockey 2016 is being brought to you by PrimeSport, the official Fan Travel & Hospitality Package Partner of the World Cup of Hockey 2016.
Steven is a lawyer and writer with a passion for the game of hockey. He's the Lead Writer covering the Tampa Bay Lightning with THW. He's also been press credentialed through the Lightning since 2016. His work has been published at The Fourth Period, LightningInsider.com, Bolt Prospects, The Sports Daily Network, U.S. College Hockey Online and College Hockey News. He's had radio appearances on TSN 690 in Montreal, Lightning Power Play Live and multiple podcasts to give insight and analysis on the team. He can be reached on Twitter @StevenDiOssi and by email at sdiossi@gmail.com.