With training camps right around the corner, NHL teams will soon be making initial preparations for the season. How many young guys will earn roster spots? Depending on the team, perhaps a veteran player is in camp on a pro-tryout contact (former Shark Devin Setoguchi is in Toronto on a PTO). Often times these veteran players get cut, but we have seen other times where a guy like Manny Malhotra earns a contract (2009-10 with the Sharks) and goes on to have a terrific season as a third line center. Training camp can be rather ho-hum but there can also be a surprise or two to start the season.
For a veteran-laden squad like the Sharks, most roster spots are spoken for but there will be room for some fresh faces to make a push. At the forward position, the Sharks already look to have four solid lines on paper with 12 veterans. It is feasible though that a rookie forward like 2014 first-round pick Nikolay Goldobin could supplant someone like Barclay Goodrow. That really depends though on what happens in camp and on the health of Raffi Torres.
Will the Sharks Get Anything out of Raffi Torres?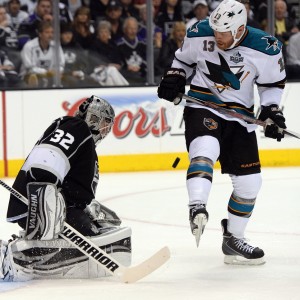 The most recent updates from the Sharks have suggested that Torres will be ready to go at the start of camp but facts are the facts. Torres has had multiple procedures on the torn ligament in his knee and he has barely played the past two seasons. In 2013-14 he appeared in just five regular season games and seven playoff games before missing all of 2014-15. Basically he hasn't played in two full years. Even if he wasn't injured during that time, and had just taken two years off, at his age (34 in October) that is a difficult transition to come back and be his old self.
While Torres has a long list of past dirty hits, including one on my favorite player growing up Milan Michalek, Sharks fans should be crossing their fingers for a healthy return. When you look past his history of bad hits, you see a player that provides a tenacious presence on the forecheck and tremendous offensive ability at even strength. Torres' career points per game is .41. (260 points in 635 games) and only 38 of those 260 points (or 15%) come on the power play. Comparatively speaking, a top tier player like Joe Thornton has 36% of his career points via the man advantage. If we just look at even strength points, Torres has a .35 points per game for his career. Thornton on the other hand has a .62 points per game rate.
Thornton is a no doubt future hall of fame player, and Torres' even strength production is slightly over half of what Thornton produces. Half of a hall of fame player is a pretty darn good player. San Jose would get a huge boost if Torres can provide even 30-40 games of his former self. Given the extensive time shelved with the knee issues, it is hard to pencil in Torres for any amount of time. Answering the question posed in the title of this article would be purely a guess on behalf of yours truly (I'm no doctor). My best advice to Sharks fans regarding Torres is to be cautiously optimistic.
Andrew has been credentialed to cover the Sharks since 2010 and the 49ers since 2012. He graduated with his BA in Broadcast Electronic Communication Arts in 2013 from San Francisco State University.