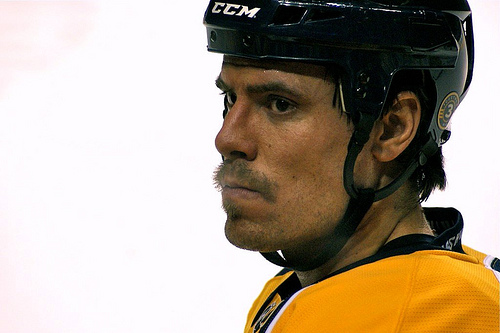 Breaking: Shea Weber agrees to offer sheet with Philadelphia. 14 years, upwards of $100 mil. Preds have 7 days to match. Wow!!

— Darren Dreger (@DarrenDreger) July 19, 2012
The news broke late Wednesday night that Nashville Predators' defenseman Shea Weber has agreed to a 14-year offer sheet worth upwards of $100 million with the Philadelphia Flyers. According to TSN's Darren Dreger, the Predators had been actively working on the trade front to deal the Norris Trophy nominee to various teams in the league. Weber allegedly grew tired of the waiting game and signed an offer sheet with Philadelphia.
The Predators have seven days to match the Flyers' offer. Otherwise, Shea Weber will become the newest member of the Philadelphia Flyers. Should the Predators choose to allow Weber to go to the Flyers, they will be compensated with either four first-round picks or two first-rounders, a second-round pick, and a third-round pick from the Flyers, as per the rules of the current CBA.  The actual annual value of Weber's new deal would determine the ultimate return.
It was widely known that the Flyers were seeking to bolster their blue line after concussion problems put the career of top defenceman Chris Pronger in jeopardy. After losing out on Weber's former defensive partner, Ryan Suter, in free agency, the Flyers took an alternate route to acquiring a marquee defenceman, via an offer sheet.
This would be a landmark case in the issue of restricted free agents and offer sheets, as such a massive contract has not been signed through an offer sheet until now.
Stay tuned to The Hockey Writers for more on this developing story.
UPDATE: The breakdown of the contract:
Weber will receive $14 mil in each of 1st 4 years. $12 mil in next 2 yrs. $6mil in following 4 yrs…then $3mil and $1mil, $1mil,$1mil,$1mil

— Darren Dreger (@DarrenDreger) July 19, 2012
Orriginal offer sheet for Shea Weber was 1yr, but Preds would match. $68 mil in bonus $ in 1st 6 yrs, $27 mil total in less than 1 year.

— Darren Dreger (@DarrenDreger) July 19, 2012
Dave Champion is a contributor at The Hockey Writers covering the Anaheim Ducks as well as NHL news and opinion. He is currently studying Political Science at the University of Alberta. Growing up in Edmonton, his love of the game developed at a young age – a love that has grown steadily since. Check out his hockey blog "Champ's Thoughts" at thenhlupdates.wordpress.com
Follow him on Twitter @Champion_Dave