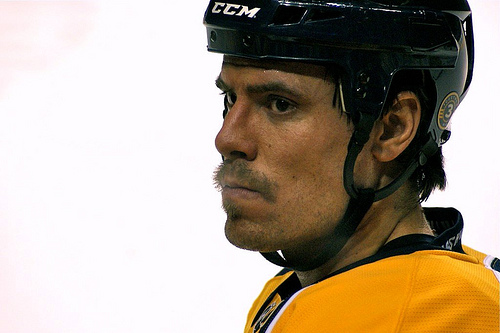 Shea Weber came up short of winning the James Norris Memorial Trophy awarded to the best defenseman "who demonstrates throughout the season the greatest all-around ability" for the third time in his career. The Nashville Predators' captain finished a distant third behind winner Duncan Keith of the Chicago Blackhawks.
Full Norris Trophy voting. Keith cleaned up on first place votes. Some weird vote getters lower down. pic.twitter.com/lWvhrkJtej

— James Mirtle (@mirtle) June 25, 2014
After the season ended, I wrote the "3 Reasons Shea Weber Should Win The Norris Trophy" and there were hardly any disputes — rightly so. Weber led the Predators in points for the second consecutive season with 56, setting a new franchise record for a defenseman. His 23 goals were a league's best among D-men. While Chara and Keith averaged 24:38 and 24:39 of time on ice, respectively, Weber logged an average of 26:54 through 79 games this season.  The Sicamous, British Columbia native progressively became better as the season progressed, finishing the final 42 games of the season with a +11 rating. Weber was also the first player this season to have 20 goals, 150 blocked shots and 150 hits.
So, with all those impressive stats, what went wrong for arguably the League's best, most complete defenseman?
Although a flawed perspective, not leading the Predators into the playoffs had to have played a big role in the PHWA's eyes. Going up against superstars Keith and Chara, who play in big markets, is tough for Weber to gain league-wide support. In a year that was Weber's best, it now becomes noticeably difficult for the 28-year old to receive his first hardware as an NHL player.
As a finalist the previous two times, Weber was a runner-up to Nicklas Lidstrom in '10-'11 and Erik Karlsson in '11-'12.
And interestingly enough, finishing just behind Weber was former-Predator Ryan Suter.
Colin Fitts is a Nashville Predators staff writer and is a credentialed media member of the Chicago Wolves. From Nashville, Tennessee, Colin majors in journalism and public relations at Columbia College Chicago. Follow him on Twitter, @FittsTHW. Email: 22fitts [at] gmail [dot] com.