Being an original at something is a unique title that is not bestowed upon many. When it comes to hockey players, there is only a select number of professional teams throughout the world. Meaning, the opportunity to be an original member of ones of those squads is more of a rarity than anything else. Shelby Bram is an original member of the Buffalo Beauts. She always will be.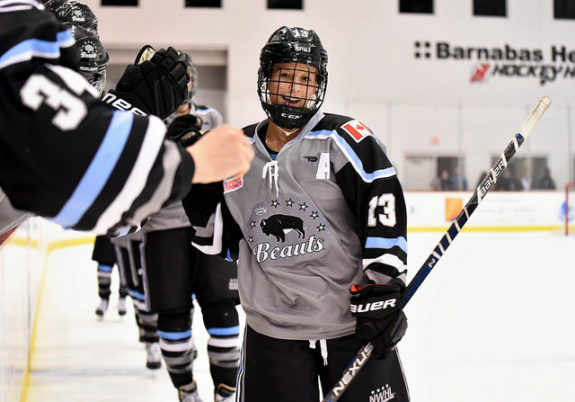 A Season in Sweden
Bram recently finished her first season in Sweden playing for Brynäs IF of the Svenska damhockeyligan (SDHL); the premier league for women's hockey in Sweden. Bram's season with Brynäs saw her score nearly a point per game with 12 goals and 18 assists for 30 points in 33 games. The physicality of Bram's play also saw her finish tied for seventh overall in the league for penalty minutes.
"My sister (Bailey Bram of the CWHL's Calgary Inferno) played one year in Linköping, Sweden and couldn't speak more highly of it. Knowing me, I do everything she does," Bram laughs. "The experience, the travel, meeting new people – it was one of the most memorable seasons of my career."
Some additional familiarity with the country came from the fact that Bram represented Canada at the 2011 IIHF Women's U18 World Championships in the capital city of Stockholm.
Sweden: @SBram13 sensational during inaugural season in Sweden https://t.co/9akGzpQC06 @MarkStaff100 pic.twitter.com/hjeQBSYmyI

— Women's Hockey Life (@WHLOfficial) May 21, 2017
"At the beginning, being so far away from home, and the time change, it was a little bit tough. But the girls were so welcoming that it was super easy to adapt. As for the hockey aspect, the only major difference was the size of the ice; it was huge! I was so tired my first game!"
Shelby Bram – First Season in Buffalo
Brynäs and Bram just wrapped up the 2016-2017 season in Sweden. But let's rewind one year further back than that to the inaugural NWHL season. There will only ever be one Buffalo Beauts inaugural roster and Shelby Bram is one of just 22 players that suited up for the team that first season.
"My sister actually sent me an article about the league (NWHL) my senior year of college. We were going to go to a tryout together. Plans changed, and we couldn't make that tryout because we live so far away. So I sent video clips of me playing to the Buffalo GM (Ric Seiling), and the rest was history. It was an amazing year!"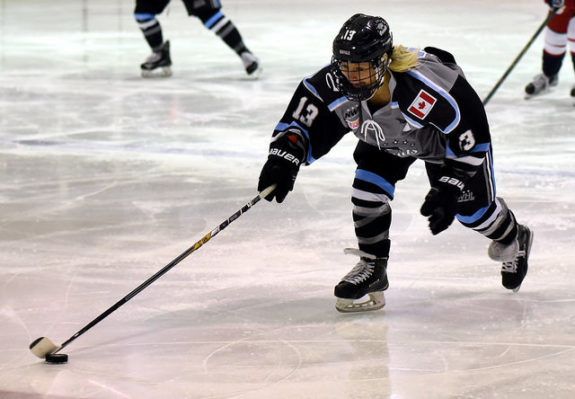 Bram played in 15 of the Beauts' 18 games for 2015-16 and tallied 4 goals and 6 assists in the process. She also appeared in all five of Buffalo's playoff games as they fought their way to the Isobel Cup Final, where they would be defeated by the Boston Pride. In the five postseason contests, Bram had a goal and an assist.
Mentioning the distance between home and Buffalo, Shelby Bram initially hails from the small town of Ste. Anne, Manitoba which is just over 25 miles southeast of Winnipeg. It's definitely a trek, and it's no wonder that it posed some difficulty in trying out for an NWHL roster spot.
Bram Growing Up in Manitoba
That being said, coming from a Canadian province and in the close proximity of hockey-crazy Winnipeg, Bram's hockey roots run deep. We already mentioned her sister Bailey, who plays closer to home. But there are actually a bunch of Bram family members—enough to compose a whole team.
"It was amazing that I grew up in a small town like Ste. Anne with all of my brothers and sisters. My dad always built a rink in our yard, so we played all day on it. Coming from a huge family —I am one of eight—we always had a huge game going on."
Among those many siblings is Bram's twin brother Brock.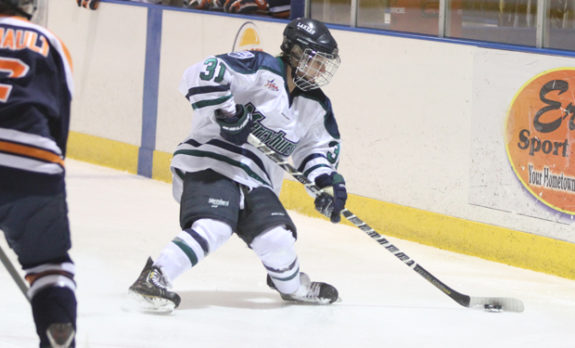 Presently, the NWHL is centralized in the northeastern portion of the USA. And while Bram grew up in faraway Manitoba, she became acquainted with the region where the league is mostly housed when she attended school and played college hockey for four years at Merychurst University, a school located in Erie, Pennsylvania. Mercyhurst is also the alma mater of current Beauts star player Emily Janiga, a teammate of Bram's with the Lakers.
Be Like Bailey
"Watching my brothers and sisters play as I was younger got me interested (in hockey). As I said earlier, my dad always built a rink in my yard so we were always playing. My older sister Bailey was always such a role model; I wanted to be just like her. I did everything she did, from making Team Manitoba, then Team Canada, and going to Mercyhurst to play. Mercyhurst was far from home but having my sister there made it an easy decision, and they were the number-one team in the country at the time so it was a no-brainer for me."
Bram recorded 31 goals, 77 assists and 108 points in 141 games across her four years with Mercyhurst. During her sophomore and junior seasons, the Lakers made it to the NCAA's Frozen Four.
Isobel Cup
Having left the Beauts after the first NWHL season, Bram was not a member of the team that brought the Isobel Cup home to Buffalo earlier this year. Understandably, the fact that the Beauts won the Cup is bittersweet for her. Perhaps even more so because Bram fought so hard the year prior to help get the team to the Final. Still, Bram's former teammates have her full support.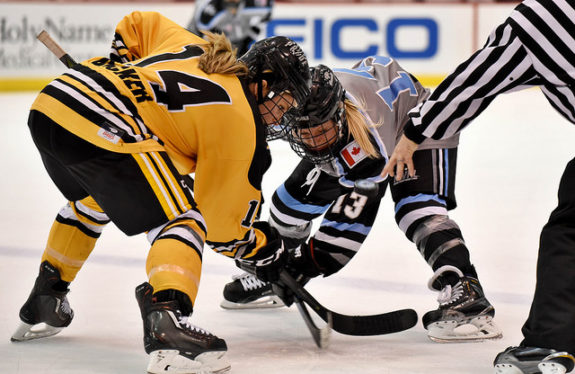 "Obviously you get a little jealous that you weren't on that winning team, and we were so close last season! But I am so proud of every one of those players; they proved everyone wrong."
Chelyabinsk, Russia
Move forward once more to the present day. The NWHL and the SDHL will wait for the time being. Bram is going to take a hiatus from her own hockey career, though the decision to take a break comes with some excitement for sure.
"As for next season, I will be putting a pause on my hockey career and joining my fiancé for a year in Chelyabinsk, Russia for his hockey season. I'm super excited for this new adventure and what the future will bring for us."
Bram is engaged to Nick Bailen, a defenseman in the KHL. Bailen is from nearby Fredonia, New York originally, and has played the last three seasons with Dynamo Minsk as well as a brief time with Växjö HC in Sweden. Earlier this month, Bailen joined the KHL's Traktor (Chelyabinsk); hence his and Bram's move to this new city.
There are exciting things to come for sure. Big congratulations to both Bram and Bailen on their engagement and the next step in their lives as well. Let us hope that maybe part of their journey includes some visits to Buffalo and a Beauts game down at the HarborCenter.