There's no doubt the Montreal Canadiens need Alexander Radulov's scoring, but can they afford him, specifically?
Bergevin Does Something Good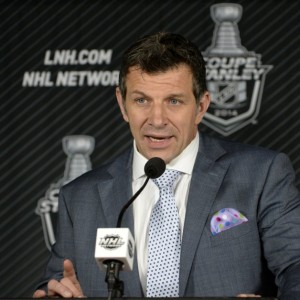 General manager Marc Bergevin undeniably hit a home run when he convinced Alexander Radulov to sign with the Habs from out of the Kontinental Hockey League last summer. His 54 points during the regular season placed second behind team-leader Max Pacioretty, while the 7 he scored during the playoffs significantly outpaced everybody else.
After the team as a whole scored just 11 times in 6 games in the Habs' first-round loss to the New York Rangers, it became clear the Canadiens need to bring in more scoring. Letting one of their most dynamic players walk without a viable replacement waiting in the wings is hardly a great strategy, but, with Radulov slated to become an unrestricted free agent once his one-year contract runs out on July 1, Bergevin has his work cut out for him.
The sweetheart deal, which paid Radulov $5.75 million, worked out well for everyone. It was low in risk and high in potential reward for the Canadiens, while it gave Radulov the opportunity to get back in the NHL and audition for a better deal starting this coming season. If it was an audition though, all 31 teams made up the audience.
So, Radulov, who largely impressed, will have his fair share of suitors, and this is his chance to cash in even more and get closer to his reported initial asking price: $7.5 million per season. The only difference is it likely won't be for just two years anymore.
Comparables to Radulov
Other players with $7.5 million cap hits include Dallas Star Jason Spezza (who's entering over-the-hill territory) and Buffalo Sabre Ryan O'Reilly, who's five years younger than Radulov and has proven to be a capable and versatile top-line player. As such, even if St. Louis Blues superstar Vladimir Tarasenko is another, it's probably not that unrealistic of an ask.
Rationally speaking, Radulov is north of 30 years old (31) and teams would be wise to limit the cap hit to something close to his current salary, especially if he's seeking term. A deal like the one Boston Bruin David Backes signed last year, would probably make the most sense for everyone involved. That deal pays Backes, who signed it after a 21-goal, 45-point season as a 32-year-old, an average of $6 million for five years.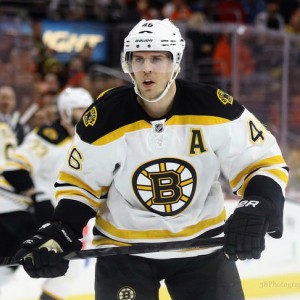 Since Backes arguably has a lengthier injury history, a hypothetical deal like that one would clearly favor the team lucky enough to sign Radulov to a greater degree. However, let's not kid ourselves: This is NHL free agency, where all rational thought seems to go out the window on July 1.
Perhaps a better comparison is Bruin David Krejci, who is the same age as Radulov and was taken in the same draft year. He also scored 54 points this past season.
His contract pays him an average of $7.25 million over six years ending in 2021. He signed that deal a few years ago after a 19-goal, 69-point season, but, taking inflation into account, it probably works out. Realistically, you can probably pencil Radulov in for something around the $7 million mark for around five years, effectively pricing him out of the Canadiens' price range.
Radulov and Canadiens: A Good Fit?
The salary cap could increase to $76 million in 2017-18, which would hypothetically give the Habs a projected $26 million in cap space. However, restricted free agents Nathan Beaulieu and Alex Galchenyuk will likely command significant raises from their current $1 million and $2.8 million cap hits, respectively. That's likely $7-8 million right there.
If Andrei Markov re-signs, it will likely be for the same $5.75 million cap hit he's had for the last 10 years, spanning three separate contracts. That would leave the Canadiens with approximately $12 million to sign or promote five more players and bring them up to 23 total NHL roster contracts.
If we're going with the average salary from last season of $2.9 million, four of those spots would total $11.6 million, leaving just $400,000 for Radulov. The math doesn't really add up. That's not even taking into Carey Price's inevitable extension starting in 2018-19 that Bergevin has to start planning ahead for. Max Pacioretty follows him in 2019-20.
There is some good news in that the five guys the Canadiens would be replacing? Excluding Radulov, they are Dwight King, Brian Flynn, Steve Ott and Andreas Martinsen. Those four players' 2016-17 cap hits totaled just $4.34 million, so fitting in Radulov can be done. It should be noted though that none of those players really did much of anything down the stretch and, if there's one thing the Canadiens discovered that they needed most, it's depth.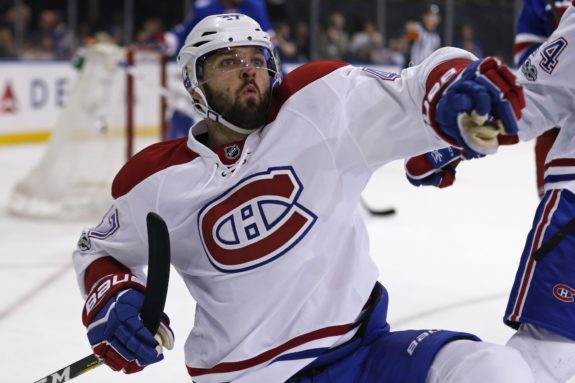 Putting all their eggs in one basket is tempting if it means bringing back a player of Radulov's caliber, but spreading the wealth is probably the wiser option, especially when Door No. 1 would leave Bergevin without any wiggle room for this coming season or moving forward. Successfully courting Radulov may be the sexiest option, but it arguably amounts to a step back for a team that should have its sights on seriously contending right away.
The Canadiens should look elsewhere, in other words. Theoretically, the Las Vegas Golden Knights could take Tomas Plekanec's $6 million salary off Bergevin's hands with their Expansion Draft pick. Radulov could also accept a hometown discount. Both are unlikely events to say the least. Plekanec is coming off a disappointing season and Radulov's hometown is in Russia. He has no loyalty to a city in which he's played for a single season, nor should he.
This is his chance to seriously cash in for maybe the last time. He's going to take it… wherever it takes him in turn.