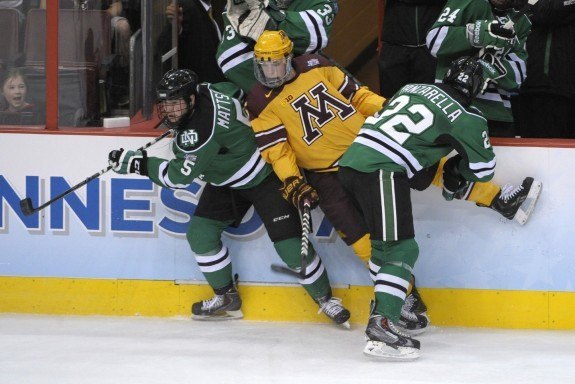 The 2015 NHL free agent class suddenly got a lot more interesting on Saturday afternoon.
It was then that news broke that 21 year-old defenseman Mike Reilly will be officially decommitting from his current NCAA team, the University of Minnesota Golden Gophers, to turn pro and test the market as an unrestricted free agent.
Report: Blue Jackets' Mike Reilly decommits from NCAA, will test free-agent market http://t.co/fMaZwLinsU pic.twitter.com/xpleCEYS3Z

— theScore NHL (@theScoreNHL) May 16, 2015
There's a lot to like about what Reilly brings to the ice. A smart, highly-skilled offensive blueliner, Reilly was a standout during his time with the Golden Gophers, leading his entire team in points in his final college season with 42 in just 39 games. Despite his young age he made the Team USA roster at this year's World Championship, playing all 10 games and winning a bronze medal with the team on Sunday. He also helped his team take gold back at the 2013 World Juniors.
There's little doubt whatsoever that there is going to be a long list of suitors for his services, and that he's going to make one lucky NHL team very happy.
That lucky team, however, probably won't be the Columbus Blue Jackets, the team that originally drafted him.
Taken in the 4th round, 98th overall, by the Blue Jackets at the 2011 NHL Entry Draft, Reilly has spent the past four seasons as one of the top prospects within the organization. Columbus has retained his rights as a prospect during this period, but due to a loophole in the NHL's rules it looks like that time is about to run out.
As explained by Chris Peters of CBS Sports:
Defenseman Mike Reilly, a fourth-round pick by the Columbus Blue Jackets in 2011, has officially left the University of Minnesota, forgoing his senior season. However, instead of signing with the Jackets, Reilly has notified the team he will explore the market as an unrestricted free agent according to Bob McKenzie of TSN.

Reilly is taking advantage of a provision in the collective bargaining agreement that gives NHL teams a window to sign their drafted prospects within a four years. As long as that player remains a college student, the team that drafted him retains his rights. When that player either graduates from college or files the paperwork to leave the university before graduation, that team has 30 days from the date they graduate or leave school to exclusively negotiate with the player.

Reilly's 30-day clock has started according to McKenzie, but having already notified the Blue Jackets he's going the free agent route, it appears the negotiating window is irrelevant. Other teams cannot sign Reilly until August, however.
It's certainly a frustrating situation for the Blue Jackets, who have been trying to sign Reilly but have been unable to persuade him to stay with the team.
Although strange, the use of this loophole is not unprecedented. In fact, it's starting to become increasingly common.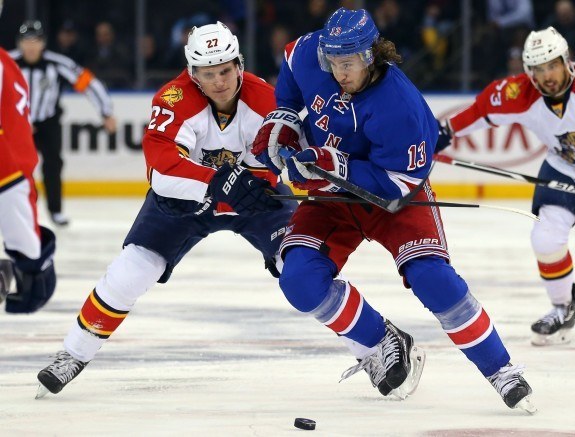 The following players have made similar decisions with their NHL careers:
Blake Wheeler: Drafted in the 1st round, 5th overall, by the Phoenix Coyotes in the 2004 draft; signed as a free agent with the Boston Bruins.
Justin Schultz: Drafted in the 2nd round, 43rd overall, by the Anaheim Ducks in the 2008 draft; signed as a free agent with the Edmonton Oilers.
Kevin Hayes: Drafted in the 1st round, 24th overall, by the Chicago Blackhawks in the 2010 draft; signed as a free agent with the New York Rangers.
All three teams used high draft picks on these players, only to have them go to waste as each prospect eventually spurned them for another organization of their choosing.
With no amendment to this loophole currently in sight (at least publicly), it then begs the question: are NHL teams going to shy away from drafting NCAA-bound players out of risk of being left empty-handed?
It's not a crazy proposition. No team wants to use a valuable 1st or 2nd round pick on a player, no matter how promising, if they're never going to see any kind of return from him at the NHL level. If a general manager is equally torn between an NCAA player and, let's say, a player from the Ontario Hockey League, will he opt for the OHL guy just because there's no risk of that player bolting to free agency the first chance that he gets? Will teams opt for worse players just because they'd rather be sure that they get something instead of risking that they get nothing?
If that all sounds unlikely keep in mind that teams have been acting under a very similar mindset for the past few years with what is commonly referred to now as the "Russian Factor."
When the Kontinental Hockey League was officially formed in 2008 the impact rippled across the hockey world. A big-money European competitor for the NHL, the KHL quickly began luring talent away from North America. The first notorious case of this happening was that of Russian Alexander Radulov, who was selected 15th overall by the Nashville Predators in 2004 and played two successful seasons with the franchise before controversially leaving the Predators and returning to his home country in 2008. The other high-profile example is that of Ilya Kovalchuk, who "retired" from the NHL and his huge financial commitment with the New Jersey Devils only to immediately resume playing hockey in the KHL.
The Russian Factor began to have an impact at the draft, as many talented young Russian players, such as Anton Slepyshev, dropped down the draft board or were skipped altogether by all 30 teams.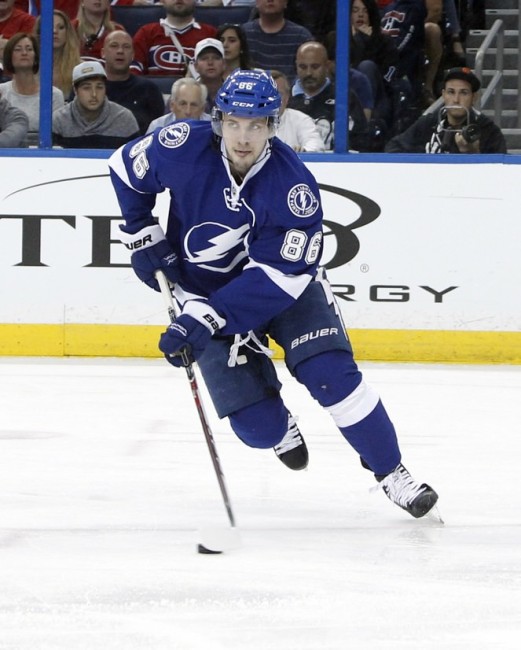 Now, all of that being said, the Russian Factor is, for the most part, more fear than it is fiction. There are still a large number of Russian-born players in the NHL, including some of the very best players in the world, such as Alex Ovechkin and Evgeni Malkin. Furthermore, teams like the Dallas Stars, who selected Valeri Nichushkin at 10th overall in 2013, or the Tampa Bay Lightning, who plucked Nikita Kucherov 58th overall in 2011, made off like bandits by drafting Russian players later than they should have gone. How many teams are kicking themselves now because they passed up on players like Nichushkin and Kucherov out of fear?
Still, with news of the Reilly situation breaking this weekend there is now no denying that the "NCAA Factor" is very much alive and real. Franchises could get badly burned by ignoring it, but they could also get burned by giving into it too much. Either way, it's yet to be determined how much things might change at the draft table, but it's definitely going to be something worth keeping an eye on, especially for NHL teams.
Derek Neumeier primarily covers the Dallas Stars, but also other various topics related to the sport of hockey. A Journalism graduate of Mount Royal University, Derek also writes for Defending Big D, and has done previous work with the Edmonton Oilers as a communications intern and Hockey Canada as a freelance writer. You can follow him on Twitter at @Derek_N_NHL