If you're an Edmonton Oilers fan, you already know when Kevin Lowe's name comes up in any conversation he's a polarizing figure. The 57-year-old Lowe has spent 34 years of his professional career within Edmonton's organization, but he's far from the most popular Oiler in history.
In his current role with the team, Lowe is the Vice Chair and Alternate Governor of the Oilers Entertainment Group (OEG), working closely with Bob Nicholson and team owner Daryl Katz. Lowe played 15 years for the team as a premier shutdown defenseman and was a key piece of five Stanley Cup-winning teams in Edmonton.
So it begs the question; should the Oilers retire Kevin Lowe's number four?
No. 4 is Synonymous with Lowe
Before drafting Taylor Hall in June 2010, the number four was quasi-retired and out of circulation between 1998-2010. The number is currently worn by Kris Russell, but before Hall and Russell, Lowe was the only Oiler ever to wear the number. The former 21st overall pick in 1979 was the team's first-ever draft pick, and he wore number four proudly until December 1992 when he was traded to the New York Rangers.
No Oiler wore that number during Lowe's four seasons with the Rangers, but he once again donned number four when he returned to Edmonton in the summer of 1996 as a free agent. Lowe retired with 383 points in 1,037 games as an Oiler and holds the record for most regular season (1,037) and playoff (172) games played with the organization. He also has the third most penalty minutes in team history. But the most important number is five — that's the number of Stanley Cups Lowe won as a top-pairing shutdown defenseman next to the free-wheeling Paul Coffey during his career in Edmonton.
Years ago when the team started retiring the numbers of those from the dynasty years (Paul Coffey, Glenn Anderson, Mark Messier, Jari Kurri, Grant Fuhr and Wayne Gretzky) many believed that Lowe would be next in line. It hasn't happened, and there's been room left to speculate as to why.
Criticism for Lowe's Managerial History
Lowe had a great on-ice career, but where he draws ire from many is for his years off the ice. After retiring, Lowe became an assistant coach for the Oilers in 1998-99. He then replaced Ron Low as head coach in 1999-00 and the team lost their first round series against the Dallas Stars (4-1).
That summer Lowe was named the team's general manager after Glen Sather joined the New York Rangers. He had big shoes to fill as Sather was with the team for 24 years before that. Lowe served the team as GM for eight seasons making questionable choices at the draft table and some lackluster trades that provided little return to the team itself.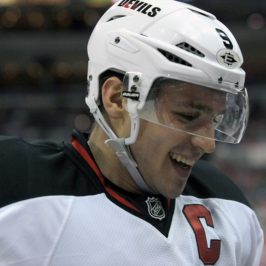 What fans would describe as ineptitude and futility during those years is one of the reasons Edmonton is where it has been for the past two decades. A shallow draft cupboard, an inability to sign high-end free agents and poor team construction. In the 16 years that followed Lowe's hiring into management (including him as President of Hockey Operations) the Oilers made the playoffs just three times in 16 years.
Some of the things that are hard to swallow from those years is the 2003 Draft where Lowe traded down from 17th to 22nd overall and took Marc-Antoine Pouliot. In the process, he passed on Zack Parise, Ryan Getzlaf, Brent Burns, Mike Richards, Ryan Kesler and even Corey Perry. There's also the Mike Comrie saga and the perception by fans of how it was handled poorly by Lowe and the organization.
Then there is the Chris Pronger trade where Lowe looked like a genius in acquiring an elite-level defenseman, but many questioned Lowe when he got such a poor return for Pronger a year later. There were circumstances around the Pronger trade but neither Ladislav Smid and Joffrey Lupul panned out. The deal however did net the team the pick that got them Jordan Eberle.
What hurt the most were the comments he made when he disrespected the fan base during a press conference in 2013 (see below).
Where Do We Go Now?
Lowe upset a lot of the fans in Edmonton during his time in management but has enough time passed that those same fans he upset can finally start to forgive him? Can those fans get past those ill-advised comments and let Lowe's image in Edmonton begin to heal?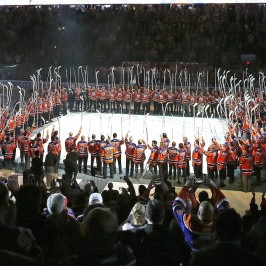 If you look at Lowe's career as an Oiler, he played 1,067 games, more games than Hamilton, Coffey, Anderson, Messier, Kurri, Fuhr or Gretzky. He's one of just 22 players in NHL history to have won six or more Stanley Cups. What makes that number even more impressive is that just five of those players never played for the Montreal Canadiens. Sure Red Kelly has eight as a non-Canadien, but along with Messier, Anderson and Bryan Trottier, Lowe's won six.
Lowe has spent 34 years with the Oilers, more than any of the others that have their number retired in Edmonton ever did. That kind of commitment in pro sports is difficult to find, but the point of the matter is that Lowe bleeds orange and blue.
It's about time his commitment was acknowledged with an appropriate sentiment.