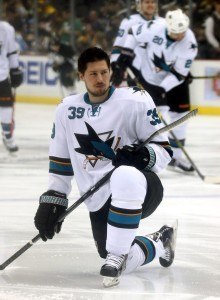 Even though we are months away from the next meaningful San Jose Sharks contest, there are number of different things to talk about. Who will the Sharks hire as their next coach and who will they select at 9th overall in the June draft are a couple of the big questions. Another question that won't be decided until shortly before next year's season opener is what the forward lines and defense pairs will look like. On that latter note though, the next Sharks coach might want to consider a new twist in the Sharks' forward lines.
Three Deep Formula
For years yours truly has been an advocate of the Sharks playing Joe Thornton, Logan Couture, and Joe Pavelski each at their natural center positions on three different lines. While these three stars are prototypical "top-six" forwards, which means they typically would all be slotted on the "first" line or the "second" line, having Pavelski on a "third" line gave the Sharks a deeper, much deadlier attack.
Since midway through the 2010-11 season, almost every single one of the Sharks extended winning stretches have come with this "three deep" center formula. The Pittsburgh Penguins utilized this same formula to win their 2009 Stanley Cup and the Sharks have been very successful with it too. San Jose's 2011 stretch run and Western Conference final appearance came with Pavelski, Thornton, and Couture on three separate lines. This lineup makeup was then ditched the following year and the Sharks had a miserable season, barely making the playoffs and were eliminated in their shortest ever playoff appearance in team history, just five games. During the 2013 lockout shortened season though the Sharks got back to this formula down the stretch and into the playoffs and it saw them skyrocket into being one of the best teams in the league. They swept the Vancouver Canucks and put together a heck of a battle against Los Angeles before losing in seven games. In 2013-14 the Sharks opened the gate with the three pronged center attack again and were white hot. They also built their 3-0 lead in the first round against LA with this type of lineup. They then reverted back to Pavelski in the top six and the team's scoring evaporated.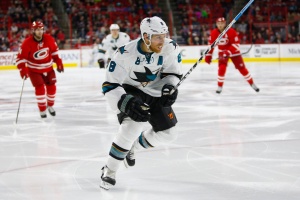 This past season the Sharks never once went with the three deep formula and they missed the playoffs. Fans can have the correlation not meaning causation debate all day long but the two worst seasons the Sharks have had in the past five, have coincided with never using Pavelski in the third line center role. When he has played in that spot, the Sharks have had considerably more success. Even if it is just a coincidence and not a correlation, why not go with what has historically worked better?
This is a topic yours truly has admittedly beaten to death, and the above paragraphs will be the end of it. With the up and coming young center Chris Tierney establishing himself as a key player in the last month of the 2015-16 season, the Sharks finally have the depth that they have been missing in recent years. Tierney was on fire with 14 points in his final 18 games of the season. Tierney, along with fellow youngster Tomas Hertl, are both capable of playing the center position. With the added depth up front, the Sharks can much better afford to keep Pavelski in the top-six and perhaps even play him on a juggernaut line with both Couture and Thornton.
Couture More of a Goal Scorer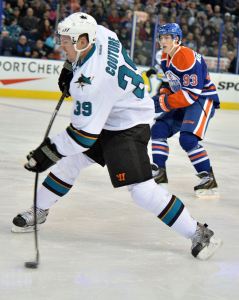 Couture is much more of a goal scoring center than he is a play-making center. Therefore, it would make sense to try him alongside a pure play-maker like Thornton. It would be a sure fire overload line, (not something I'm typically a fan of) but a top line of Couture, Thornton, and Pavelski could hypothetically become one of the best lines in hockey. Not only could Couture and Pavelski each score 35 goals with Thornton feeding them the puck, but they could do it on a nightly basis against the opponent's top lines. They would likely become San Jose's primary shut down unit and biggest offensive producing line at the same time. Couture would also be a huge upgrade to Melker Karlsson on Thornton's left side. While the rookie free agent was a nice surprise, just four goals in his final 29 games of the season isn't great production. His shot is underwhelming and he failed to finish on a number of great Thornton set ups.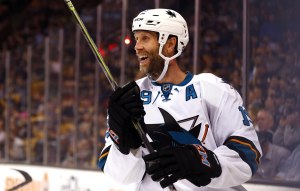 Now there have only been brief instances in the past where Couture been put on Thornton's wing, so there isn't much of a precedent to look back on. However, this could certainly be worth a look for the Sharks. Couture and Patrick Marleau have been a frequent forward duo in recent years but Marleau fell off last season and the two didn't seem to be nearly in sync as in prior years. Splitting them up might benefit both moving forward. Couture at this point is a better defensive player than Marleau and using Couture in defensive minutes while playing Marleau in a more offensive role would be wise. Not to mention, while normally above average, (career 51%) Couture had a disappointing 2014-15 in the faceoff circle at just 48%. Moving him to the wing doesn't take away much from team faceoff success.
Would This be Too Top Heavy?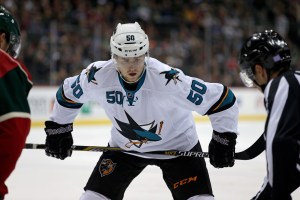 Now it may seem like the Sharks are putting all their eggs in a first line basket if they go this route, but they could still put together more than solid second and third lines. After the top line takes up the big, primary shut down minutes, the Sharks could role out their third line from this past stretch run as their "second" line. Tierney's hot stretch came primarily alongside wingers Matt Nieto and Tommy Wingels. Nieto still has some work to do defensively but he was at times facing tough matchups on a line with Marleau and Couture in both his rookie and sophomore seasons. He is no liability defensively. Tierney is known as a smart two-way center and was one of the few Sharks forwards who ended up on the plus side of the plus/minus ledger this past season. And Wingels is known for a responsible two way hard nosed game as well. These three could in theory take up the second toughest minutes.
And here is where things get juicy offensively for the Sharks. If the Tierney line can handle the defensive minutes, the next Sharks coach could deploy a line of Marleau, Tomas Hertl, and rookie first round pick Nikolay Goldobin in offensive minutes against second and third defense pairs. These three guys all have a ton of offensive skill, Marleau and Hertl can both shoot the puck and Goldobin is known for some flashy puck skills and play-making ability.
Conceivably this is a line that could feast in offensive heavy minutes and it would be arguably the best way to indoctrinate Goldobin into the NHL. This way the teenager wouldn't have to compete against top competition right away and also wouldn't be suffocated out of playing time on a fourth line.
Of course forward combinations change for every team throughout the year. Next year will be the same for the Sharks. Plus we have no idea what the next coach will prefer in terms of line combinations. However, the Sharks do have some young forward depth that may allow them to try Couture up with Thornton for an extended look. San Jose actually projects out good when it comes to forwards for next season. Now when it comes to defense and goaltending, well, let's just say, ummm, those are where the big personnel questions lie.
Andrew has been credentialed to cover the Sharks since 2010 and the 49ers since 2012. He graduated with his BA in Broadcast Electronic Communication Arts in 2013 from San Francisco State University.