It was recently reported by Sarah McLellan of the Arizona Republic that Jamie McBain will attend the Arizona Coyotes training camp on a professional tryout. While many believe that the Coyotes already have a logjam on the blueline, the addition of a veteran defender could make sense.
According to Capgeek.com, the Coyotes currently have 8 defensemen under contract for the upcoming season. All 8 have at least some experience in the NHL. However, younger players like Connor Murphy and Chris Summers might benefit from additional time in the AHL. While the Coyotes do not have any pressing need for additional defensemen, McBain could give the Coyotes extra depth and flexibility with the development of younger players.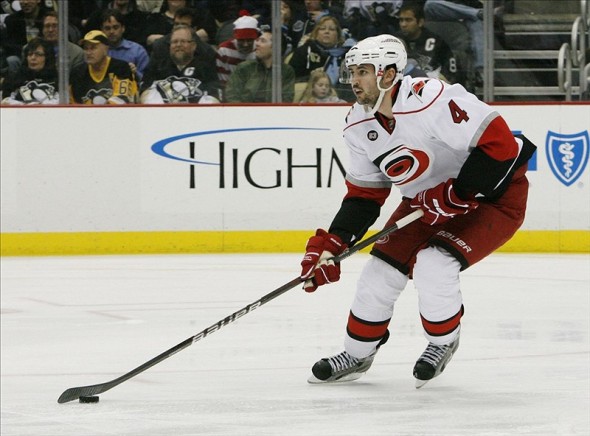 While the organization will certainly want to see how McBain performs in training camp, he has already been around the league long enough for us to know what kind of player he will be.
During his time in Carolina and Buffalo, he showed promise of becoming a dependable top-4 defenseman. At the very least, he can be counted upon to start in a bottom-3 pairing.
It will be difficult for McBain to beat out emerging prospects like Connor Murphy and Brandon Gormley, whose roster spots seem to have been reserved since the beginning of the offseason. Instead, he will have to show the Coyotes that he can provide more value than other depth players like David Schlemko or Chris Summers.
Even if McBain makes the roster, it is possible that he could watch the majority of games from the pressbox. Regardless, the Coyotes might be smart to keep him on reserve. This kind of depth-signing could make a huge difference later on during the season when several Coyotes defensemen are injured at the same time.
The defensive style of coach Dave Tippett takes a heavy toll on defenseman. While the Coyotes have had a plethora of young defensive talent to fall back on, several of those players might actually make the opening roster for the club. Jamie McBain could fill that role and give starting players the flexibility to take nights off when they need to.
If the Arizona Coyotes sign Jamie McBain, he could easily become the greatest value signing of the Coyotes' offseason.