Sidney Crosby and LeBron James share one thing mostly in common. They're the most loved and hated man among fans and players in the NHL and NBA and they just so happen to be the face of their leagues. They whine but score. They dive, but create scoring chances for their teammates. They basically do it all while getting criticized for what's going on the ice and basketball court.
Crosby like James, have millions of fans that will support everything they do. They'll want to see him succeed while making breathtaking plays. But, just like James, Crosby has his detractors that want to see him fail all the time.
However, the similarities between the two superstars go deeper than just the support of the fans. Over the last six years, Crosby and James have led their respective companies in merchandise sales. From the time that Crosby entered the NHL, his Pittsburgh Penguins No. 87 jersey has been the most purchased uniform in the league. According to the Sports Business Daily Journal, Crosby's jersey dominated sales numbers for the NHL from 2005 until 2011.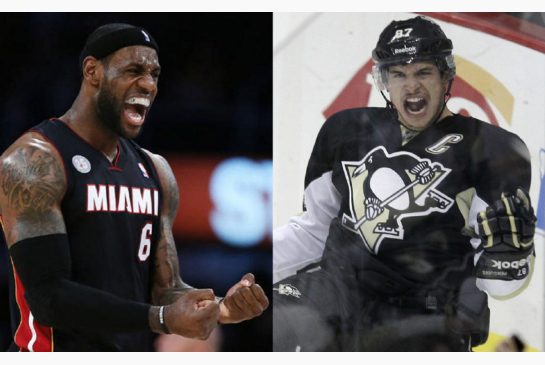 His run as the league's top jersey seller came to an end this year, as Philadelphia Flyers All-Star Claude Giroux, overtook Crosby for the top draw in sales in 2012. But, in 2013, Crosby retook his place as number one among fans.
Like Crosby, James continues to dominate jersey sales for the NBA. Starting in 2004-05, James took over as the top seller for the league. From his days in Cleveland to his current residency in Miami, James has finished in the Top-10 every year.
Leading in sales numbers is one thing; these two men have earned the respect from their peers as the best in the business. For as much grief that is given to Crosby for his complaining to referees, or mixing it up with the opposition, he is viewed among his peers as the best in the league.
This respect from his opposition is coming from a poll that was taken by The Hockey News in March saying: "For our March 19 issue of The Hockey News, we polled five players from each NHL team for who they thought were the top five players in the league today. Players couldn't vote for teammates. After tabulating the votes, we ended up with a ranking of the top 50 players in the NHL." In 2012, Pro Hockey Talk asked five players from each team to vote on who the best player in the league was. Once again, Crosby topped that poll as the best among his peers.
These two men have shared an insanely amount of success in their short careers. They've both won their league's championship, multiple Olympic Gold Medals, their league's MVP trophy and the league's scoring titles. James is regarded as the best player in his sport. He's won the league's Most Valuable player award four of the last five years. However, he's done one thing that Crosby hasn't done, won a playoff MVP.
Despite all of that success, it brings on fans (most notably ones in Philadelphia) that love to chant, "Crosby sucks!" James faces the same amount of vile thrown at him in visitor buildings. Crosby and James can —and will— continue to have success earning more championships, awards and accolades from their profession. No matter what else happens to these two men during the rest of their careers, they will still continue to have their fans and haters.
From now, until these two men retire they will be the face of their sport and they will have their supporters cheering, "Let's go James/Crosby" and "James/Crosby sucks" which will be music —a.k.a. money— to their companies' ears.
Follow me on Twitter: @tjmcaloon