MINNEAPOLIS — The University of Minnesota Golden Gophers have come out of yet another weekend with a series sweep. This time it was against an outmatched St. Cloud State, who put just 21 shots on net through two games.
It was nonetheless a test for the Gophers, whose lines continue to coalesce with this season's roster. Slow starts and goaltending, issues in previous weekends, didn't pose any problem against the Huskies.
That's all from Ridder Arena! The #Gophers sweep St. Cloud State! pic.twitter.com/P8J4CkxSil

— Minnesota Women's Hockey (@GopherWHockey) October 29, 2016
Peters Gaining Focus
Goaltender Sidney Peters hasn't played poorly this year, but there were questions coming into the season about how she'd fill the shoes of the departing Amanda Leveille. Though she's played plenty in her career, she has taken a back seat to Leveille over the last three seasons and is getting her first significant workload at the college level this season. That workload has required a period of adjustment.
"I think she's getting more comfortable," said coach Brad Frost after the sweep. "This weekend [Peters] didn't give up a goal, which was through five and a half periods. I think she's just getting better and better, confident and more comfortable being our starter."
One of the challenges for goaltenders behind teams at the top of college hockey is staying focused in games like Friday's where a goaltender can go through long stretches without getting a puck in the pads. It also means that as a goaltender gets cold and opponents aren't able to sustain zone pressure, the shots coming through are often dangerous opportunities coming off the rush.
But her limited time in previous seasons with the Gophers saw Peters play those situations with some frequency, as she pointed out Friday. "The last three years, I've actually played in a lot of games where I didn't get a lot of shots," she said. "I think for me the difference is playing against teams where I get a lot more shots.
"It's a process. I've felt good all year. I feel healthy and I feel strong. But at the same time, there are a lot of things about playing that you kind of have to relearn after you haven't played for a couple years. That means just how to prepare for two games in a weekend instead of one. It's how to be a leader, because as a goalie, you're a leader whether you want to be a leader or not."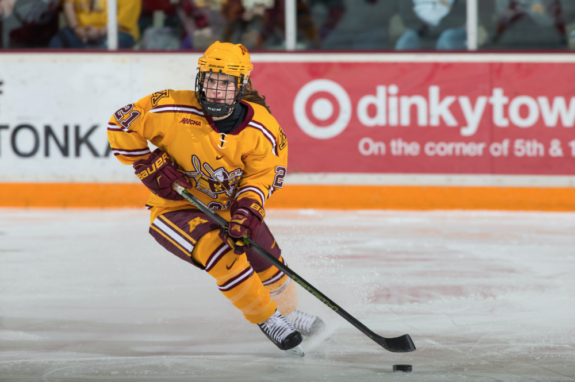 Nothing Comes Easy
Peters rose to the challenge against St. Cloud, giving the second-ranked Gophers six points against the WCHA foe. However, the Huskies challenged late in both contests, giving the Gophers anything but a safe ride into the sunset.
Seven minutes into the third period Thursday, Dani Cameranesi scored her fifth goal of the season to put the Gophers up 4-0. At that point, coach Frost gave Peters a rest and allowed backup Serena D'Angelo to close out the game. The Huskies proceeded to score two quick goals and threatened to rally before a late goal by Kelly Pannek, her third of the season, provided some breathing room.
Friday, the Huskies had even more trouble generating offense despite the Gophers being without top defender Lee Stecklein, who left for Finland after Thursday's contest to join Team USA at the Four Nations Cup. Particularly in the first two periods, St. Cloud had trouble entering the zone with control and generating offense. Only sophomore Julia Tylke was able to get things moving toward the Gopher net with regularity but was consistently faced with two Gopher defenders blocking the way.
Another 👀 at @kate_schipper's first goal of the year. 😏 pic.twitter.com/B7aRNWvCVq

— Minnesota Women's Hockey (@GopherWHockey) October 29, 2016
However, a pair of late third-period penalties on the Gophers gave the Huskies late life once again, even if they continued to struggle generating chances. An unnecessary penalty on the power play by St. Cloud's Alyssa Erickson cut the second power play short and set the stage for a Cameranesi power-play marker to make it 3-0.
"Those games are a little nerve-wracking," Frost said of recent games where the scoreboard hasn't represented Minnesota's possession dominance. "It's a bounce here or a bounce there and that's what I thought we did a really good job of, not giving them a lot. When you have the puck on your stick quite a bit, it's easy to get complacent and give one up by being overly aggressive. We stayed pretty disciplined."
St. Cloud netminder Janine Adler had an outstanding weekend and made it much closer than it might have been in the absence of outstanding goaltender. The Gophers took the lion's share of shot attempts, with a 71-26 advantage Thursday and a 69-22 advantage Friday.
It was a similar story the prior weekend when the Gophers faced Ohio State, taking 3-2 and 2-1 victories while outshooting the Buckeyes 38-18 and 57-19, respectively.
"I think we felt a little frustrated," said senior Kate Schipper, who scored her first goal of the season Friday, "but I think if we have 25 shots eventually they're going to go in. Same thing with Ohio. We had [57] shots and only scored two goals. Eventually, it's going to start going in more often."
— St. Cloud State WHockey (@SCSUHUSKIES_WHK) October 29, 2016
Next Up
The Gophers face Minnesota State next weekend. The Mavericks rank last in the WCHA and have yet to beat a conference opponent. But after that, it's a tough run for the maroon and gold all the way up to the holiday break. They face North Dakota, Bemidji State (the only team to beat the Gophers this season) and the number-one ranked Badgers. That run is followed by a road tilt in their second non-conference series of the season against Boston University.
"The teams in the WCHA this year are good," said Peters. "There aren't any teams that are blowout teams or easy weekends. It's easy to look at our season and say, well the Gophers, they haven't blown out a team this year by 10-plus goals, but at the same time the teams are good. St. Cloud is good. I know Mankato next weekend is going to be strong. We get everyone's best game. We have to learn to play against that."