The London Knights have dominated the OHL over the last two seasons showing an explosive offence that was nearly impossible to stop. Even with a heavy graduation, the 2016-17 Knights roll on and are showing the league that you can change the players but the results remain the same.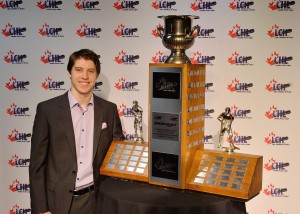 In 2014-15 and 2015-16, the Knights had multiple players with 40 goals or 100 points. Mitch Marner, Aaron Berisha, Christian Dvorak, Max Domi and Matthew Tkachuk helped the team become a force that others envied. Domi moved onto the Arizona Coyotes system in 2015-16, but Marner, Berisha, Dvorak and Tkachuk continued their dominance on route to the 2016 Memorial Cup championship. Their combined 38 points in four Memorial Cup games dropped jaws nation wide.
The start of the 2016-17 season saw the graduation of Berisha, as he moved on to the pros. It also saw the possibility that they could lose their offensive trio.
Marner had a chance to make Toronto after being the Maple Leaf's first-round pick in 2015. Tkachuk had a chance to make Calgary after being the Flames first-round pick in 2016. Dvorak was the Arizona Coyotes' second-round pick in 2014 and, at 21-years-old, was likely finding himself either in Arizona or with their AHL-affiliate in Tuscon.

Marner and Tkachuk are still with their NHL teams. Marner, while only 19-years-old, has been dazzling the Leafs early in the season. It's looking like he will stick with the team. Tkachuk, also 19, has been playing consistently for the Flames, creating a difficult situation for the club.

Knights Creating New Stars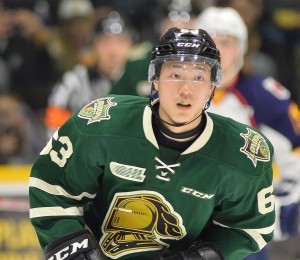 While the big three have found some success at the NHL level, the Knights continue to push forward with their roster. Forwards Cliff Pu (pictured left) and Max Jones have taken the reigns and are in control of the team early this season.
Coming off a 31-point campaign in 2015-16, Pu, a Buffalo Sabres prospect, already has 11 points in 10 games. The 18-year-old is a former first-round pick in the OHL and just needed time to prove he had the talent.
Jones, an Anaheim prospect, is also a 98-born forward with a lot to prove this season, too. He's coming off of a 52-point season in 2015-16 but was known for his physical play just as much.
This season is his chance to show he can do it all and people are taking notice of his offence. Early in the season, he has 5 goals and 11 assists in 8 games.
Check out this highlight package of Max Jones from the 2015-16 season:
The Knights aren't just getting production from those two, though. Up front, 18-year-old Finnish import Janne Kuokkanen has 11 points in 10 games while 17-year-old forward Robert Thomas has nine points in 12 games after 15 points in 40 games last season.
On the blueline, the Knights received a big boost getting Finnish import Olli Juolevi back from Vancouver and he's responded with five points in eight games. Kuokkanen and Juolevi continue the Knights' strong tradition of Finnish imports and you can see their chemistry at work in this entertaining off-ice interview.
When things go a team's way, it seems like nothing can stop them. New goaltender Tyler Johnson came in during the offseason and has lived up to expectations so far. After complications with the NCAA, he signed with the Knights to back up star Tyler Parsons and has been their king in net. In eight games, Johnson has a 5-1 record, GAA of 2.72 and a very respectable .907 save percentage.
New Faces, Same Results
It seems no matter who the Knights throw on the ice, success finds them. They have been consistently around the 50-win mark each year since 2011 and aren't slowing down. They have found a formula and it works.
Marner and Tkachuk could theoretically be returned to the London lineup at some point this season. If they're not, though, the Knights are in good hands. They're sitting near the top of the OHL's Western Conference and getting contributions up-and-down the lineup.
That's a good thing for the fans in the Forest City, and not so good for fans around the OHL. London isn't going away anytime soon.