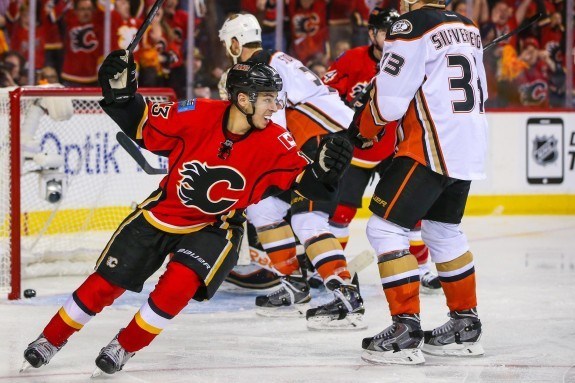 Johnny Gaudreau had a hell of a year way back in 2010-2011.
Despite being a 17 year-old rookie in the USHL, the smart, highly-skilled forward led his team in points during the regular season with 72 in 60 games. Not to be finished there, he scored another 11 points in 11 playoff games as his Dubuque Fighting Saints team went on a 9-2 tear to win the Clark Cup as USHL Champions. Gaudreau was, not surprisingly, named USHL Rookie Of The Year for his efforts.
After soaring through the season with flying colors Gaudreau took the next logical step in any star young hockey player's career and entered the 2011 NHL Entry Draft…where he was eventually selected by in the 4th round, 104th overall, by the Calgary Flames.
Yes, despite leading his championship-winning team in scoring as a rookie, Gaudreau was passed over by all 30 NHL teams three full times before finally falling to the Flames in the 4th round.
However, there's no questioning why he didn't go sooner: Gaudreau was short.
Like, really short.
Gaudreau was measured at a whopping 5'6″ entering the draft, and even that might have been a generous measurement. Not only was Gaudreau one of the shortest players drafted that season, but he was one of the shortest players drafted in the past decade.
Fast forward four years, though, and you could probably find two dozen different teams that are kicking themselves now because they didn't take Gaudreau when they had the chance back in 2011.
Much like he did in his rookie season in the USHL, Gaudreau took the NHL by storm in his rookie season, scoring 64 points in 80 games. He didn't lead his team in scoring (he was second, behind Jiri Hudler's 76 points) and he didn't lead the Flames to a championship, but he did help lead them on an improbably successful postseason run with a team-best nine points in 11 playoff games. He also has a chance to give his USHL Rookie Of The Year award some company by taking home the Calder Trophy as the NHL's top rookie. Gaudreau is one of three finalists for the award, which will be handed out tonight at the 2015 NHL Awards ceremony.
The NHL, once predominantly dominated by the biggest, baddest rough-and-tumblers from prairie farms and withered urban streets across North America, has been steadily shifting more and more towards a league where the smaller players, too, can hang with the big boys and find success. The 5'6″ Theo Fleury, by combining skill with ferocious will, showed in the 1990s that smaller players can earn their way, while the 5'8″ Martin St. Louis further cemented this by winning a Stanley Cup Championship and Hart Memorial Trophy as league MVP in 2004. Gaudreau broke similar ground this season, proving to an increased degree that size maybe doesn't matter as much as it used to.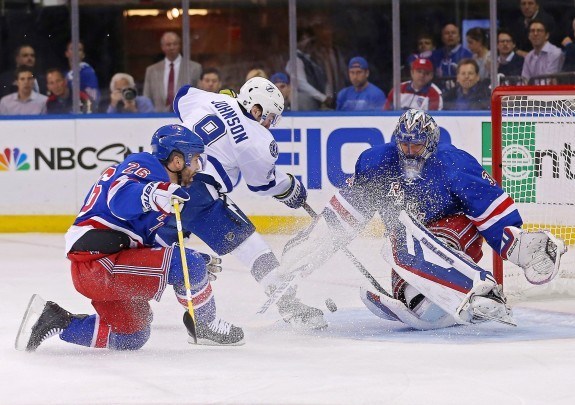 He's not the only one, either. Tyler Johnson of the Tampa Bay Lightning, all 5'8″ of him, had a remarkable season as well, scoring 72 points in 77 regular season games. He added 23 more in the playoffs, tied with Patrick Kane for the postseason lead, as his Lightning team fell in the finals to the Chicago Blackhawks. Unlike Gaudreau, though, Johnson was never drafted at any point, eventually signing with the Lightning as a free agent out of the WHL.
How many of the other 29 teams are kicking themselves now for that one, too?
With the 2015 NHL Draft happening this weekend it will now be interesting to see how the success of Gaudreau and Johnson this season will affect the decision-making of teams.
For the most part, teams haven't exactly shunned smaller players at the draft. After all, Gaudreau got drafted, while Fleury was as well back in 1987. But both players went far later than, in hindsight, they should have, while Johnson and St. Louis were never selected at all. Following this particular train of thought, it makes one wonder just how high some of the smaller players will go this draft.
According to this Top 100 chart from the scouting service Future Considerations, the following top prospects are all 5'10" or smaller: Travis Konecny (ranked 11th), Jeremy Bracco (22nd), Anthony Beauvillier (31st), Mitchell Vande Sompel (41st), Kirill Kaprizov (55th), Denis Malgin (63rd), Dmytro Timashov (72nd), Dante Salituro (80th), and Andrew Mangiapane (95th). That list also doesn't include the 5'8″ Conor Garland, who led the entire QMJHL in scoring this season with a massive 129 points.
It will be interesting to see not just where all of these players end up at the draft, but also to follow them over the years as they grow and develop into the pro leagues. Five years down the road, could one of these players follow in Gaudreau's footsteps and become the next little thing in the NHL?
Derek Neumeier primarily covers the Dallas Stars, but also other various topics related to the sport of hockey. A Journalism graduate of Mount Royal University, Derek also writes for Defending Big D, and has done previous work with the Edmonton Oilers as a communications intern and Hockey Canada as a freelance writer. You can follow him on Twitter at @Derek_N_NHL